"Go-Coo" in Fukuoka, Tenjin – A sake "Biden" develops mackerel's charm
"Go-Coo" in Fukuoka, Tenjin – A sake "Biden" develops mackerel's charm
Good day!
This is the special correspondent "N" from Fukuoka.
I'd like to introduce a place where you can enjoy "mackerel shabu-shabu" and Fukuoka's local Nihonshu, "Biden".
Gorgeous reception with "Lunch Saba-shabu"
I took my friend from Osaka to one of my favorite restaurants, "Shunsen Restaurant Go-Coo", where you can have "mackerel shabu-shabu (parboiling sliced mackerel in boiling soup in a pot)".
It locates in Tenjin area which is the downtown of Fukuoka City.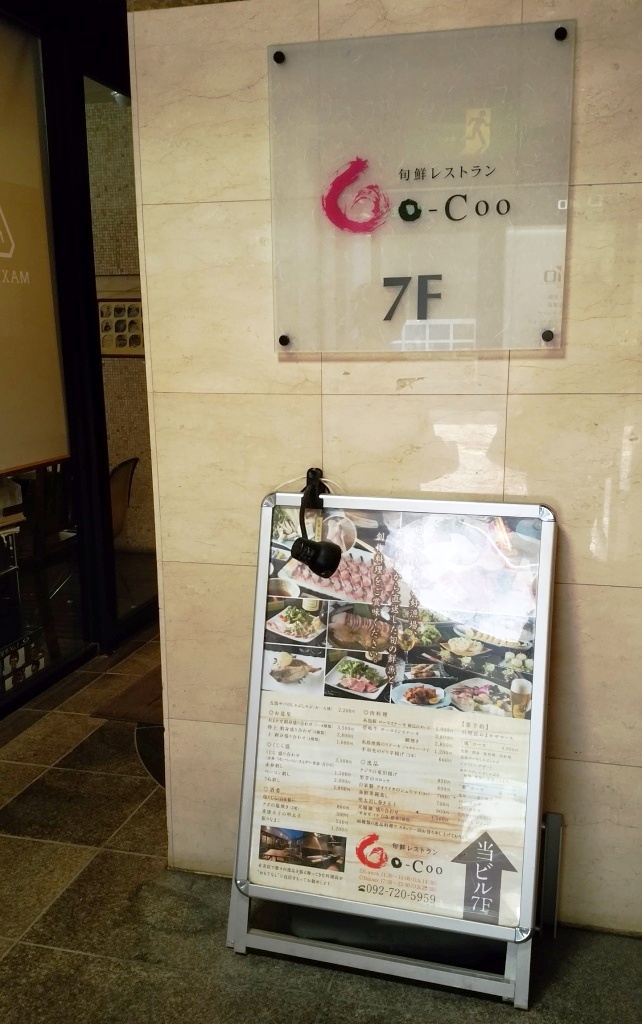 Go-Coo's Saba-shabu is usually for dinner time, but it's available in lunch time as well if you book a course lunch (available for a group of more than 2 people, booking by the day before is required).
I made a reservation in advance to try this special menu.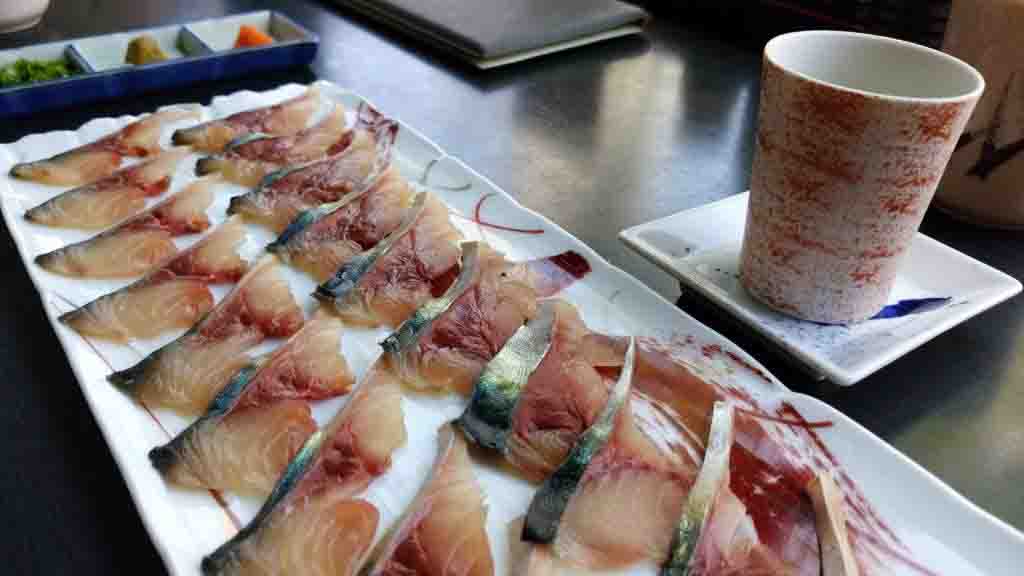 How beautiful they look!
These are mackerel from Goto Islands in Nagasaki Prefecture.
I usually enjoy the sight for a while when I have good foods because I want to keep it in my memory more strongly.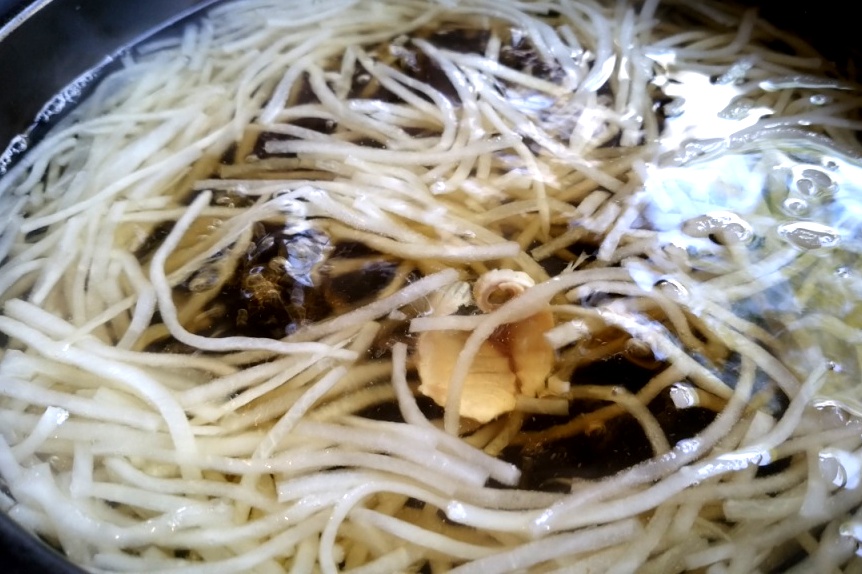 A hot pot of soup and shredded daikon radish was brought to make Saba-shabu. You cook the mackerel in this boiling soup.
The staff told us the timing to put the mackerel in and eat it, so we could concentrate on drinking and eating.
The staff told us that tofu and mushrooms which are usually in this kind of hot pot dishes, would be added after cooking mackerel to use the fish stock.
We tried mackerel and radish first.
The 'mariage' of beautiful mackerel and a Nihonshu "Biden"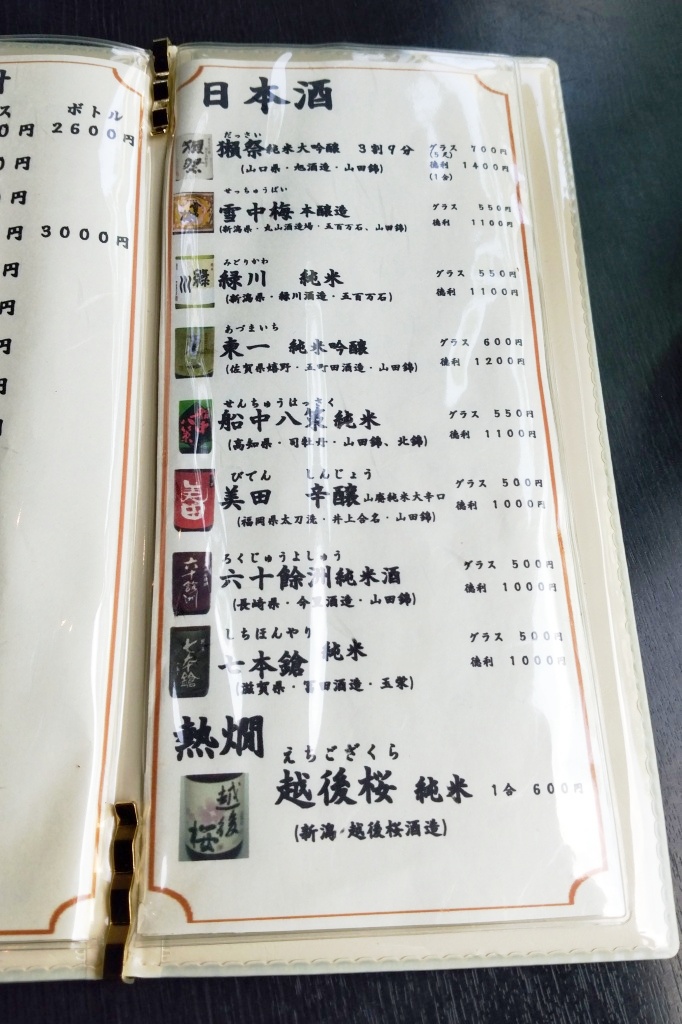 Anyone looked nice, but I chose a Fukuoka's local sake, "Biden Shinjo – Yamahai Junmai Okarakuchi" (brewed by Inoue Gomei Gaisha), which looked nice with "beautiful mackerel" for me.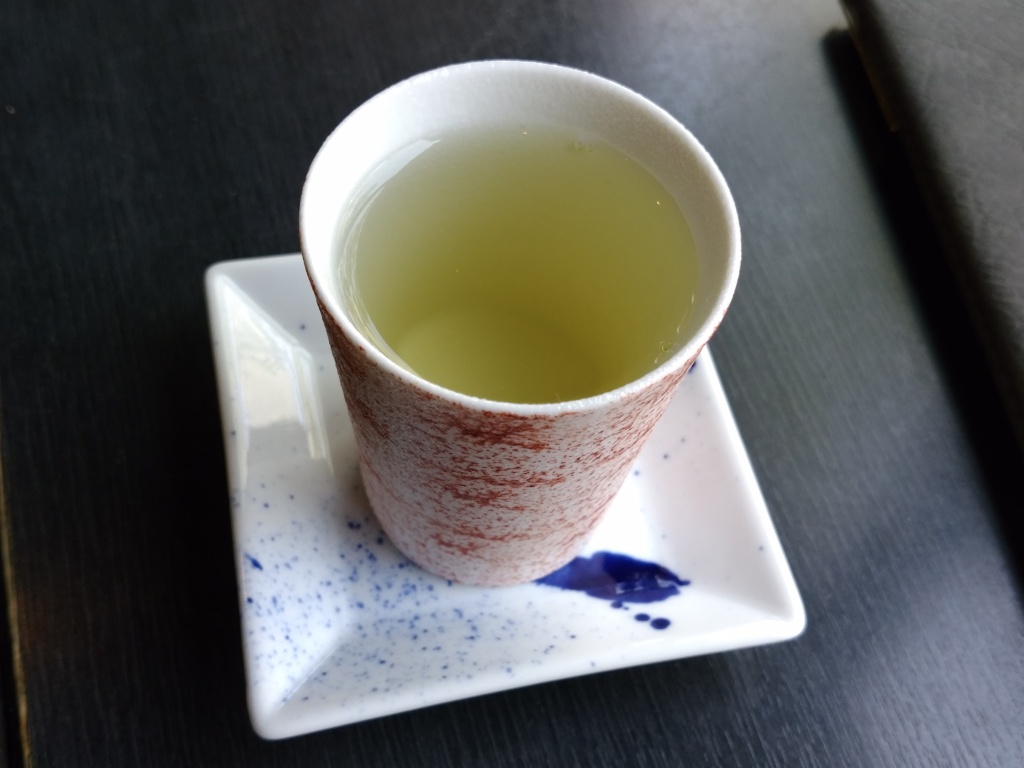 "Biden" is written as "beautiful rice field" in Chinese characters.
It was served in a white cup, so its color of light yellow looked even more beautiful.
It's a Junmaishu made in "Yamahai Jikomi" method (using only the power of molted rice for fermenting to make Nihonshu), so the taste is rich and it's enjoyable enough by itself.
The name says "Okarakuchi (very dry)", but it wasn't that dry maybe because it was Junmaishu.
However, among Kyushu's sake which is said to be usually sweet, this sake's taste is indeed dry and clear.
Now, I tried the mariage of Saba-shabu and the sake.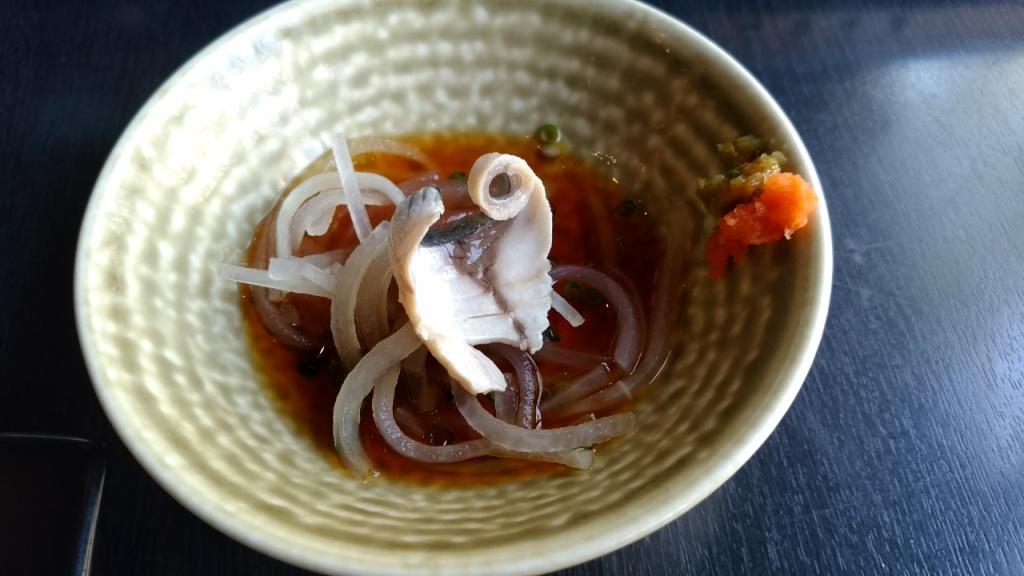 Mackerel has light taste when it's raw, but the flavor becomes richer when it's cooked.
When I had "Biden" with the boiled mackerel, the rich flavor of mackerel spread in my mouth.
The sake's dry taste made the flavor of mackerel including sweetness clearer.
Because soy sauce is usually sweet in Kyushu, the soup becomes sweet as well.
The dry sake was perfect for Kyushu's sweet dish.
Each taste of the sake and the dish helped each other, and their flavors became even better when they got together, making me say "It's so good!".
The combination was much better than I thought.
My decision to choose a rich sake like "Biden", not light and clear ones, was correct.
Satisfying "Saba-shabu lunch course"!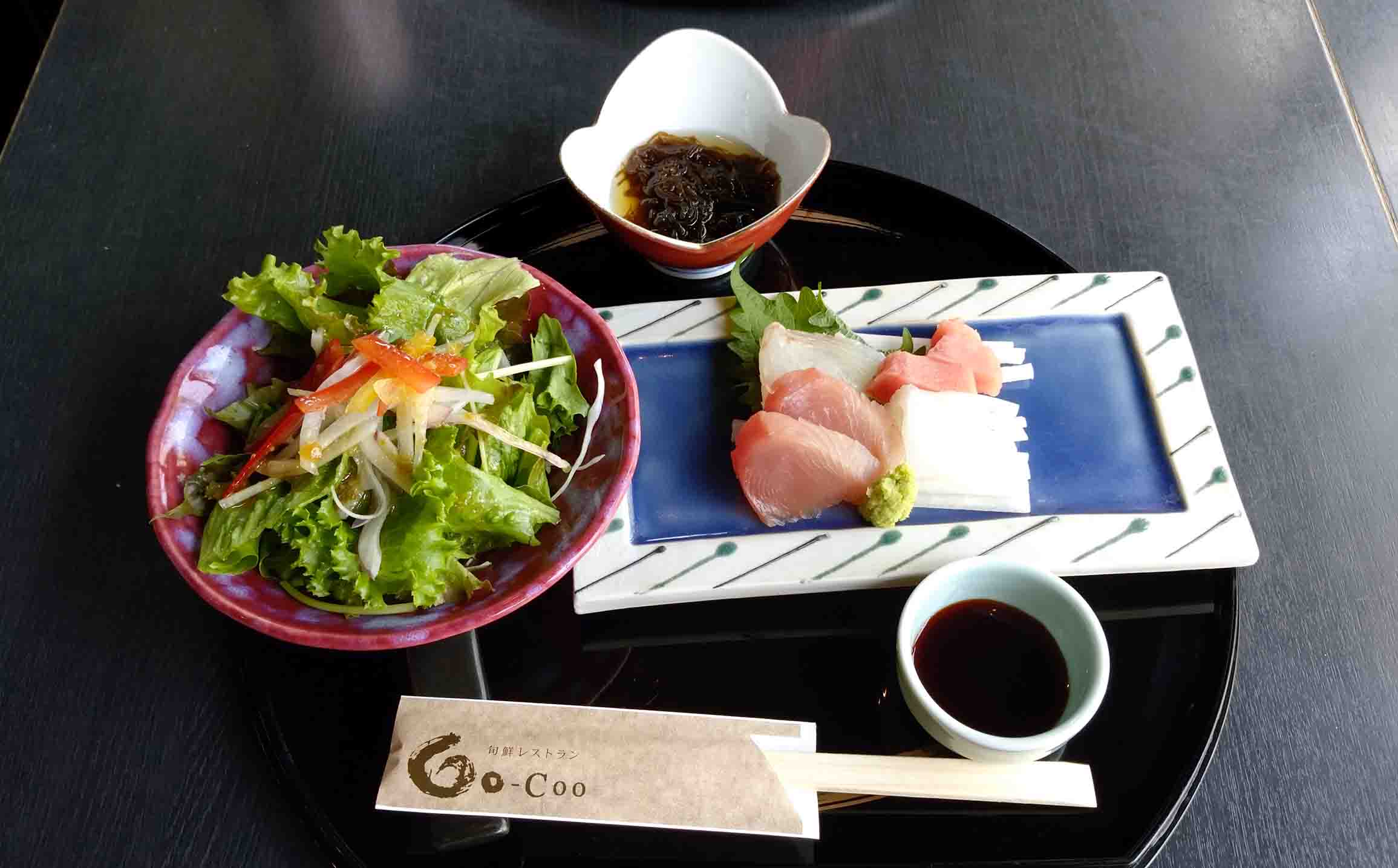 Now I show you the other dishes of this lunch course.
The first ones served were salad, Mozuku (seaweed seasoned with vinegar, soy sauce, etc), and Sashimi (there were 3 types of sashimi on that day).
The sashimi of squid was sooooo nice!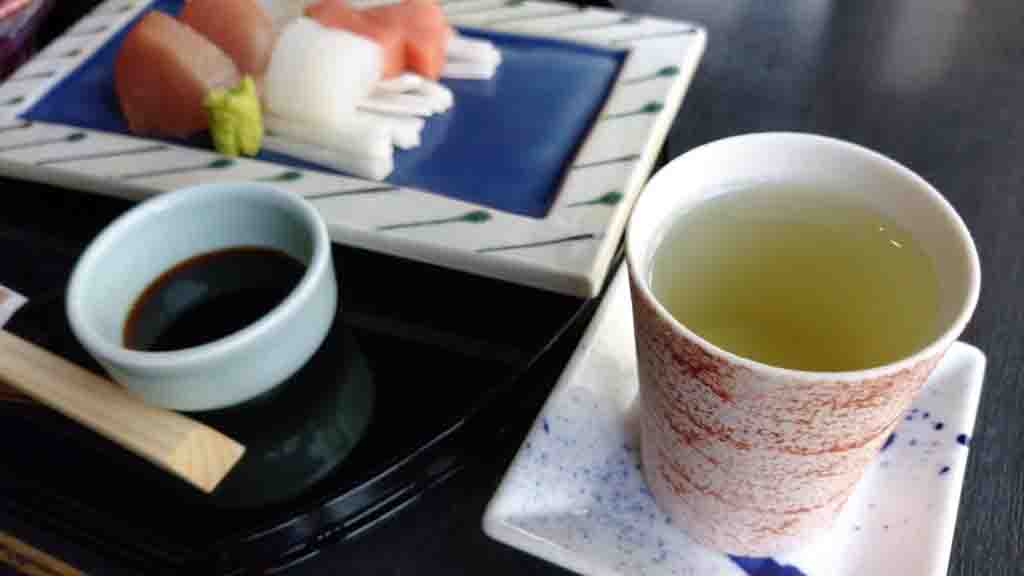 I found that "Biden" was great with sashimi as well.
Because the soy sauce for sashimi was sweet, the inside of my mouth became sweeter and sweeter while eating sashimi.
When I had a sip of "Biden" between pieces of sashimi, the sake made the balance in my mouth normal back remaining the good flavor of sashimi.
It was nice to refresh my tongue.
Thanks to "Biden", I could enjoy the sashimi until last.
After the salad and sashimi, more dishes came one after another in this order; Steak of Itoshima Pork, Saba-shabu, Shimabara Tenobe Udon noodles (thin), and dessert + coffee.
This satisfying "Saba-shabu lunch course" was only 2,800 yen.
By the way, it is common to eat raw mackerels in Fukuoka.
In my case, I eat "Gomasaba" the most, which is the soul food of Fukuoka people, while there are common sashimi or half-roasted sashimi as well.
It's a seasoned raw mackerel dish; pieces of mackerel which are a little bigger than sashimi pieces soaked in soy sauce and sesame.
You can make it easily at home, and many Izakaya restaurants serve Gomasaba in Fukuoka, too.
The beautiful mackerel dish which Go-Coo provides is very new and interesting even for Fukuoka people who often eat mackerels.
It was also interesting to know that mackerels and Nihonshu match well, not killing each other's taste.
This is all for today's report from Fukuoka!
It's our great pleasure if this article is helpful for you.
Comment (0)