Nihonshu "Shigemasu" with grilled fish & Karashi Mentaiko at "Shirasu Kujira" in Fukuoka Airport
Nihonshu "Shigemasu" with grilled fish & Karashi Mentaiko at "Shirasu Kujira" in Fukuoka Airport
Today's report is by a special correspondent "N" from Fukuoka.
I'd like to report a place where you can have lunch at Fukuoka Airport.
Lunch with a view of aircrafts taking-off and landing
The domestic terminal of Fukuoka Airport is now under refurbishment, so there are some places which are closed.
Meanwhile, many new restaurants are starting in the airport as well.
There are restaurants around the departure lounge and the restaurant floor, and also over the security gates.
There are good restaurants which have ramen noodles, ordinary meals, gelato, or fish dishes.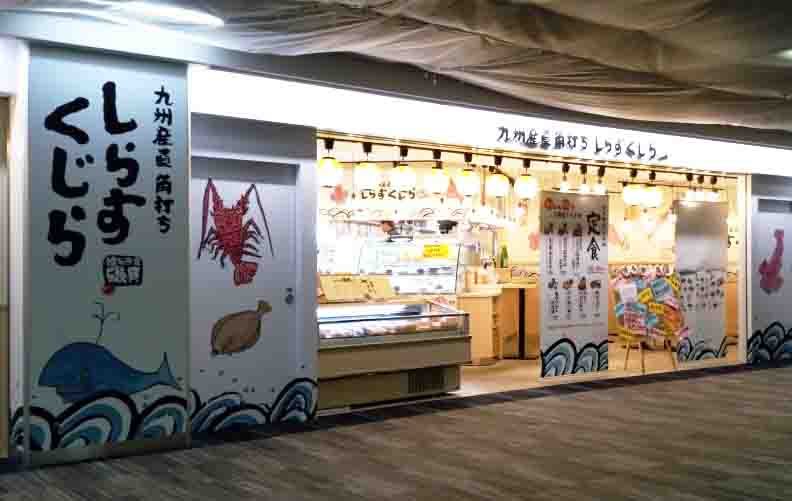 On the day on which I visited the airport, I tried a restaurant over the security called "Kyushu Kaku-uchi Shirasu Kujira".
This is an affiliated restaurant of "Isogai", which is famous for good seafoods of Genkainada Sea (the sea in the northwest of Kyushu Island), and there are some branches in Fukuoka's towns.
I knew that "Shirasu Kujira" is good for casual drinking and eating, but I was surprised to know that it had a branch over the security gate of an airport as well.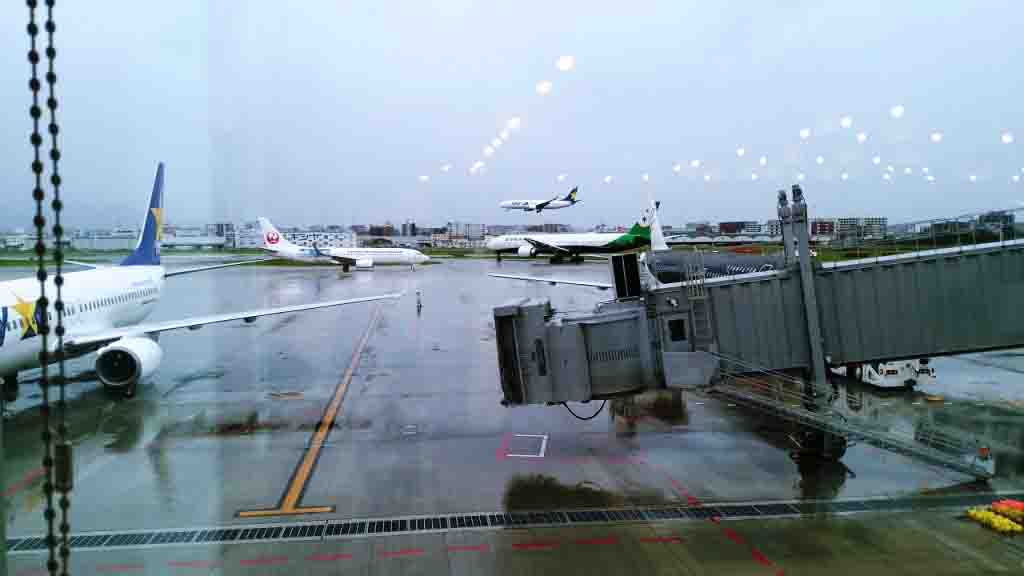 I took a window seat, and in front of me was the runway!
Can you see 5 aircrafts in the photo above? One of them is about to land!
I checked the menu book feeling the sound of aircrafts' engines.
New specialty! Miso-grilled Matou-bream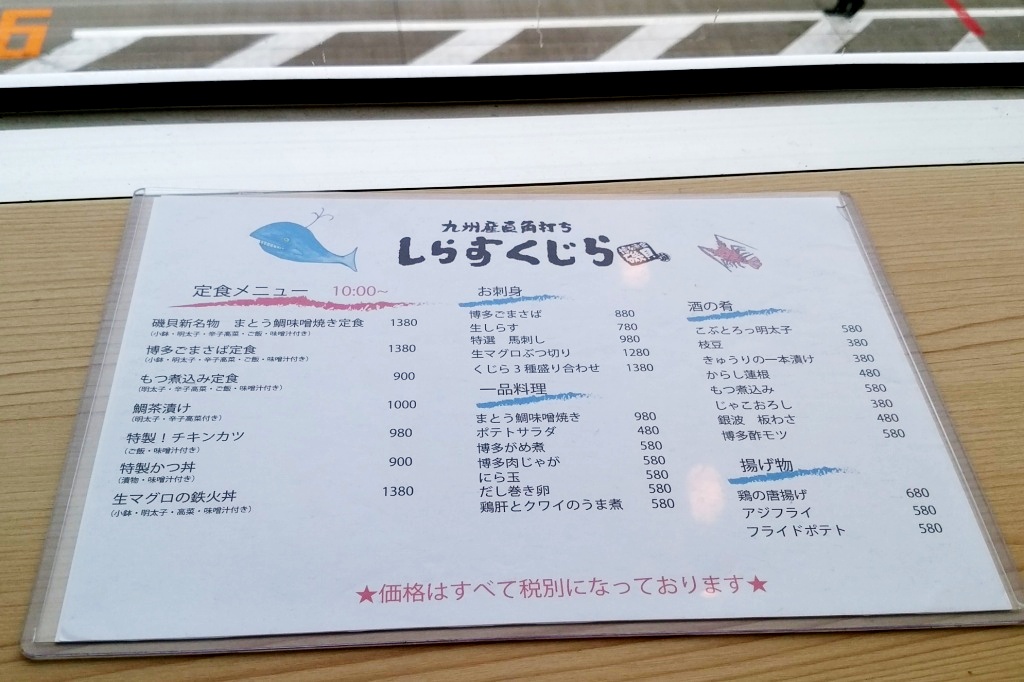 There were some choices for the lunch meal; grilled fish, sashimi, seafood-don (seafood on rice in a bowl), chicken cutlet, and so on.
My choice was "New Specialty of Isogai … Miso-grilled Matou-bream Lunch", which looked nice with Nihonshu, too.
My meal arrived. The fish was grilled perfectly.
When I touched the piece of the fish with my chopsticks, the meat with much fat broke easily, and the taste was great with the Miso seasoning.
It was filling enough as well.
It was good enough to be called "New Specialty".
"Matou-bream" is a fish which is often eaten in areas along the Sea of Japan.
It was named "Matou" because the head looks like "horse head". ("horse head" in Chinese characters can sound "Matou".)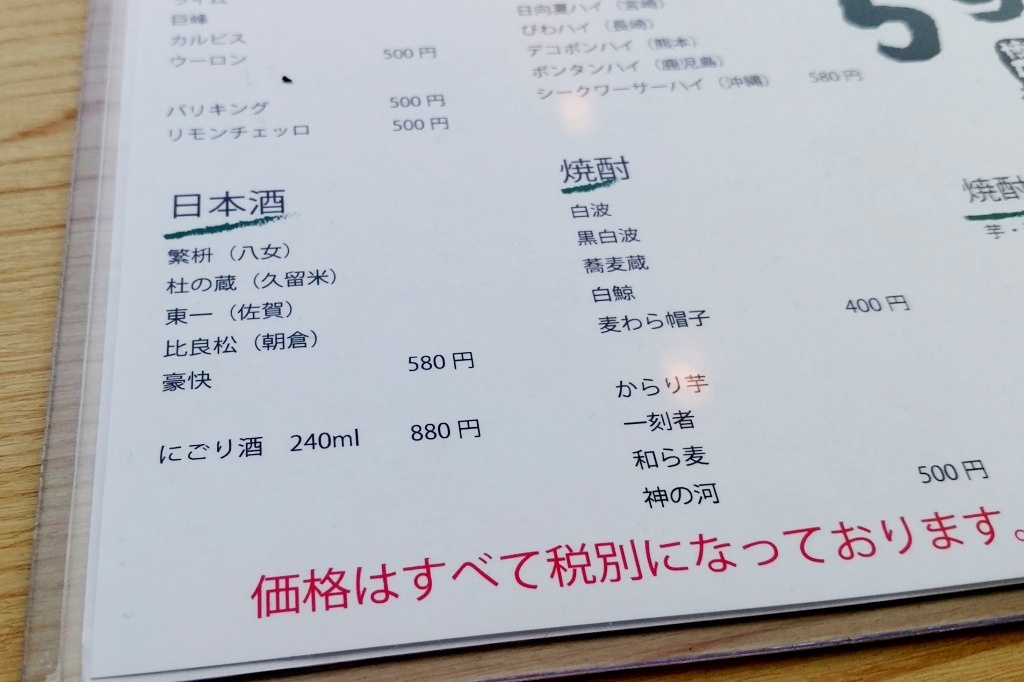 The above photo is the menu of Nihonshu.
The number of the sake looked less than those of other branches, but it was good enough for a shop over the security gate of the airport.
Enjoyed "Shigemasu" brewed in Fukuoka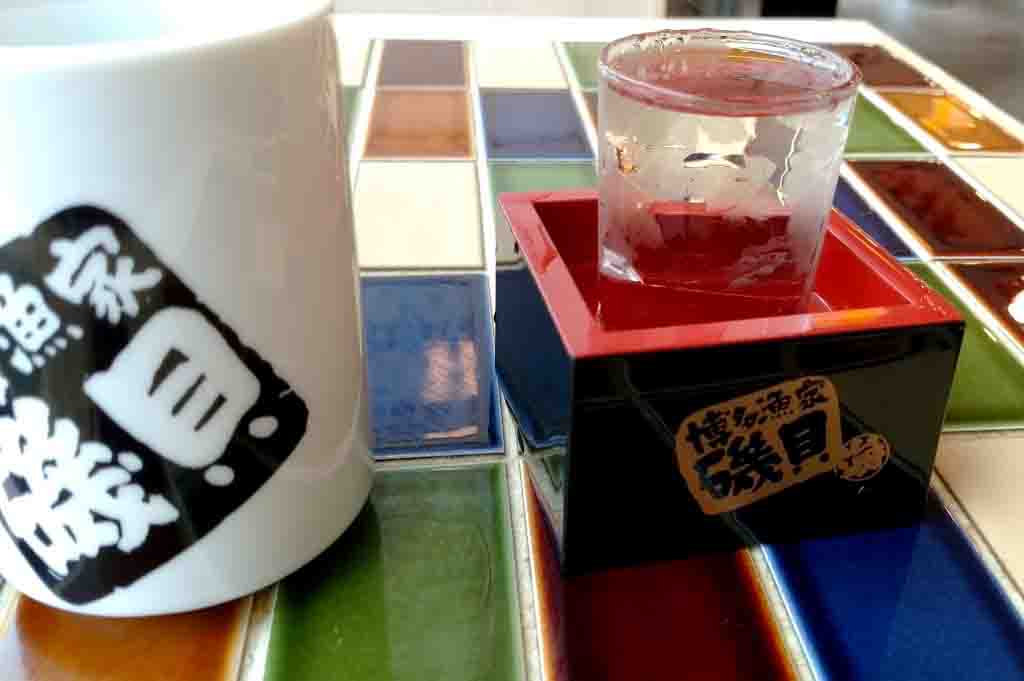 I chose a sake made in Yame, Fukuoka, "Shigemasu".
It was classified as light and dry taste.
By the way, a typhoon was causing many cancels and delays on that day, and the staffs and customers were a little panicked.
It seemed that the restaurant was unexpectedly busy, and the staffs looked a bit panicked there, too.
Because everyone looked busy, I hesitated to ask whether the sake was "Junmai" or "Honjozo"….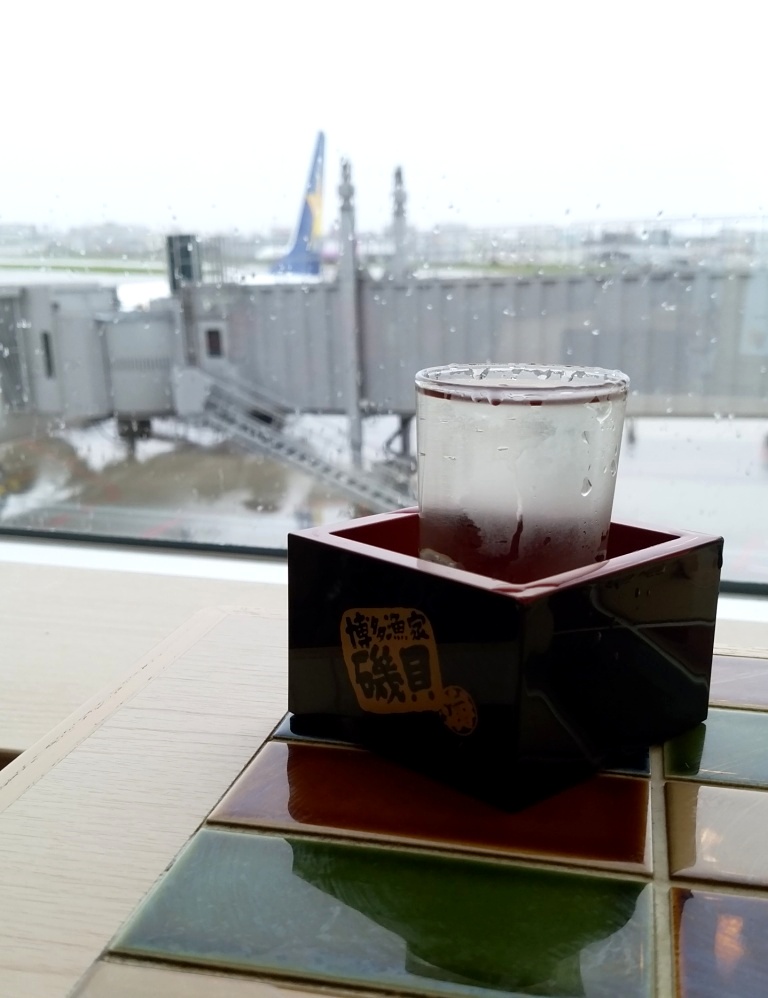 The combination of "Shigemasu" and "Miso-grilled Matou-bream" was "draw". Each characteristic stayed strong separately.
The combination with Karashi Mentaiko
After I had the sake with the fish, I thought that the sake was hard to drink with foods.
I tried it with "Karashi Takana (spicy pickled Takana leaves)" and "Karashi Mentaiko (spicy cod roe)" which were served on a small dish.
Then, I found that the sake could be nice with food.
Among the two and the grilled fish, "Karashi Mentaiko" was the winner as the partner of "Shigemasu" which had strong taste.
Miso-grilled fish was a kind of "too mild" and didn't match "sharp and strong" sake, but Karashi Mentaiko had "sharp" taste as well, so they matched well.
To explain it in soccer, it was like the 2 top payers won goals.
By the way, Karashi Takana was too spicy to match the sake.
In the end, Takana goes perfect with white rice.
Hakata people don't always eat Mentaiko
Karashi Mentaiko is Hakata's famous food.
Many people might think, "Fukuoka people can always eat Mentaiko", but actually, they rarely buy Mentaiko.
Especially, those which have good shapes and are packed beautifully are completely for gifts, not for themselves.
For normal use, value packs of Kireko (broken pieces of Mentaiko which are made when making gift Mentaiko) are available, and some Mentaiko makers sell reasonable tubed Mentaiko, too.
As well as the people out of Fukuoka, Fukuoka people are also willing to receive Mentaiko gifts.
So, this lunch made me very happy because it had much Mentaiko in the meal which was after a long time for me.
I enjoyed Mentaiko slowly, and had Nihonshu. It was such a gorgeous time!
The reason why I could spend a good time at "Shirasu Kujira" was that my flight was canceled due to typhoon and had to change to another flight.
I had to spend much more time for it, but it brought me a good time of Mentaiko, Matou-bream, and Nihonshu after all.
This is all for today's report from Fukuoka Airport!
It's our great pleasure if this article is helpful for you.
Comment (0)