Enjoyed the mariage of fish and "Isojiman Honjozo" at "Cafe and Dining Paco" in Yoga
Enjoyed the mariage of fish and "Isojiman Honjozo" at "Cafe and Dining Paco" in Yoga
Good day!
Thank you very much for visiting this bog.
Today I'd like to introduce a restaurant in Yoga, "Cafe and Dining Paco".
Introduction
"Yoga" means, of course, Yoga in Setagaya Ward along Denentoshi Line.
Yes, as some people should notice, today's article is written by someone else, not me.
I live in Asakusa area which is in the north east of Tokyo.
My work place is in Roppongi which is in the middle, so I rarely go to the west or south of Tokyo.
As a result, my articles are mostly about places along Ginza Line. It leads the lack of variety, so I started outsourcing the writing to other people.
The writer of today's article is a writer Nara.
He works for a wholesaler of black tea and herb tea in Tokyo, and he studies not only tea, but also coffee, and alcoholic drinks such as sake and wine.
He even has worked as a lecturer of Nihonshu in a matchmaking party.
He runs a blog "Nara Cafe", and he writes about his studies of cafes, money management, and whisky on his website.
Now, his report starts!
Hi! My name Nara who is a new writer. This is my first article on this website.
I hope you enjoy my article!
I'd like to write about a restaurant called "Cafe and Dining Paco" in Yoga, Setagaya Ward in Tokyo. I had a good time with good foods and sake there.
A restaurant like a hidden shelter – "Cafe and Dining Paco"
The restaurant, "Cafe and Dining Paco" is 7 minutes by walk from the east exit of Yoga Station on Tokyu Denentoshi Line.
You walk through the restaurant street around the station, and the restaurant locates in the residential area.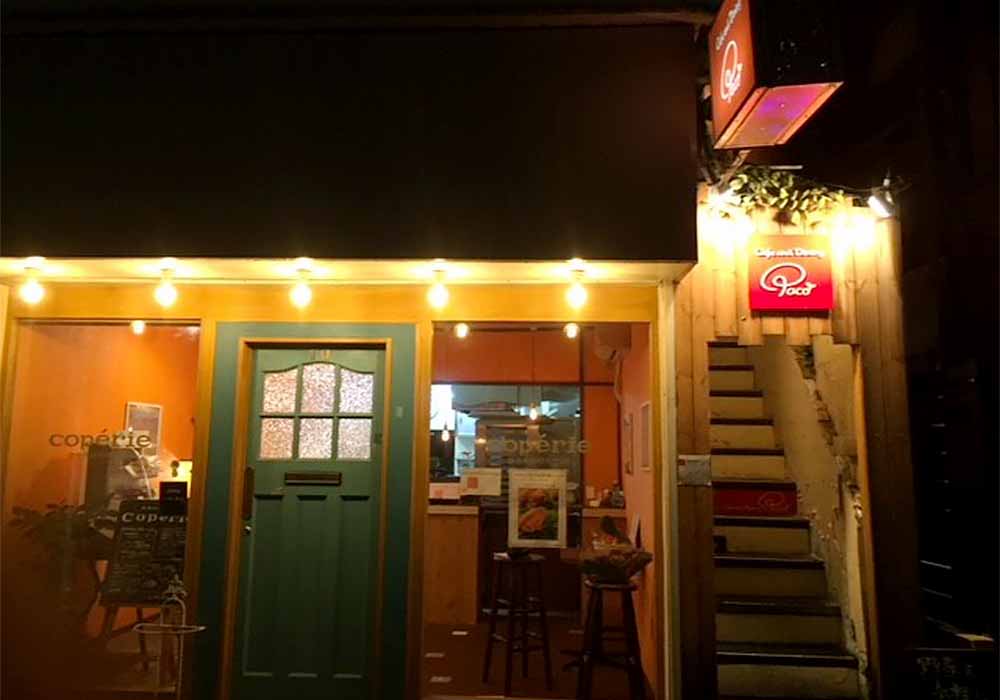 The first floor is a stylish bakery called "coperie", and the second floor is "Paco".
The red sign board with a white logo, and another board beneath the stairs are the marks to find it.
This section is a little dark at night because it's a residential area, but this building is very bright.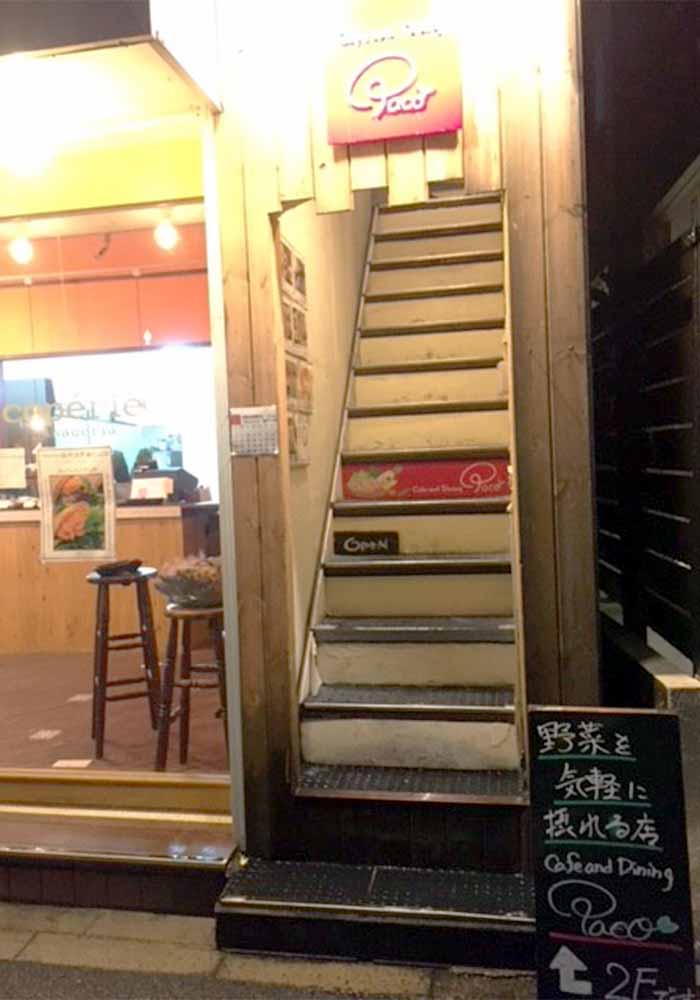 "Cafe dining" where you can enjoy delicious vegetables
One of the characteristics of Paco is their foods made with fresh seasonal vegetables.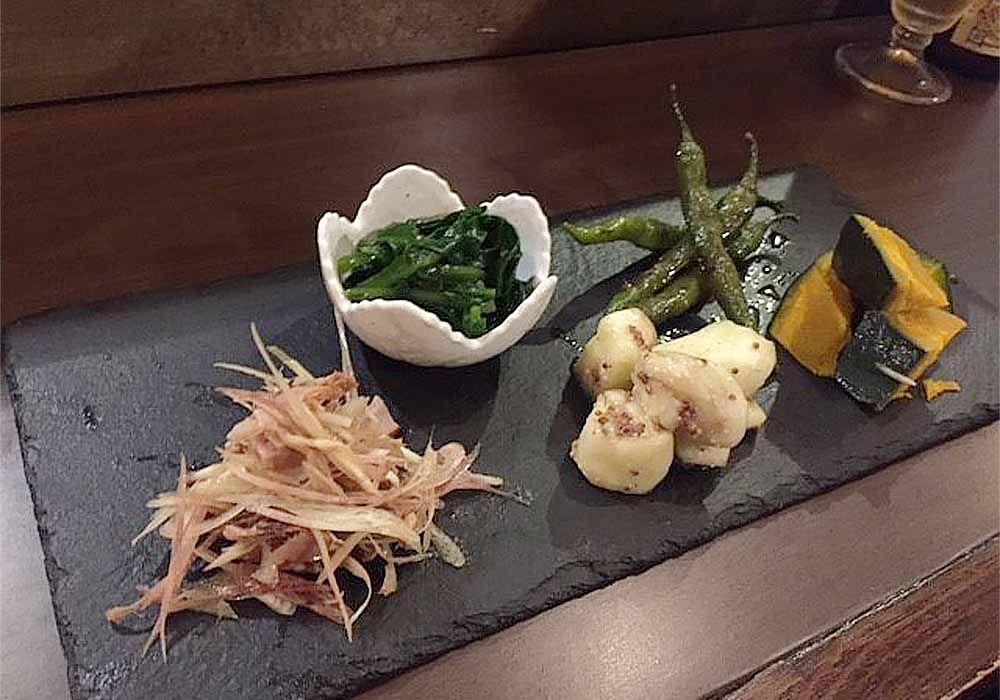 The photo above is an assortment of various snacks.
There were different kinds of dishes which were good for not only Nihonshu, but also other drinks such as beer and white wine.
The sliced Gobo (burdock) showed the chef's good work by its beautiful looking and gentle texture.
As you can see, many vegetables were arranged beautifully into the snacks on the plate.
This restaurant uses much vegetables for main dishes, too.
For example, some root vegetables such as chopped Gobo and lotus root are mixed in humburg steak,
You can take much vegetable from any of their menus.
"Isojiman Honjozo" from the owner's hometown
"Paco" has only one Nihonshu in their drink menus.
It's "Isojiman Honjozo" which is made in the owner's hometown, Yaizu City in Shizuoka Prefecture.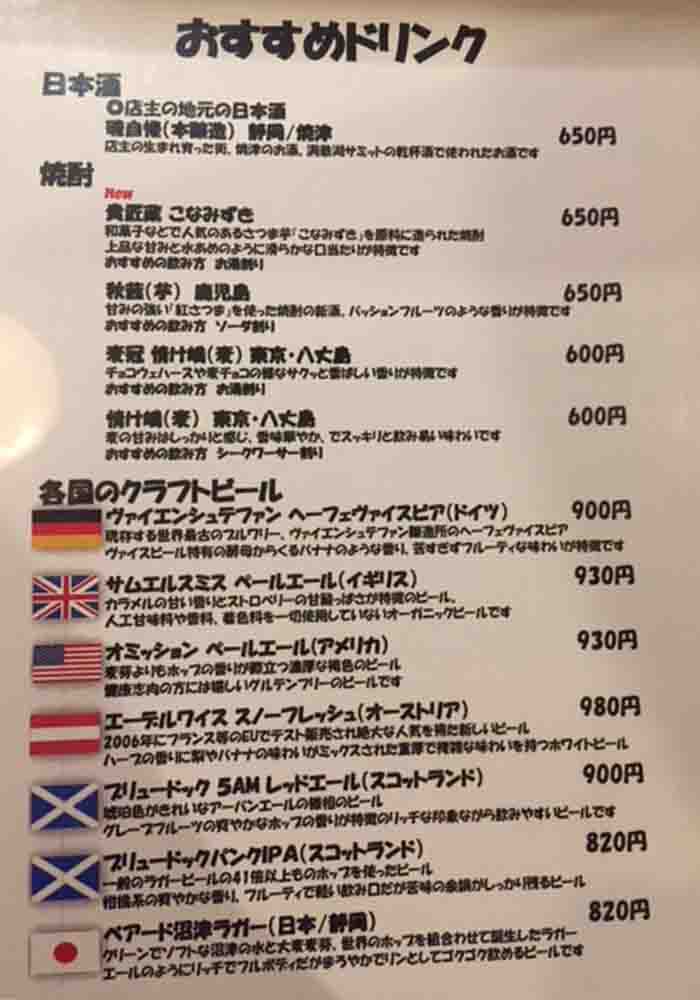 I thought that they should have had seasonal recommendations of Nihonshu, but they had only one.
I heard that they sometimes add other sake for a limited time if there are requests from the customers.
I visited there in September in 2018, and there were many beer menus because they were holding Craft Beer Fair at that time.
The sake "Isojiman" got famous when it was selected as the drink for the first toast at the dinner in Hokkaido Toyako G8 Summit in 2008.
It became so popular that it was difficult to buy them once.
"Isojiman" which Paco serves is "Honjozo" label which is only distributed in Shizuoka Prefecture.
It's a rare sake which only the local people can buy.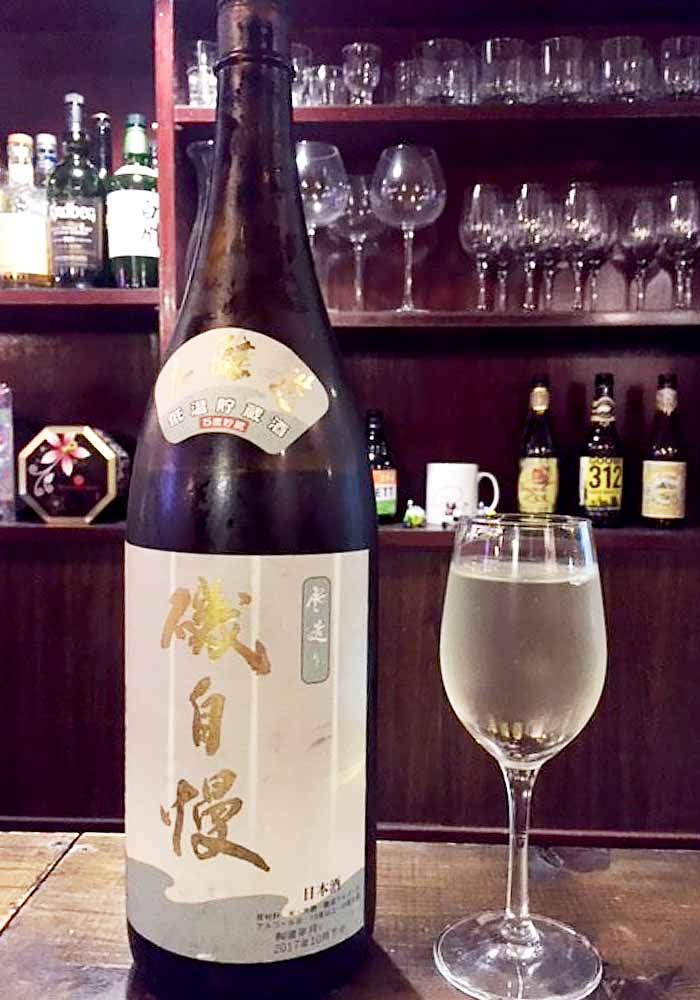 This Honjozo "Isojiman" is mainly made of rice called "Kiyonishiki" made in Yamagata Prefecture.
The rice is polished to 65% of the original amount to be used for brewing sake.
This sake has fresh scent of Ginjo which is made slowly in low fermentation temperature.
One of the characteristics of this sake is the rich and fruity sweetness.
It has sweet scent like melon, banana, or pear.
It has only little sourness, rich sweetness, mild texture, and soft and clear aftertaste.
These characteristics made me drink the sake without stopping.
I liked it very much.
The alcohol percentage is 15 – 16, but thanks to its sweetness and clear taste without off-flavor, I didn't feel such strong alcohol.
You need to be careful not to drink too much when you try it.
Great combination with fish dishes!
I asked the owner which dish would be nice with the sake.
He recommended me the fish of the season.
Fish is a standard food for Nihonshu.
Shizuoka Prefecture where the brewery of Isojiman is has rich food materials from the land, the mountains, and the sea.
I imagine that the sake is made to go well with fish because the brewery is in Yaizu City near the sea.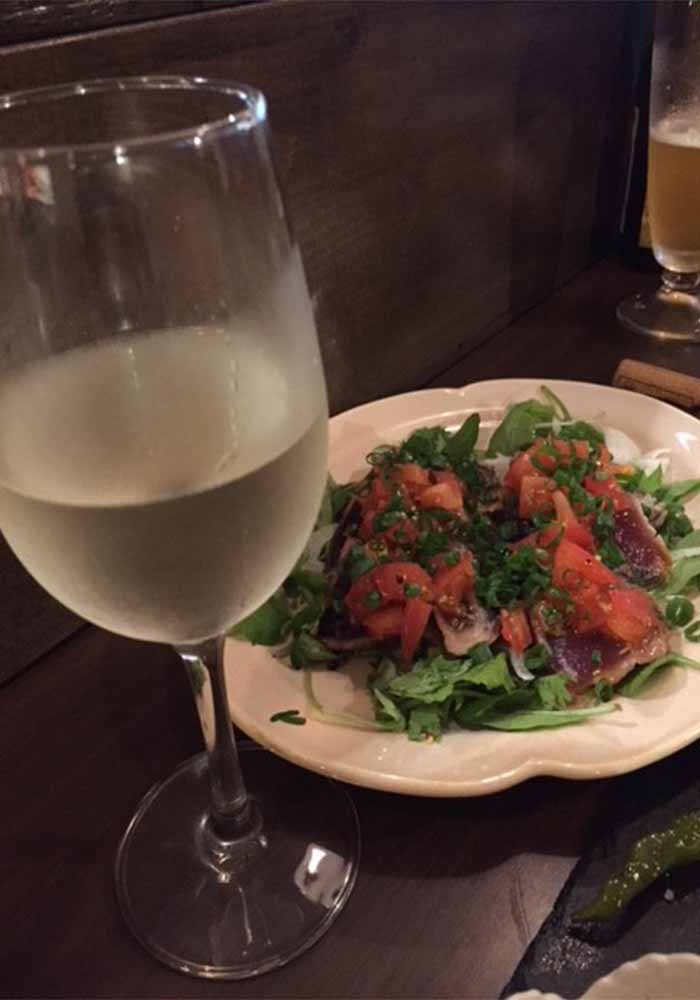 The photo above is a carpaccio of bonito.
Bonito and ginger are the most major combination in Japanese foods.
This Japanese combination was arranged in Western style to become a carpaccio.
It was very nice with the sake, and I couldn't stop eating and drinking.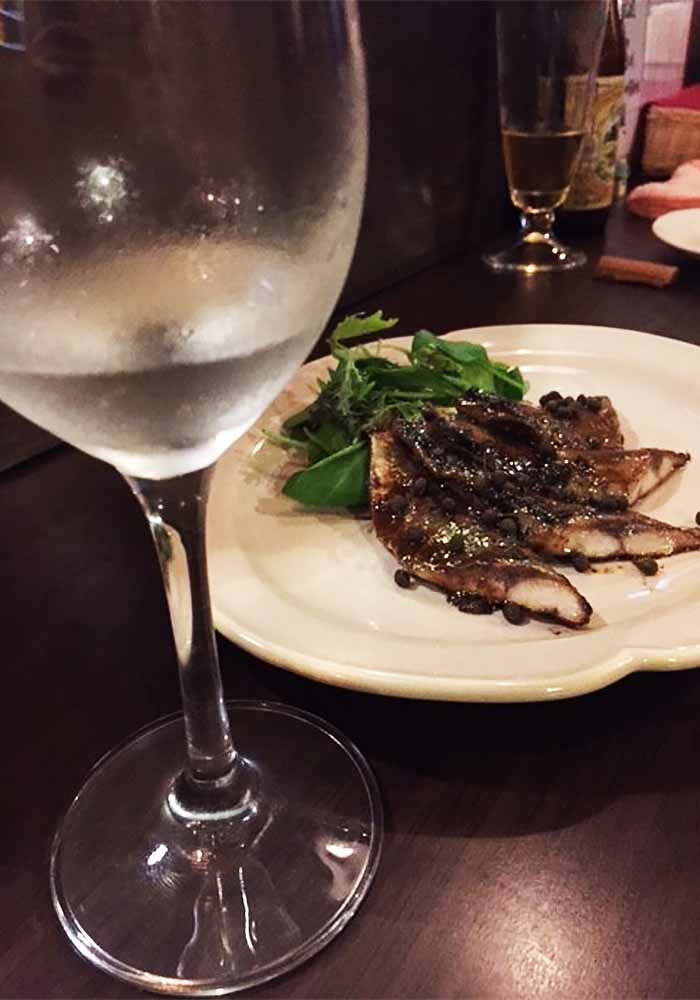 This is Sanma no Kimoyaki (grilled saury seasoned with sauce of saury's entrails).
Saury is the autumn's taste!
The rich taste of the saury's fat melted in my mouth.
The sake washed away the saury's taste in my mouth, and made my tongue plane again.
I believe that the combination of rich taste of fish oil and Nihonshu is the best one to make us feel happy.
The big characteristic of Isojiman is its sweetness, but it's not too sweet at all.
It goes well with other foods.
I felt that Japanese dishes which are a little sweet should be nice with this sake.
They would make each other's sweet tastes and good points even better.
Many food menus of Paco are a little sweet, so you can enjoy many dishes with Isojiman.
I recommend everyone not only who live near the restaurant, but also live in Tokyo to visit the restaurant to enjoy this mariage.
It's our great pleasure if this article is helpful for you.
Comment (0)