Lunch at "Ama Terrace" viewing Amano Hashidate
Lunch at "Ama Terrace" viewing Amano Hashidate
Good evening!
Thank you very much for visiting this blog.
Today is the second blog of "Research Trip Looking for Restaurants Serving Nihonshu – Kansai Series", and I'd like to write about the first destination of this trip, "Amano Hashidate".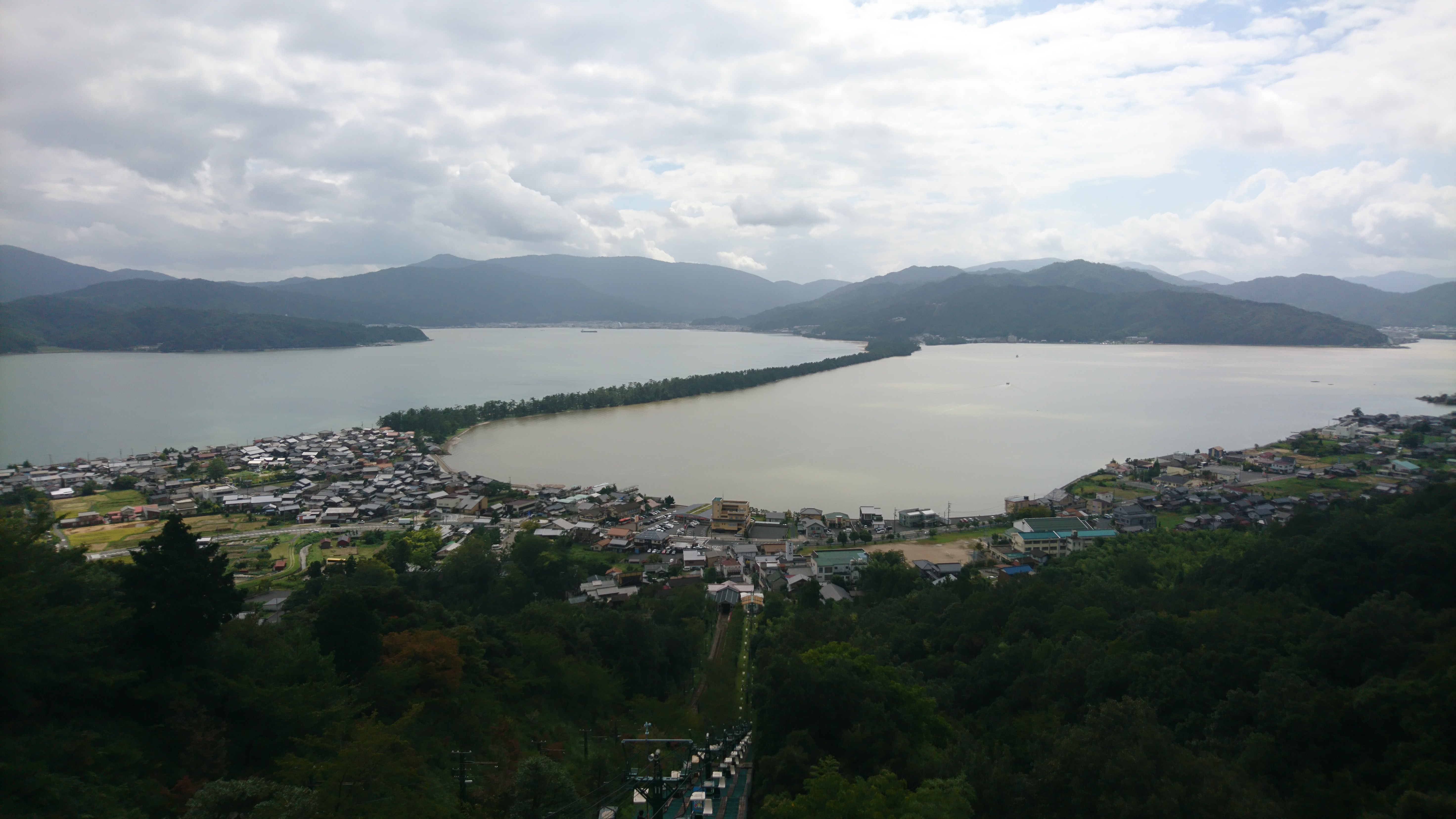 〇 Chionji Temple
I arrived in Miyazu around 10 o'clock in the morning.
I followed road signs to the temple by my car.
When I came near the goal, I parked my car at the first parking area I found.
I got off my car and walked according to the signs.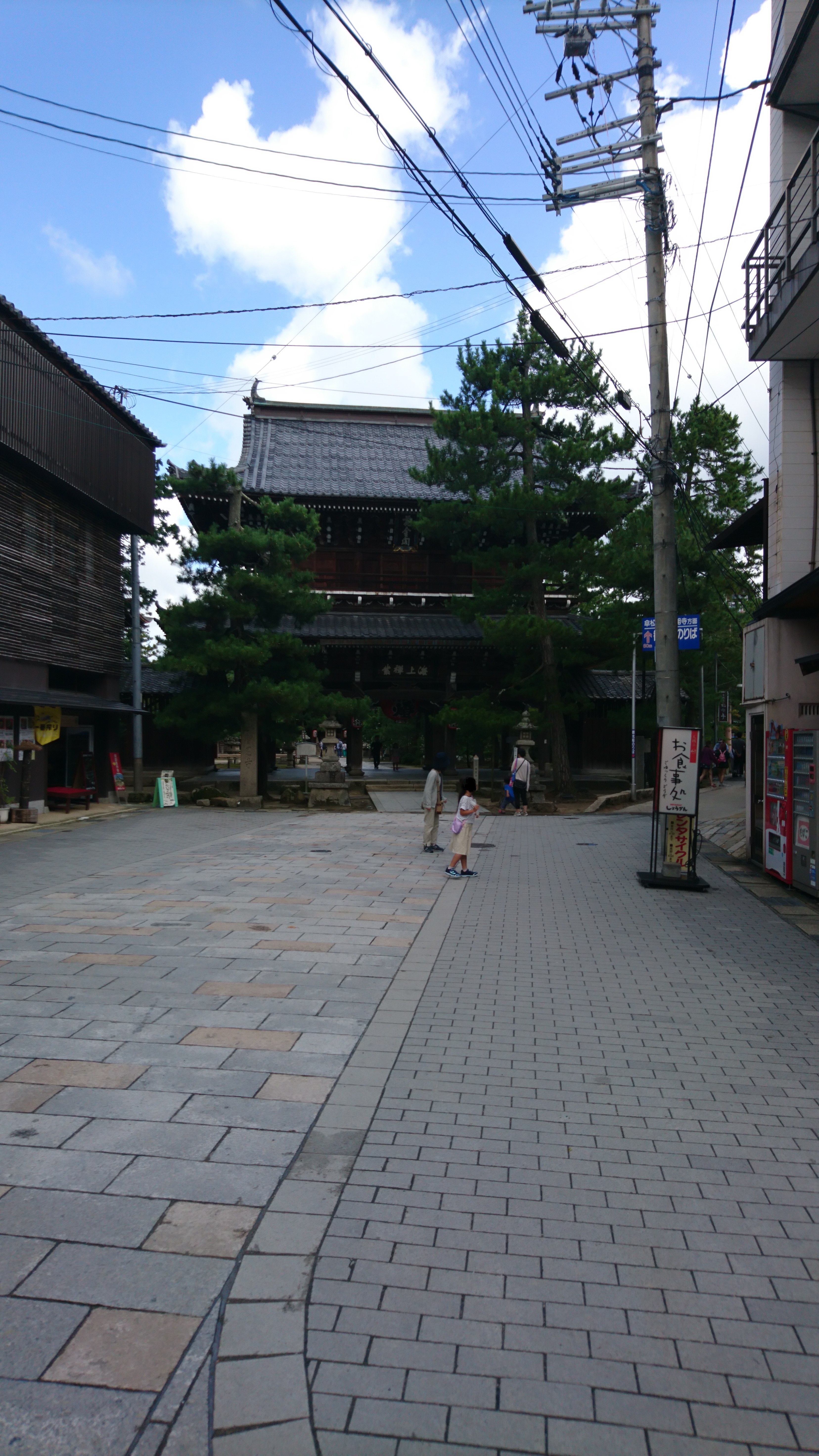 After a while, the gate of the temple appeared.
This temple's name is "Chionji".
According to the temple's history, it was built during 901 to 923 (Engi period in old Japanese calendar), and it is one of Japan's 3 greatest "Monju". ("Monju" is the name of Buddha ruling wisdom. Other 2 "Monju" are "Abe Monjuin" in Nara, and "Daishoji" in Yamagata.)
In Edo period, "Amano Hashidate" was a part of Chionji Temple's property.
As it was a precious chance for me, I visited the main building for worship.
This is the Monju Do.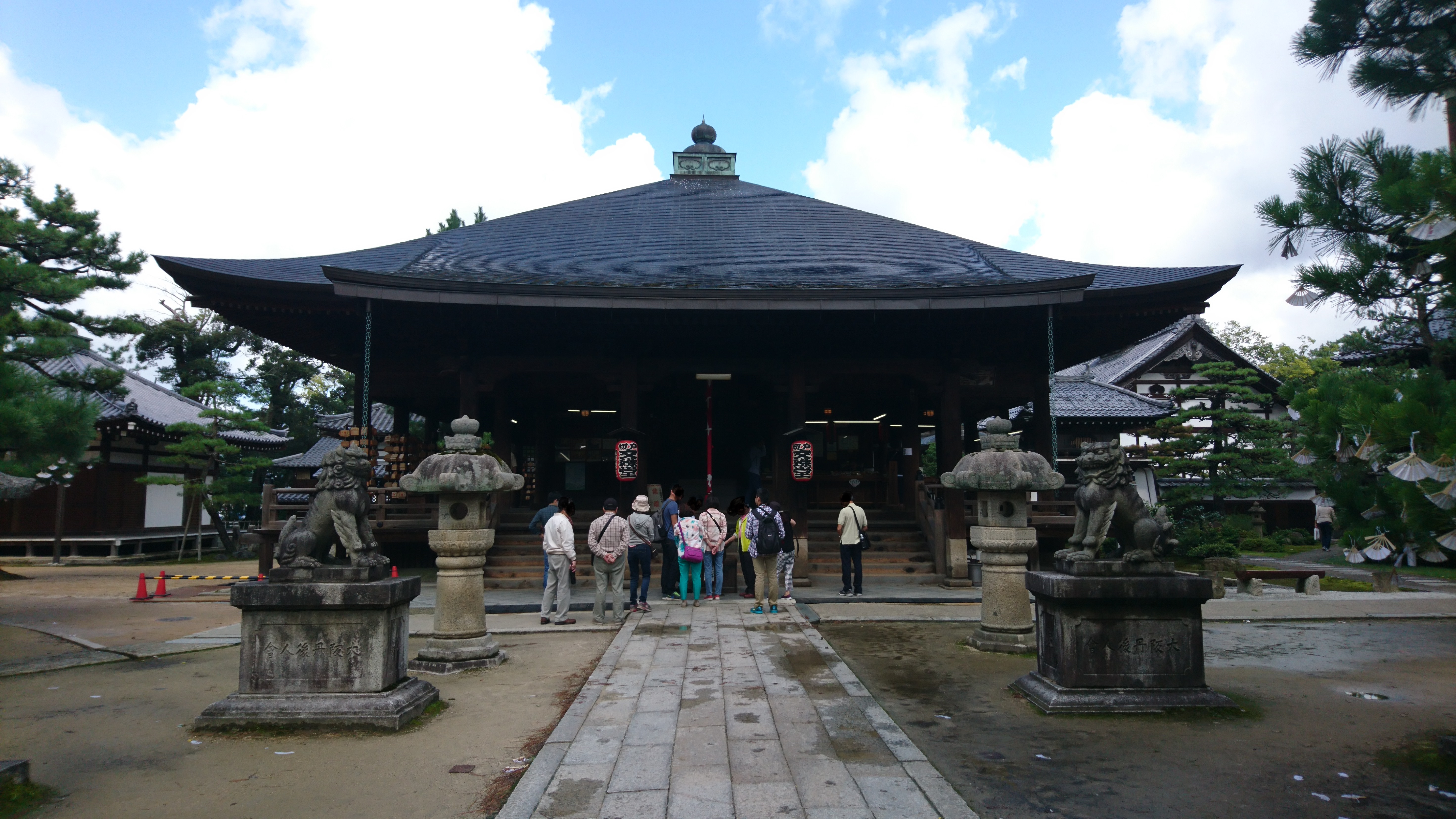 This is another tower called "Taho To".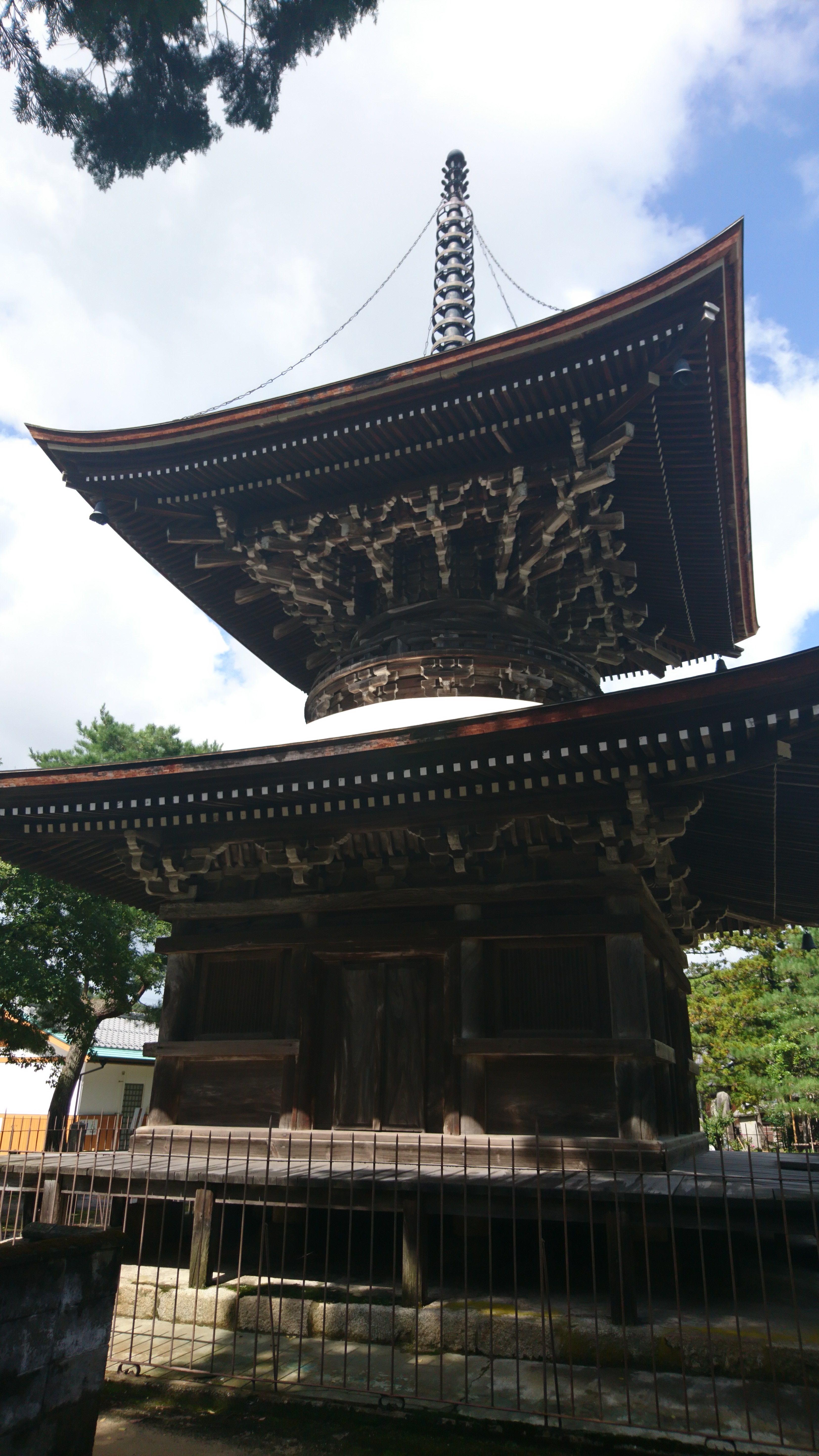 Monju Do was repaired later after erection.
Taho To remains exactly same as what a famous old suiboku-ga (ink painting) painter, Sesshu, drew in his art called "Amano Hashidate" in old days.
This old building is a national important cultural property.
〇 Amano Hashidate
After visiting Chionji Temple, I finally went to Amano Hashidate which was the main topic of the day.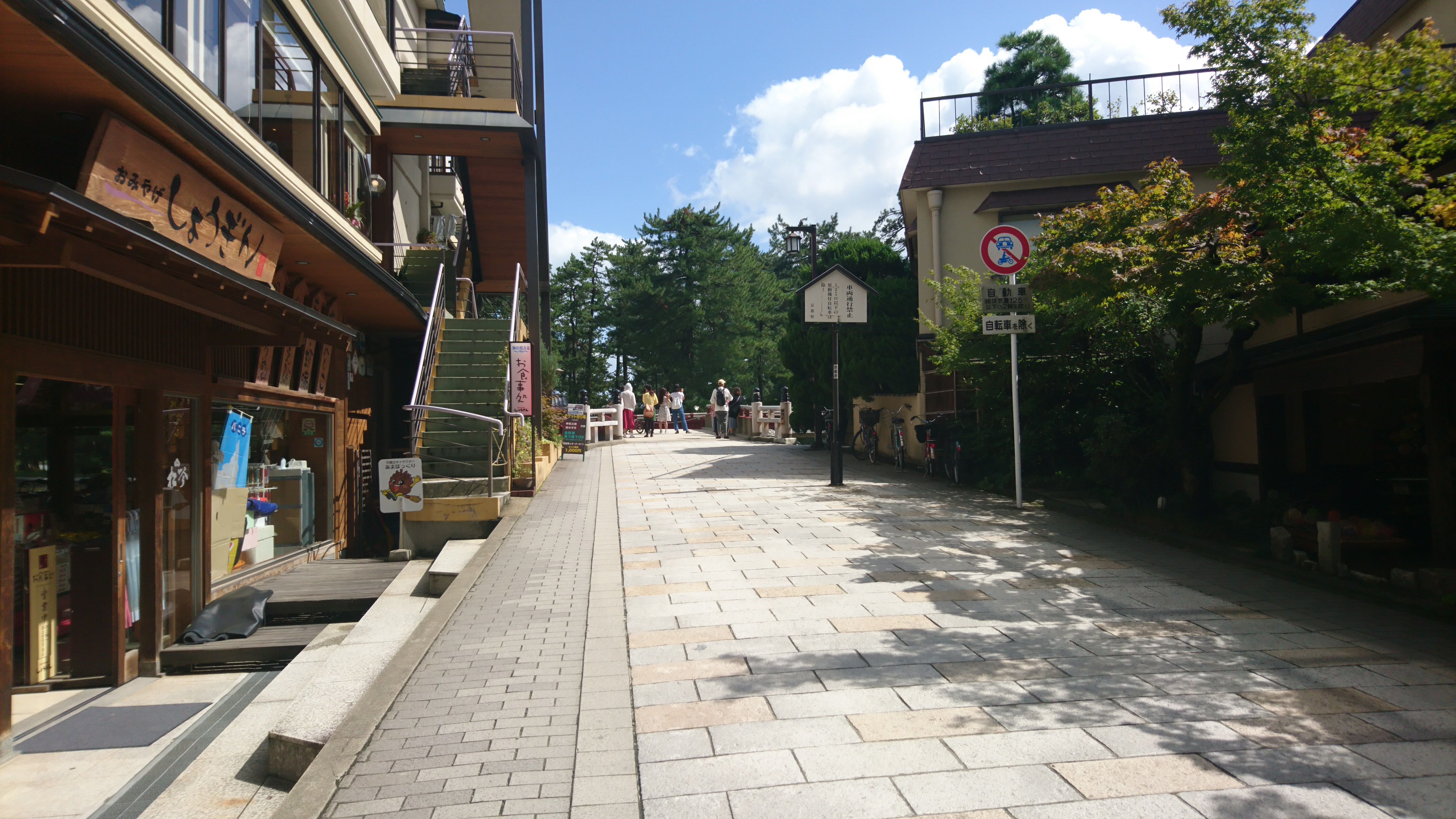 There was a bridge over this photo, and Amano Hashidate was over the bridge and pine forests.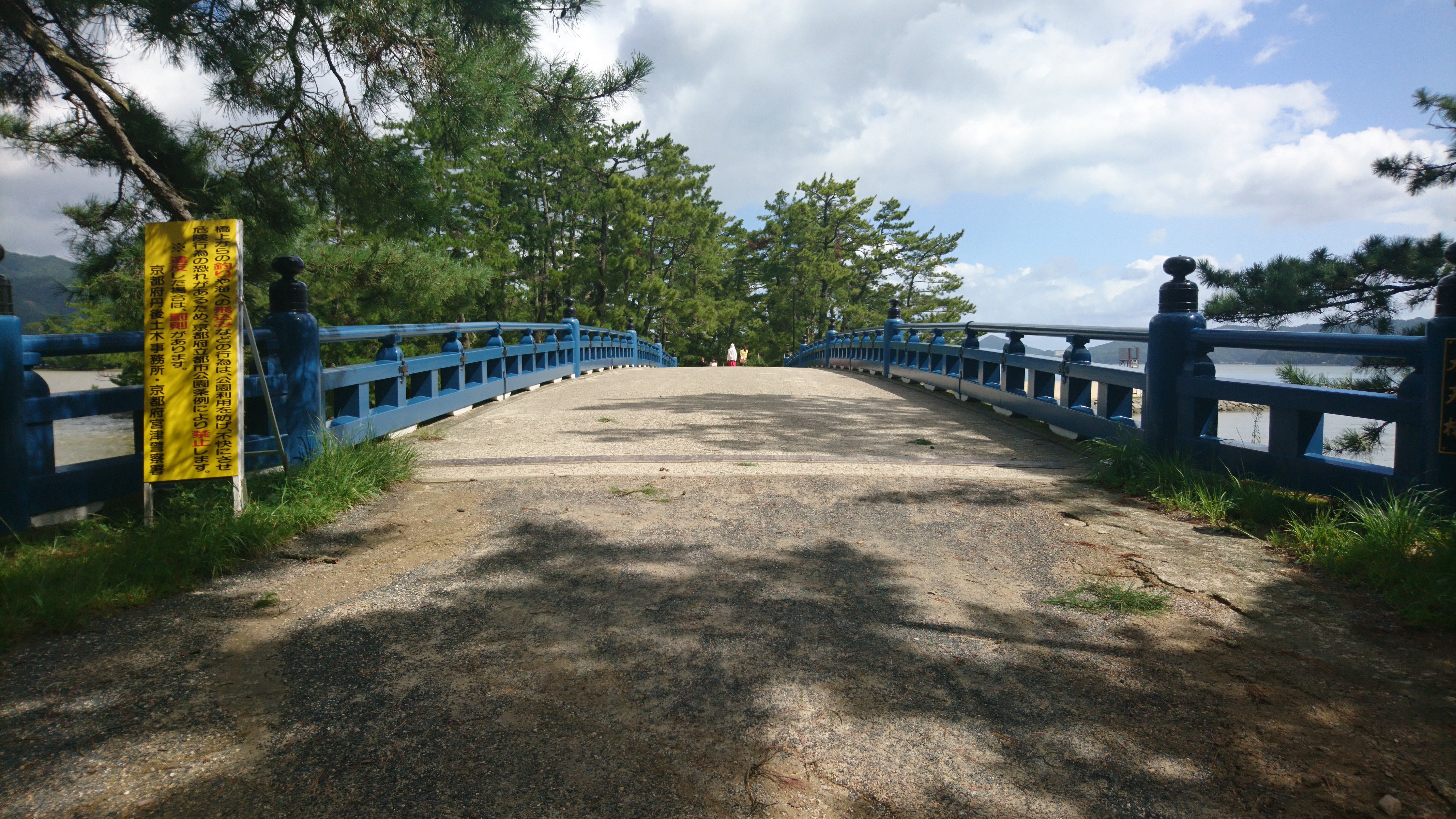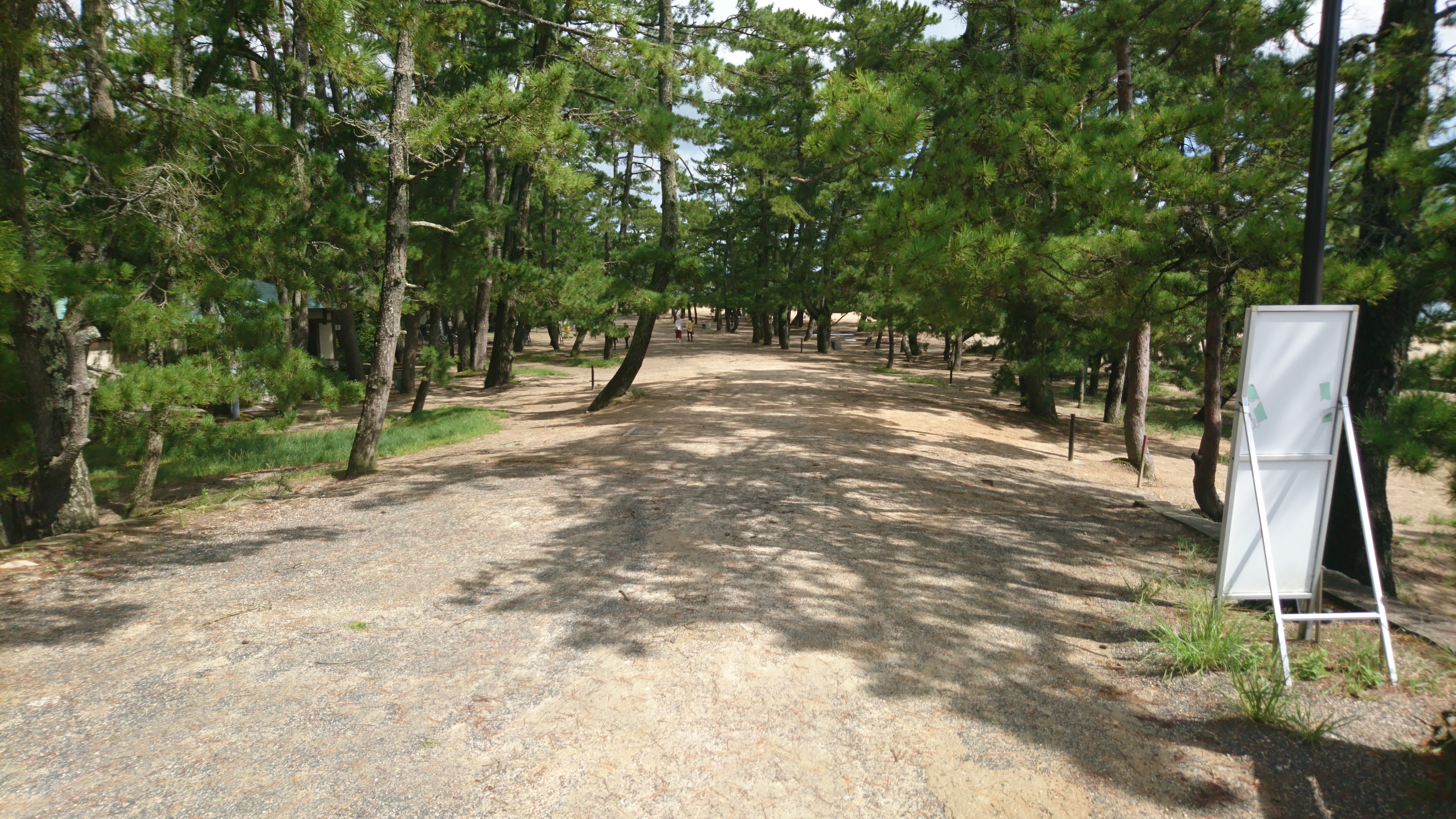 Now, "Amano Hashidate" is a sandbank on the sea, and it's one of the three great view of Japan.
The sandbank's size is 3.6km length and 20 to 170meter width, and it connects a coast and the other like a bridge.
On the long way of "Amano Hashidate", there are various historical things. For example,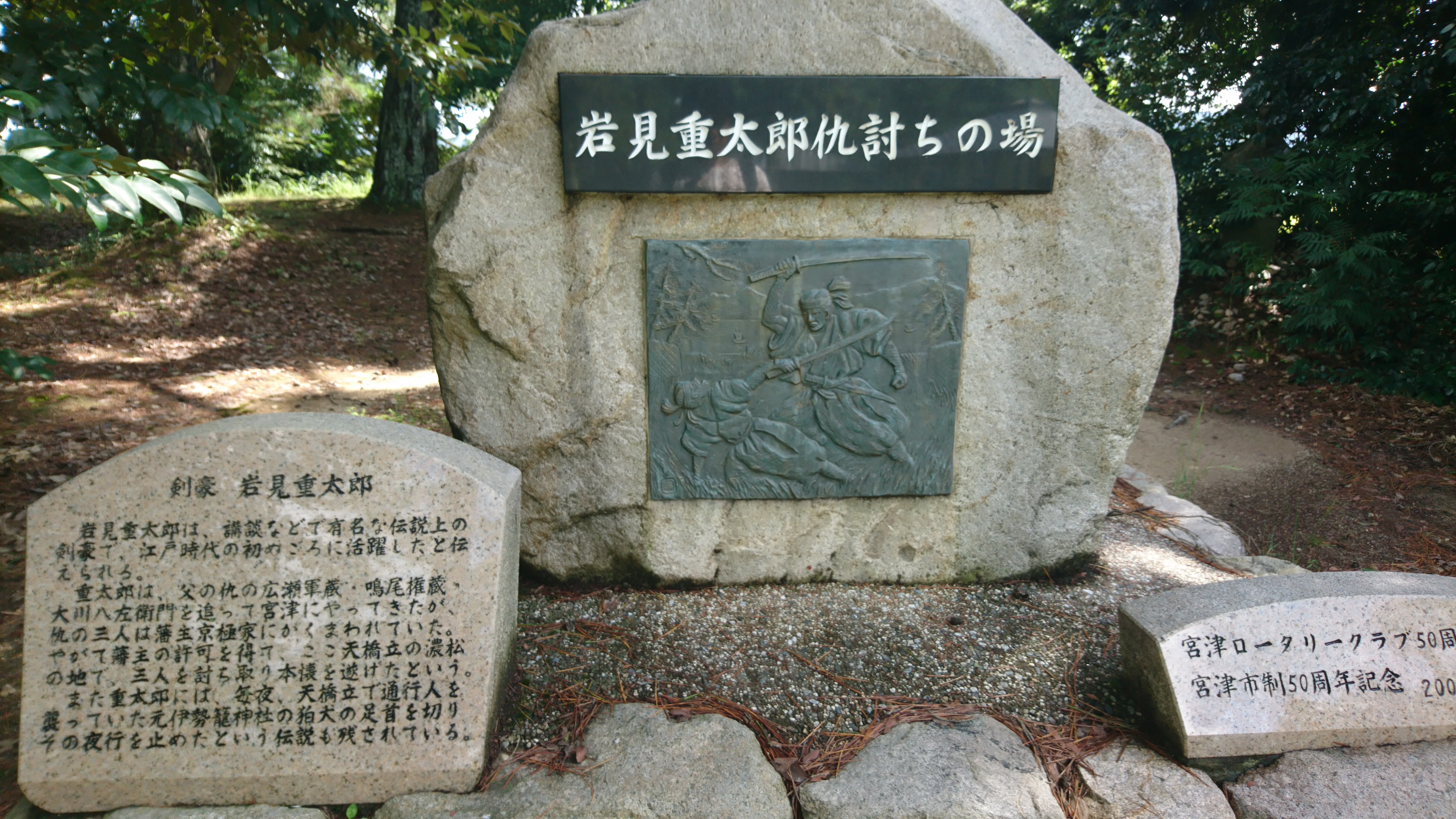 A stone monument,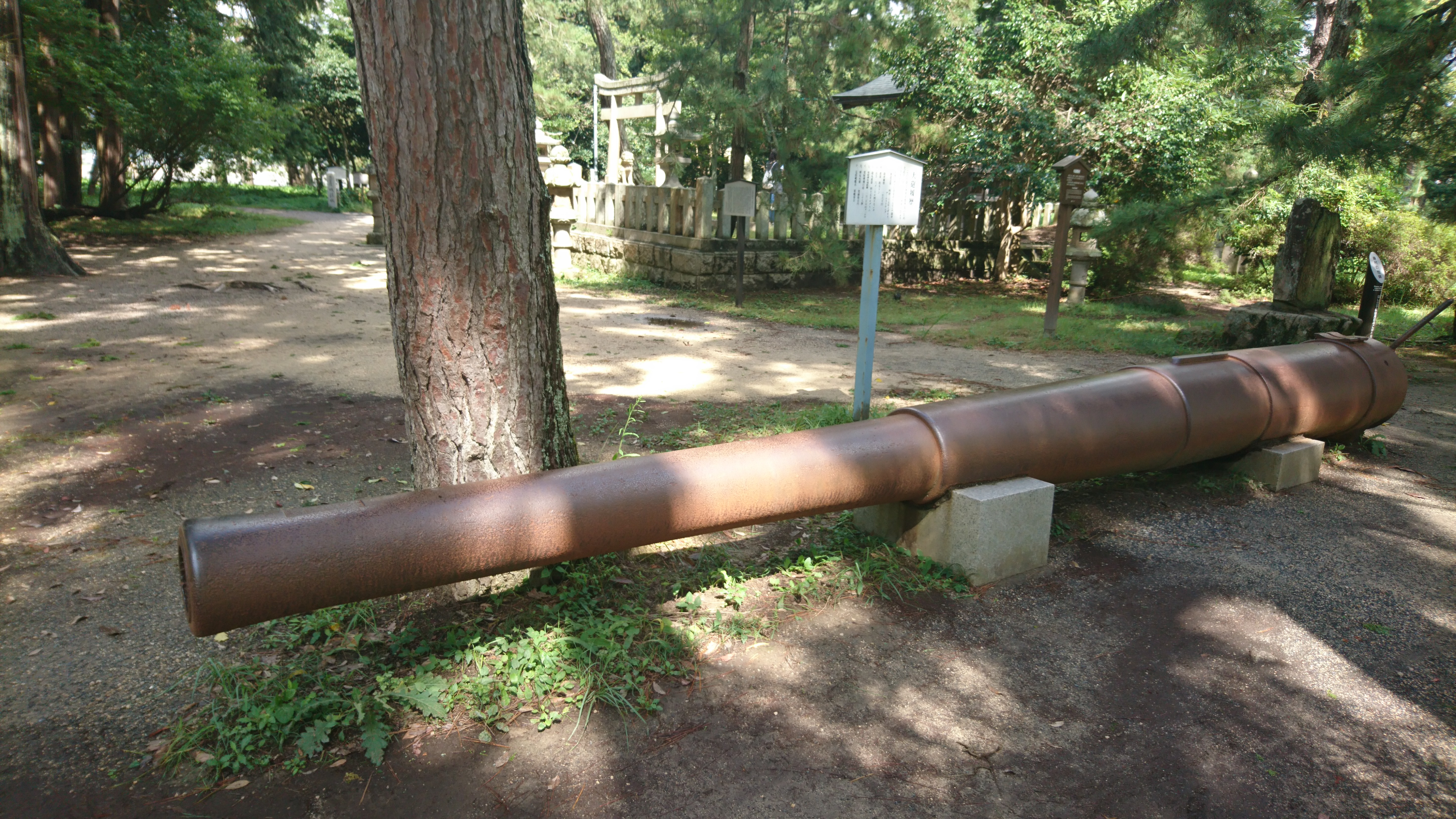 A gun of a warship,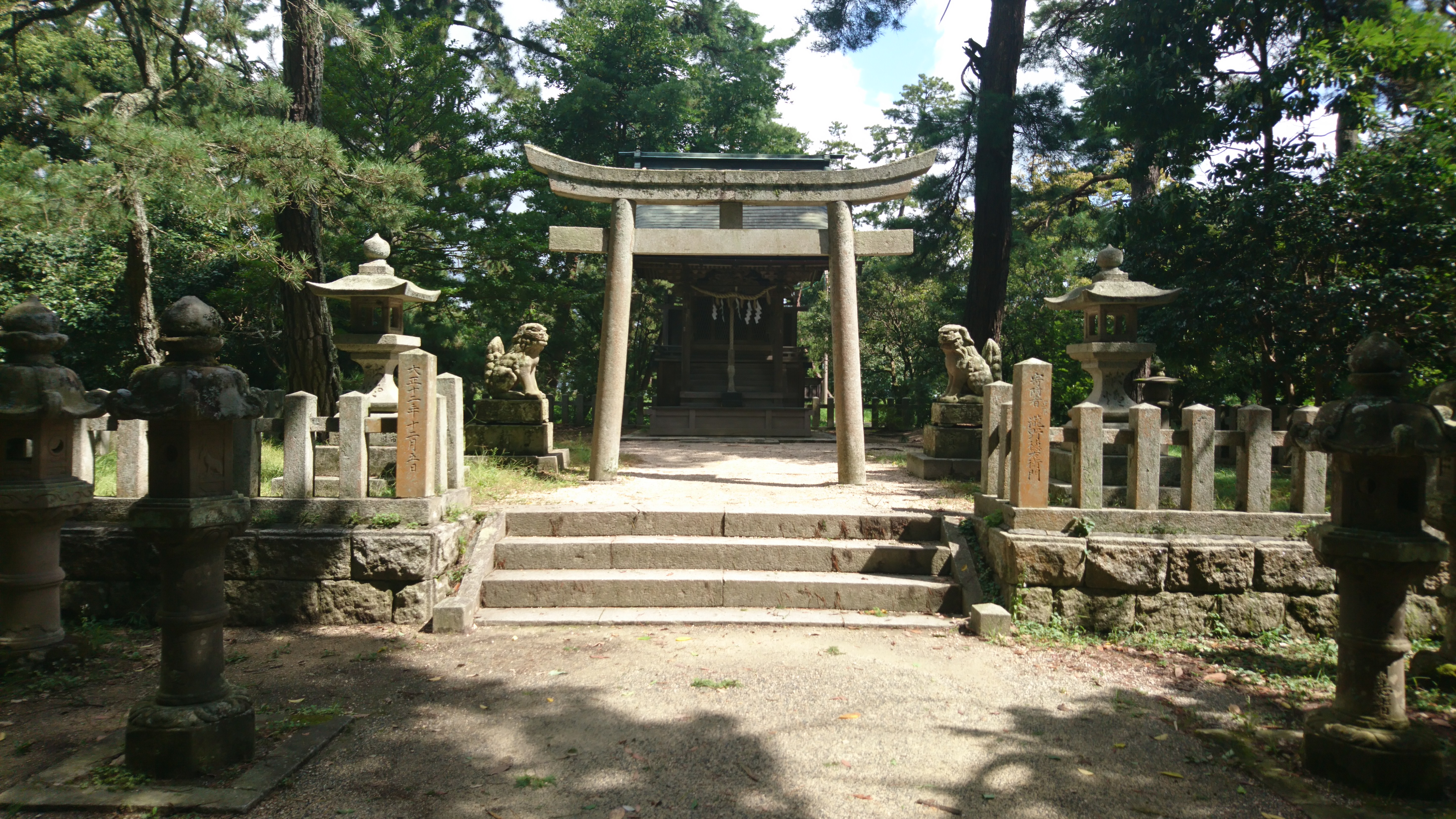 A shrine,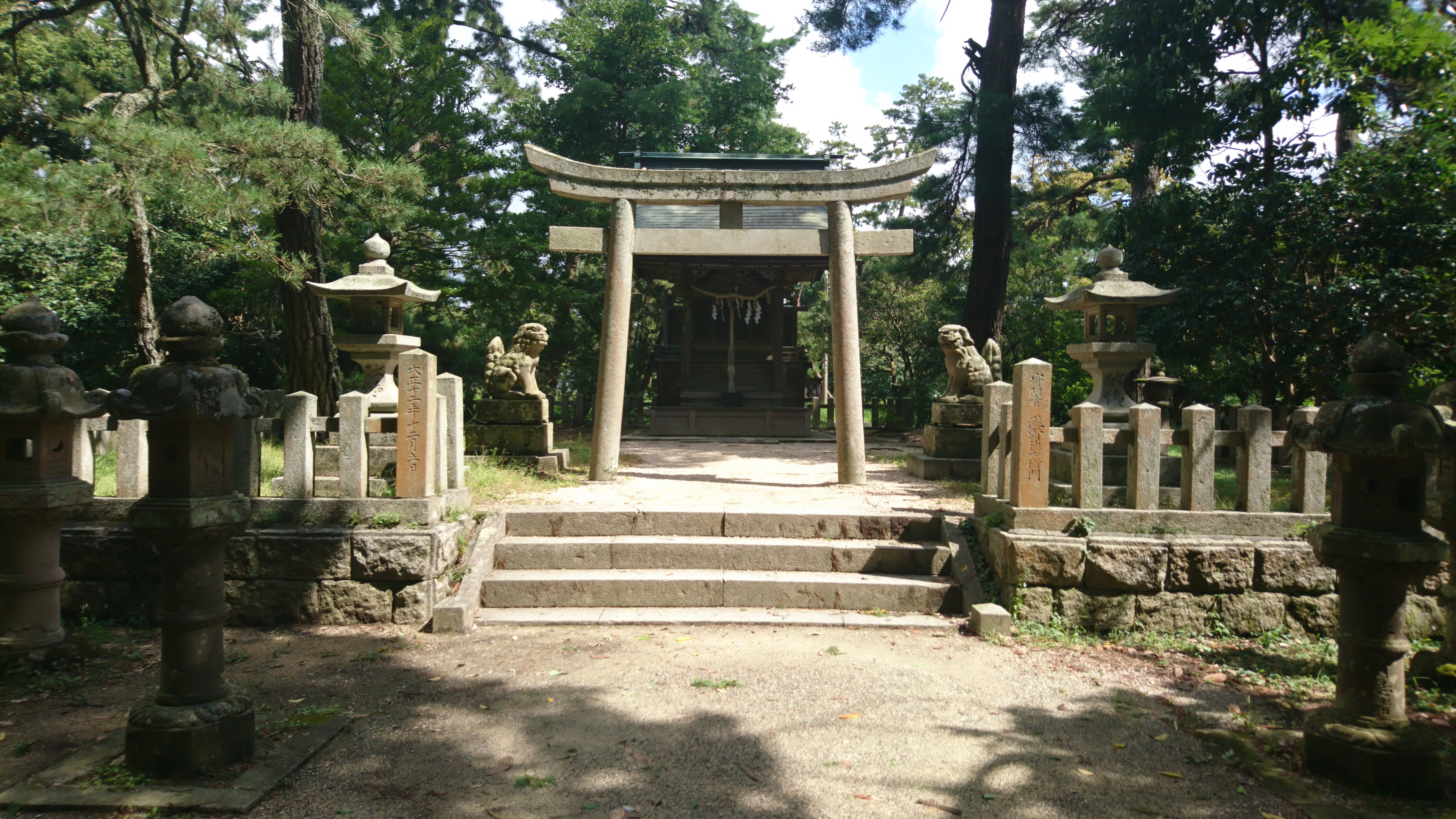 And a spring of fresh water. (When I tasted the spring water, it tasted like sea water a little maybe because it was just after a typhoon.)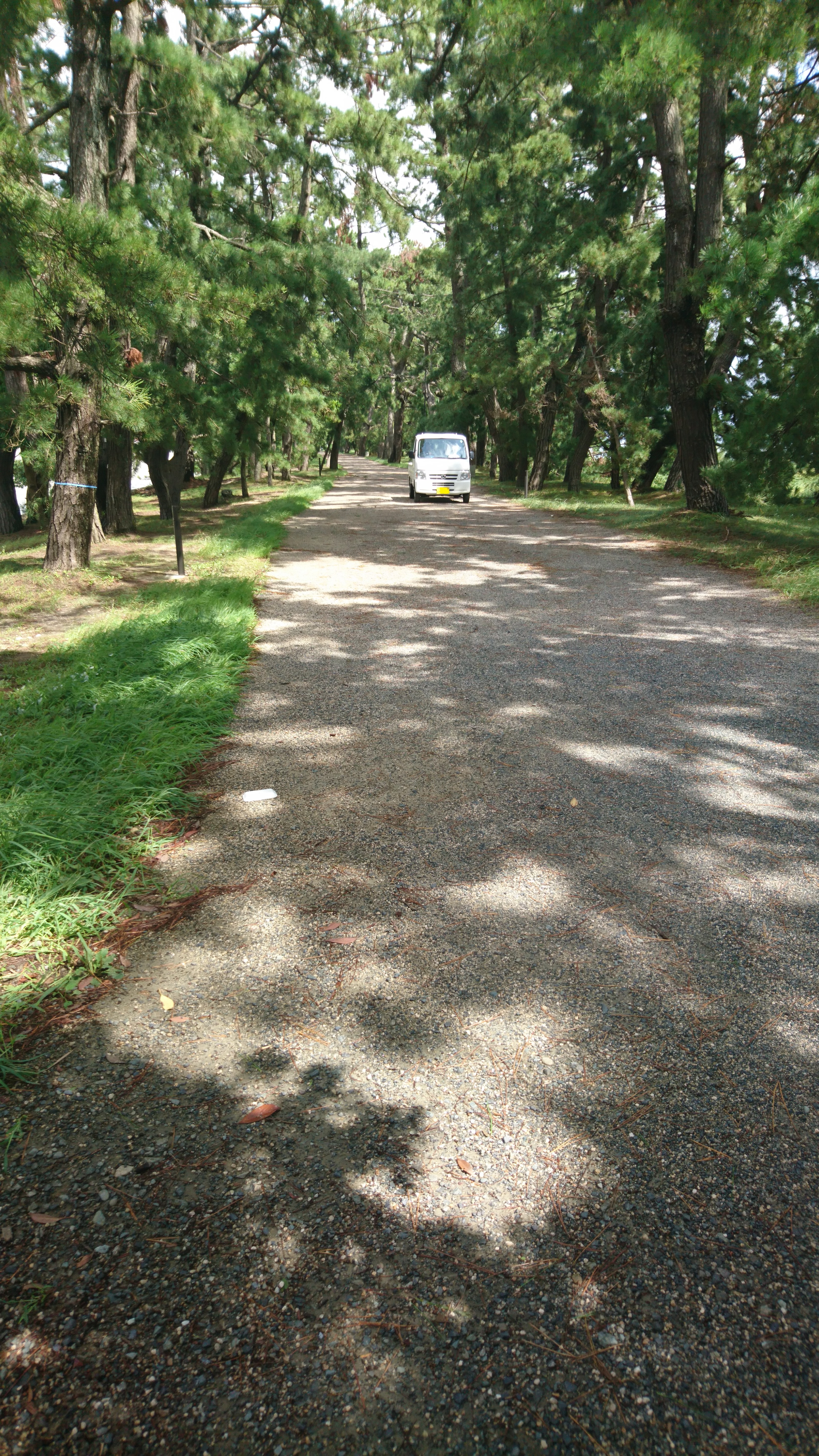 Cars can run on this sandbank.
"Amano Hashidate" is a road, so cars with special permission to enter, rental bicycles and motorbikes were running.
This is the edge of this sandbank.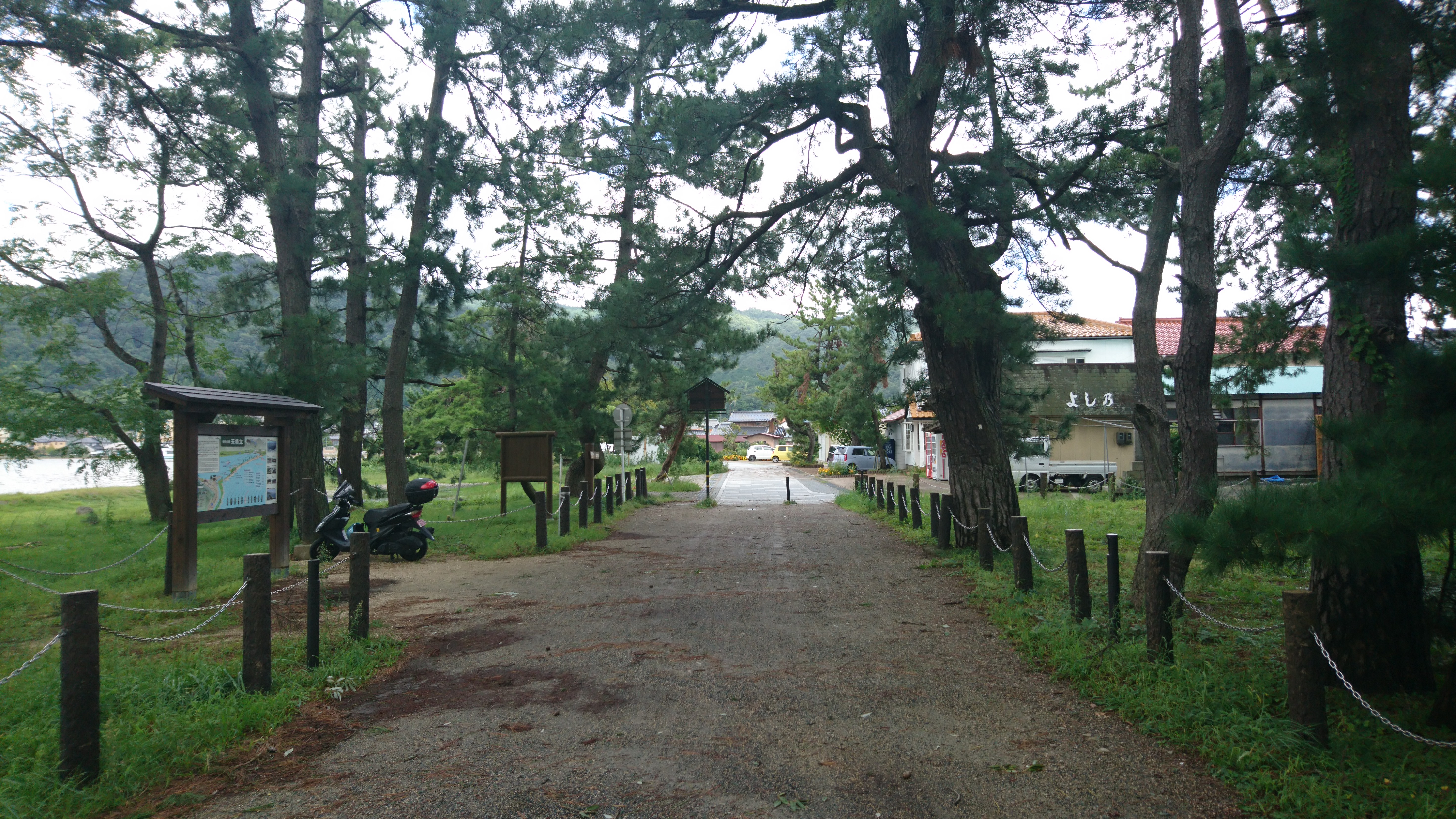 Even though I took time for sightseeing, I finished the road after 50 minutes.
〇 Where Nihonshu(Sake) began – Kono Shrine and Manai Shrine
After going further on the way in the photo above,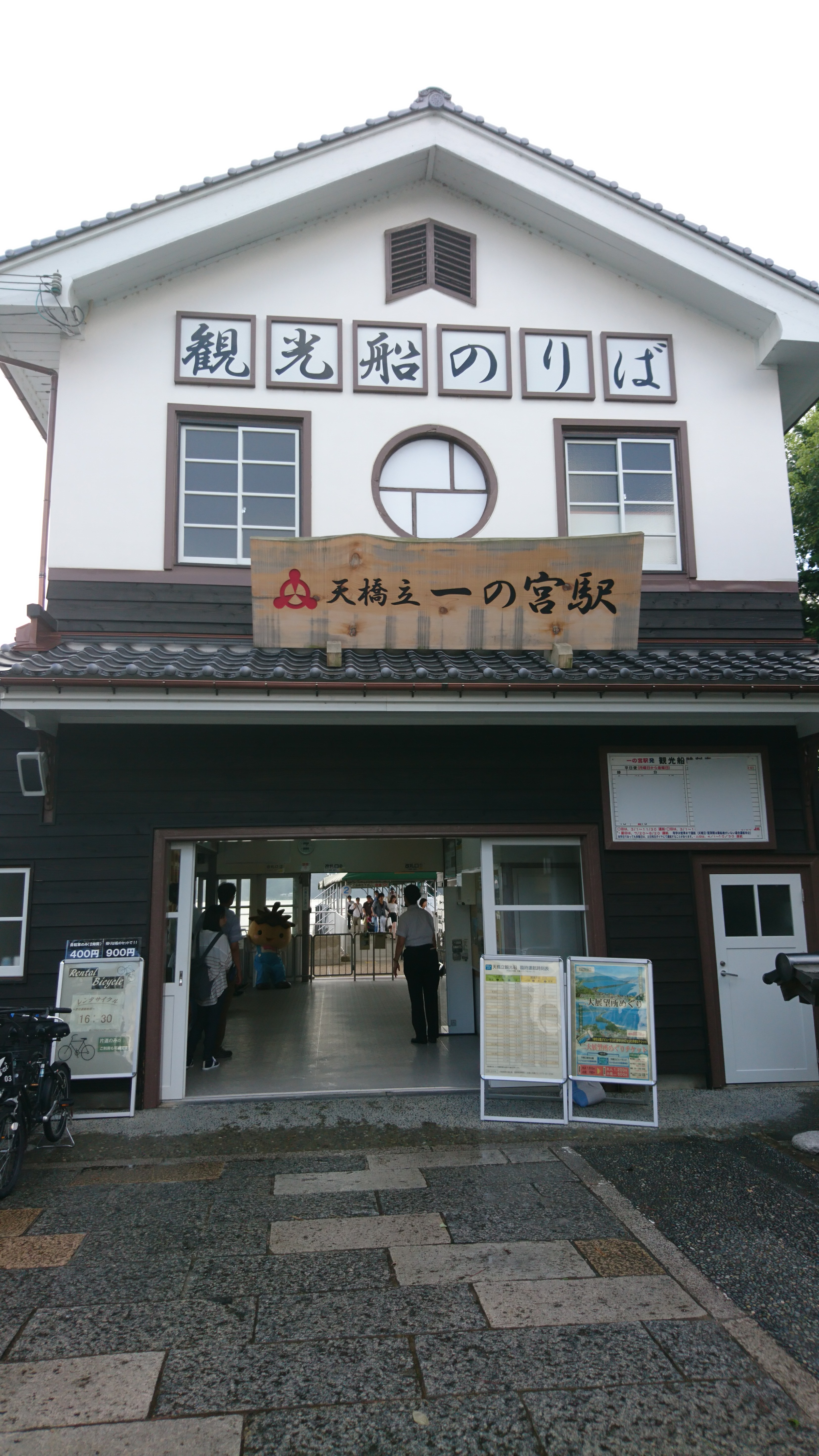 There was a small port.
After walking more,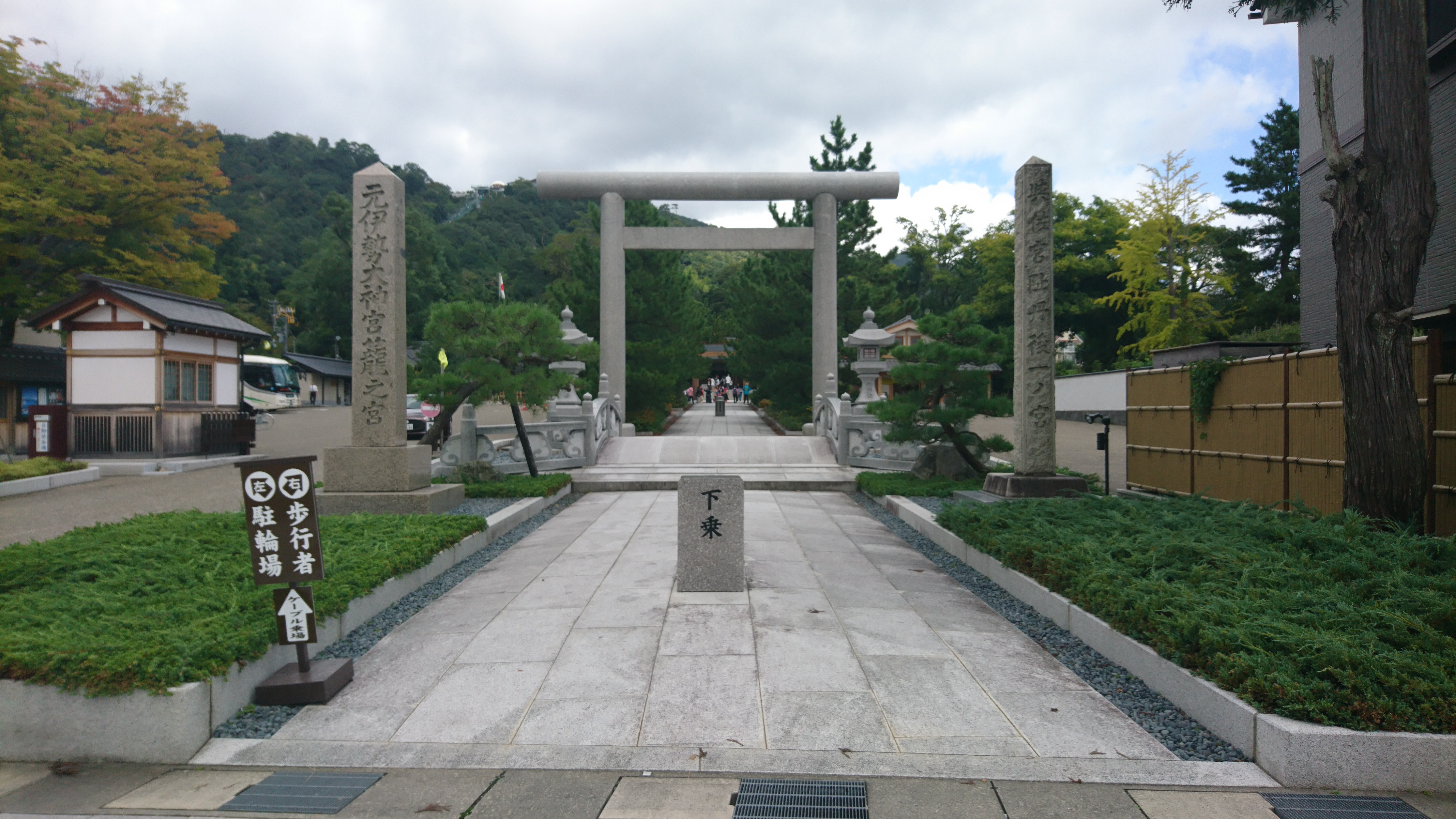 There was "Kono Shrine".
Kono Shrine is the Ichinomiya Shrine (greatest shrine) of the district of Tango, and its "Okumiya" (The building where the enshrined god lives in) is called "Manai Shrine".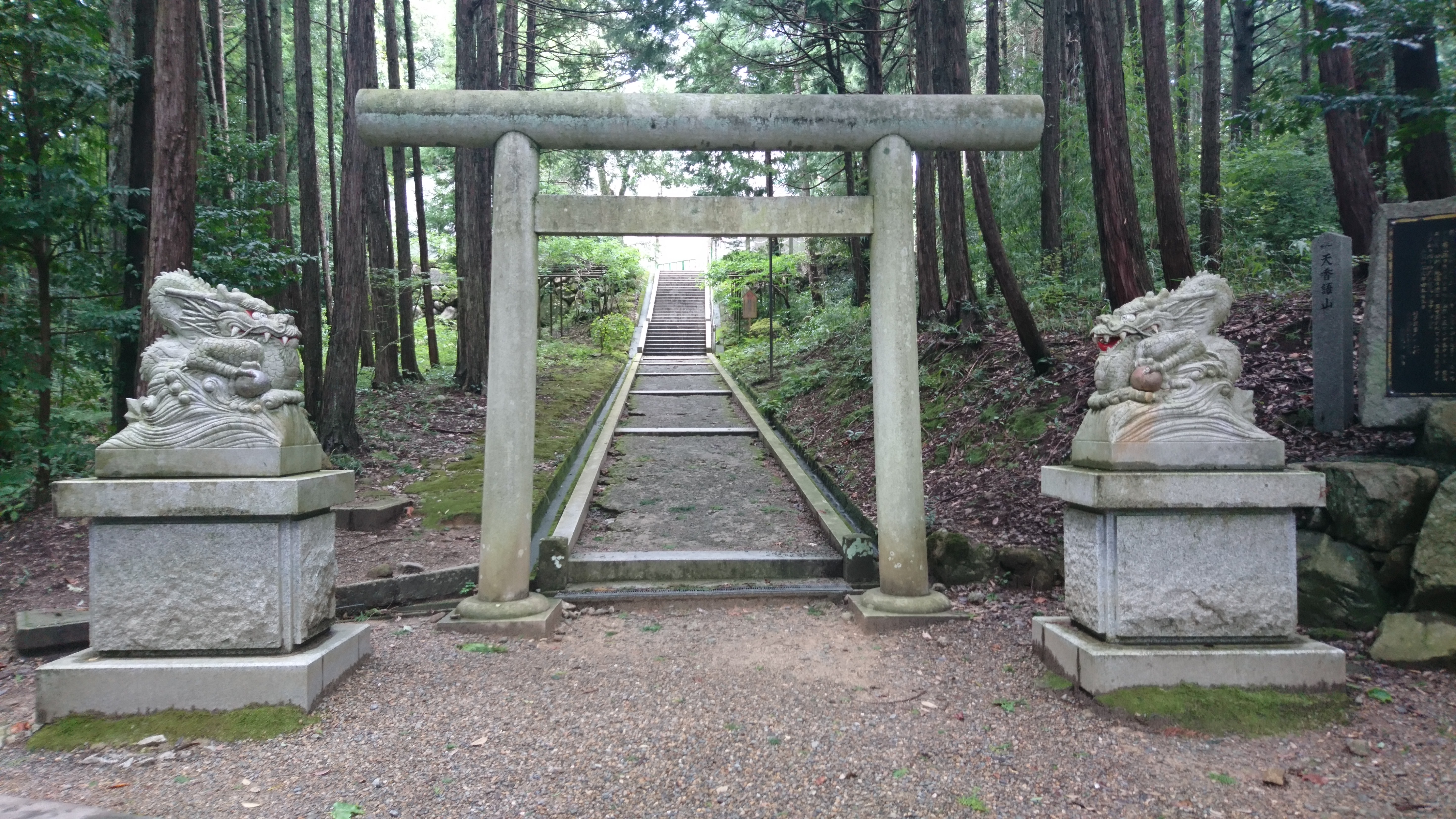 There are many legends about Manai Shrine.
1. Amano Hashidate
A god who made the lands of Japan, "Izanagino Mikoto", had a ladder to connect the sky and Manai Shrine where his wife "Izanamino Mikoto" was living in. One day the ladder fell down, and it became Amano Hashidate.
2. Legend of "Amano Hagoromo"
There are legends of "Amano Hagoromo" (dress of angel) in many places in Japan, and it is said that the one which is mentioned in a record of Tango's culture and geography, "Tangono Kuni Fudoki", is the oldest. The story in "Tangono Kuni Fudoki" is about the angel who flew down on Manai Shrine.
The following is (the translation of) quotation from the website of "Kyotango City Tourism Association".
There was a beautiful pond called "Manai" on the top of Mt. Hiji, and one day, 8 angels were bathing at this pond. An old couple who came along hid one of the angels' dress, and the angel became unable to go back to the sky. The old couple said to the angel, "We don't have any children. Please be our daughter." The angel decided to live with the old couple.
After more than 10 years, the angel made Sake which heals any diseases with only 1 cup, and it made not only her family, but also the village rich. Suddenly the old couple changed their heart and said to the angel, "You are not our child. Get out from our house." The angel grieved so much and looked up the sky reading a tanka (short poem); "Field of sky, I look it up and haze covers my sight. Lost on the way home and I don't know where to go". She left the village and reached another village called Nagu, and she settled in the village peacefully.

– from "Hagoromo Tennyo" on "Kyotango Navi" by Kyotango City Tourism Association
The angel's sake was made with water from the river by Manai Shrine, and it is said that this sake is the origin of Japanese sake (Nihonshu).
3. Motoise
This shrine is called "Motoise".
The enshrined deities of the present Ise Shrine in Mie Prefecture, "Amaterasu Omikami" and "Toyoukeno Okami", were enshrined in this Manai Shrine before.
Amaterasu Omikami was originally enshrined in the imperial palace which was in Nara Prefecture before.
In the time of Emperor Sujin, plague spread widely, and the emperor deified "Toyosuki-irihimeno Mikoto" with a mirror called "Yatano Kagami" as its object of worship at Hibara Shrine in Nara.
However, the plague didn't settled down, so the emperor moved "Toyosuki-irihimeno Mikoto" again to Manai Shrine in the year 39 in Sujin's time (59 b.c.).
Before "Amaterasu Omikami" was enshrined in Manai Shrine, the enshrined deity of Manai Shrine was "Toyoukeno Okami" who is the god of food.
"Amaterasu Omikami" changed its enshrined places many times, and it was settled in the inner shrine of Ise at the end by the Emperor Suinin's daughter, Yamatonohime Mikoto, in the year 26 of Suinin time (4 b.c.).
At that time, "Toyoukeno Okami" left Manai Srine and moved to the outer shrine of Ise to serve food to "Amaterasu Omikami".
By the way, "Toyoukeno Okami" is sometimes said to be the angel who had her dress hidden in the legend.
There are more legends which Mu'min, who love occults and mysterious things (I was used to be one of them), will like such as a story about "Hata Uji", but it will be too much here, so I stop now.
Well, Kono Shrine and Manai Shrine are mysterious shrines which have many legends. (Please refer to the website of Kono Shrine for more.)
I visited the building of Kono Shrine first. When I tried to go closer to the building, there were many Chinese tourists in front of the building listening to the guide's explanation.
I somehow went through the crowds, and reached the offertory box for worship.
After visiting Kono Shrine, I walked through the left side of the building to go to Manai Shrine.
Unfortunately, Manai Shrine was under repair work and covered with a sheet.
I couldn't see the building, and I worshipped at a dark place.
By the way, photography was forbidden around buildings of both shrines.
〇 Kasamatsu Park
After visiting Manai Shrine, I headed for Kasamatsu Park.
According to information on the Internet, there are 3 places where you can see down Amano Hashidate.
Kasamatsu Park was the nearest place from Manai Shrine.
I went along the street connecting Manai Shrine and Kono Shrine, and arrived at an area with many souvenir shops.
Among the shops, there was a platform of a cable car.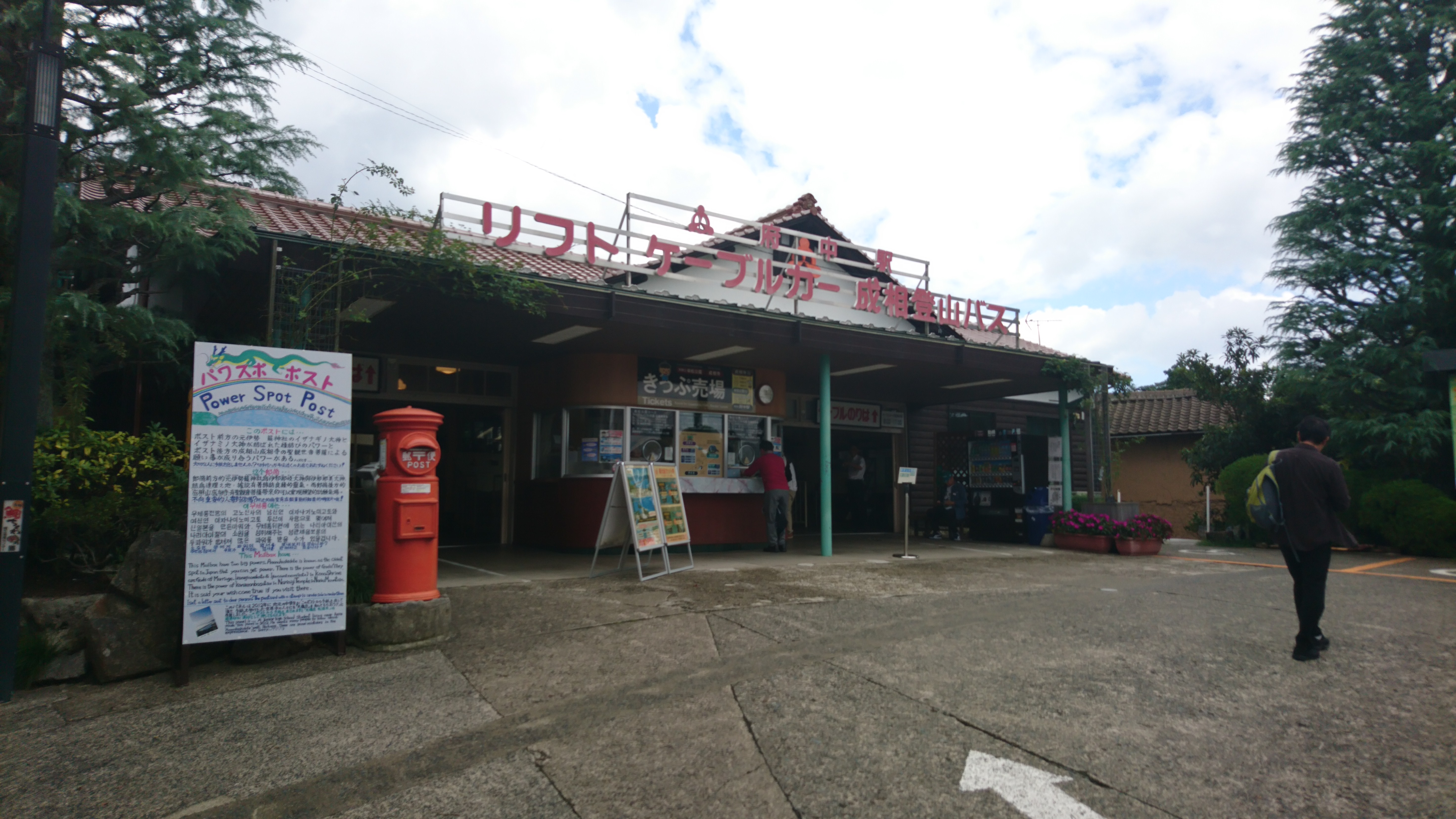 You can go to the observation point by the lift.
By the way, please look at the mail box and the board next to it in the photo above.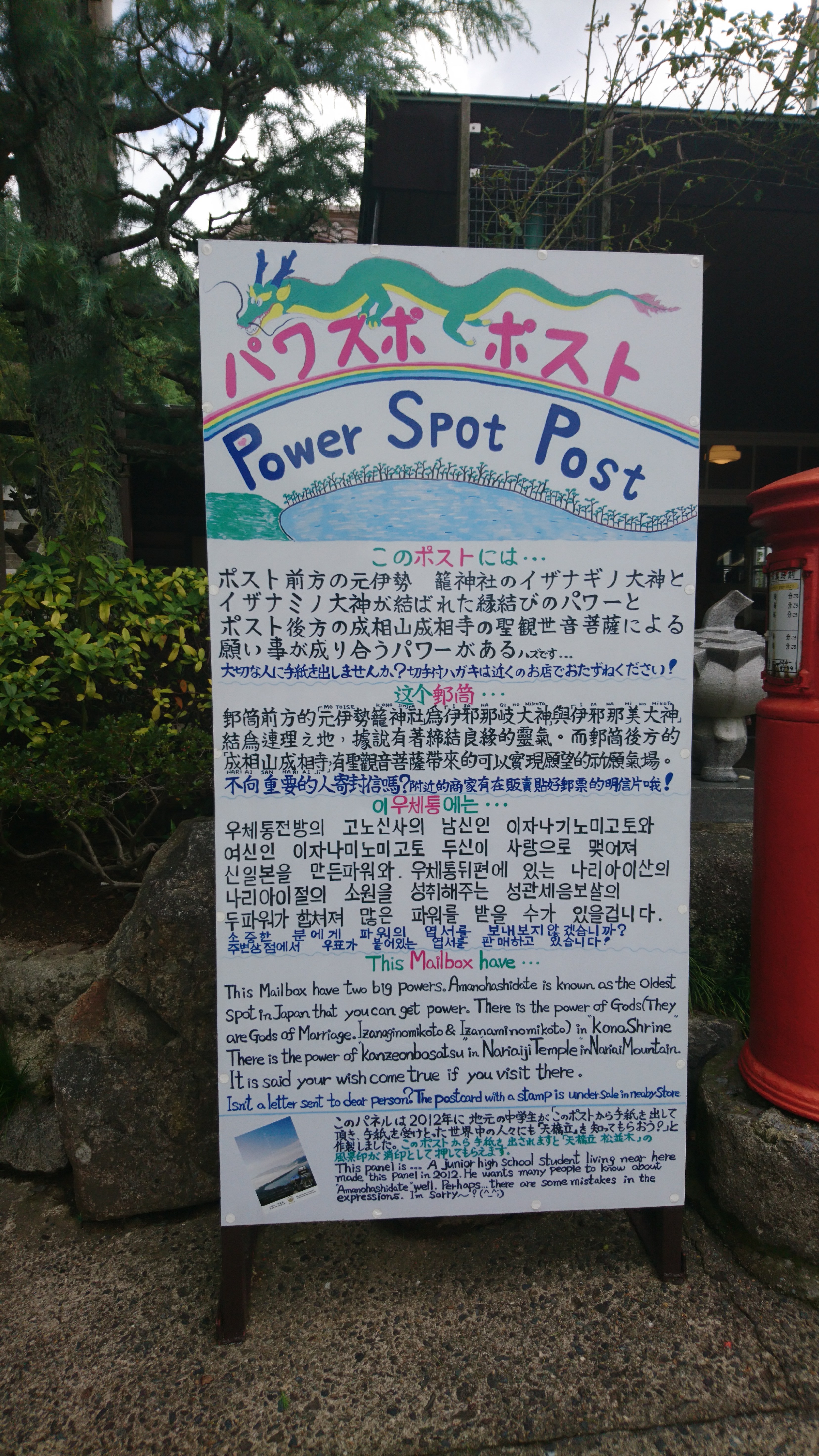 There is an explanation in English at the bottom.
I should've sent an email to someone there.
Now, I bought a lift ticket at the station and went up to the point.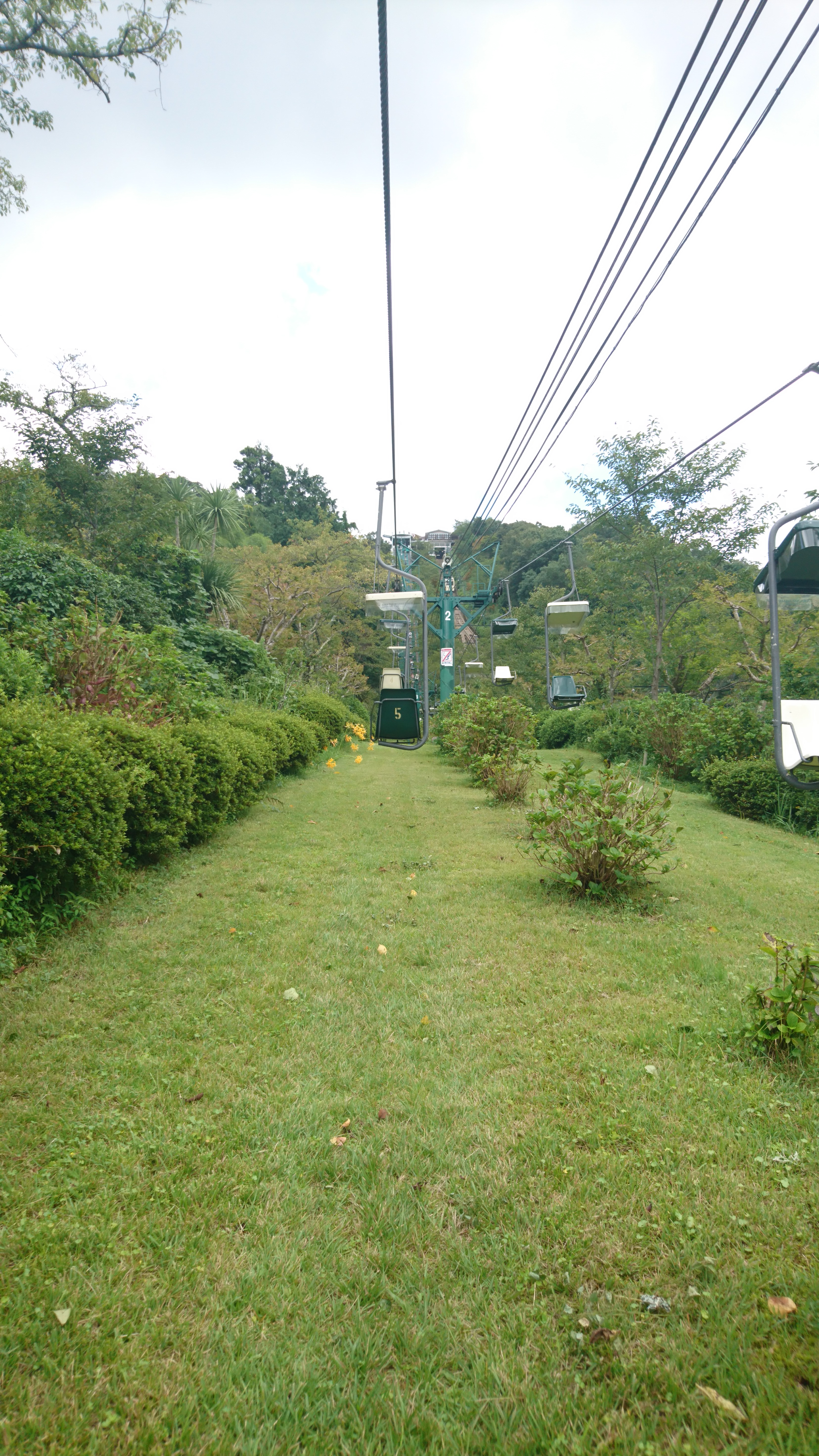 The view on this hill was,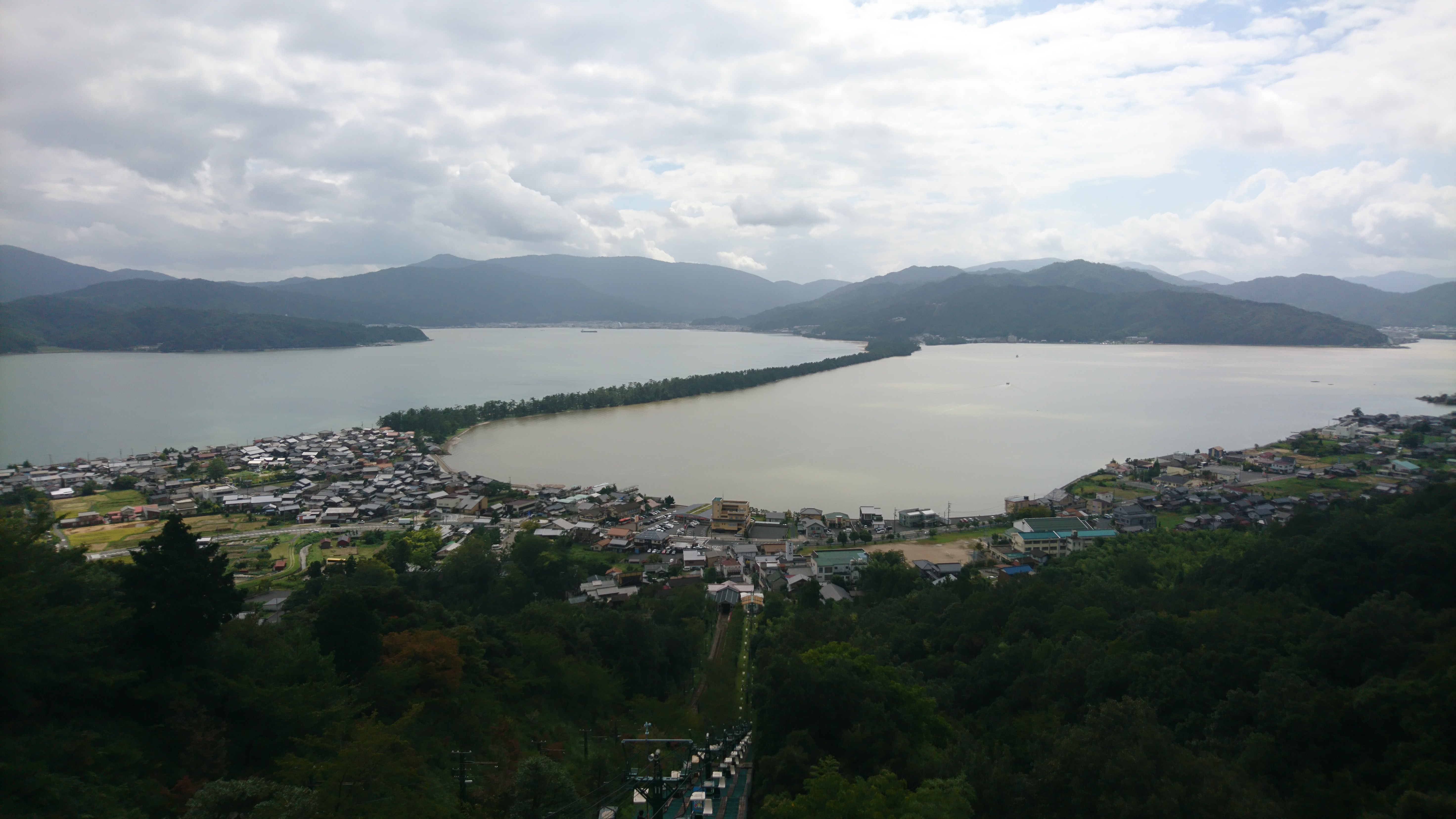 This view!
It was emotive to see the laid "ladder" remembering the walk on it.
I found stairs near there.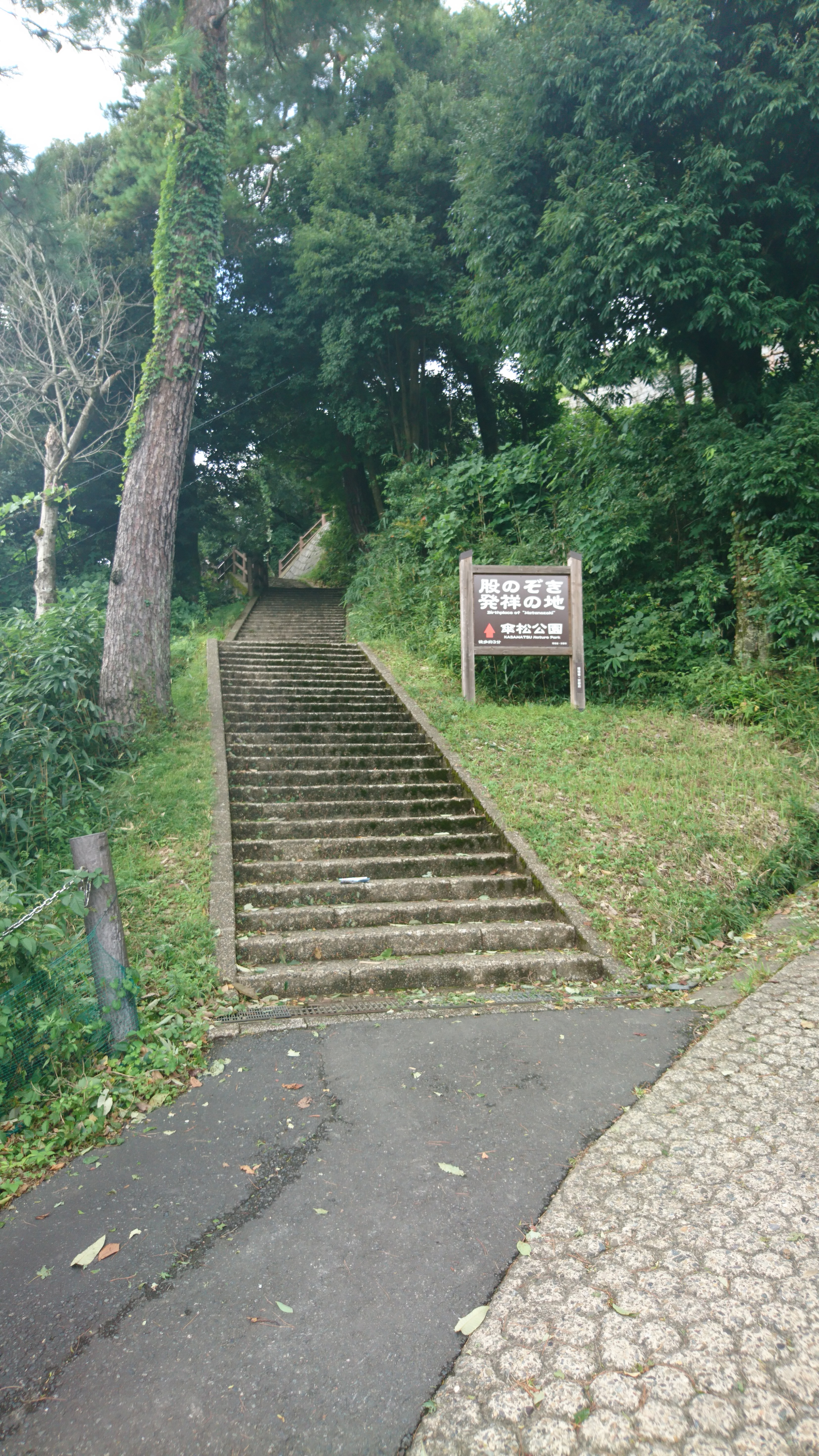 I went up.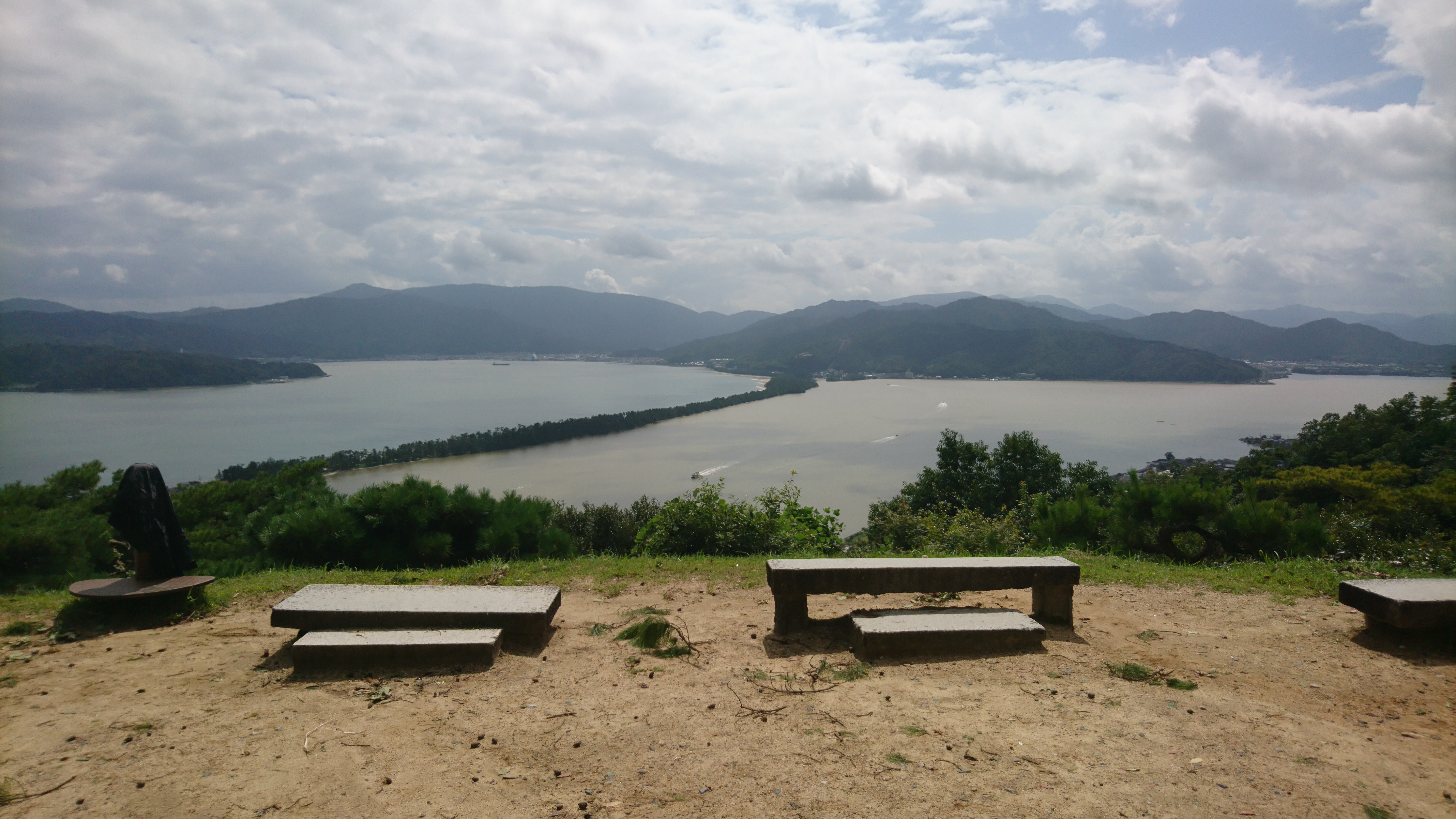 There was a place like this above.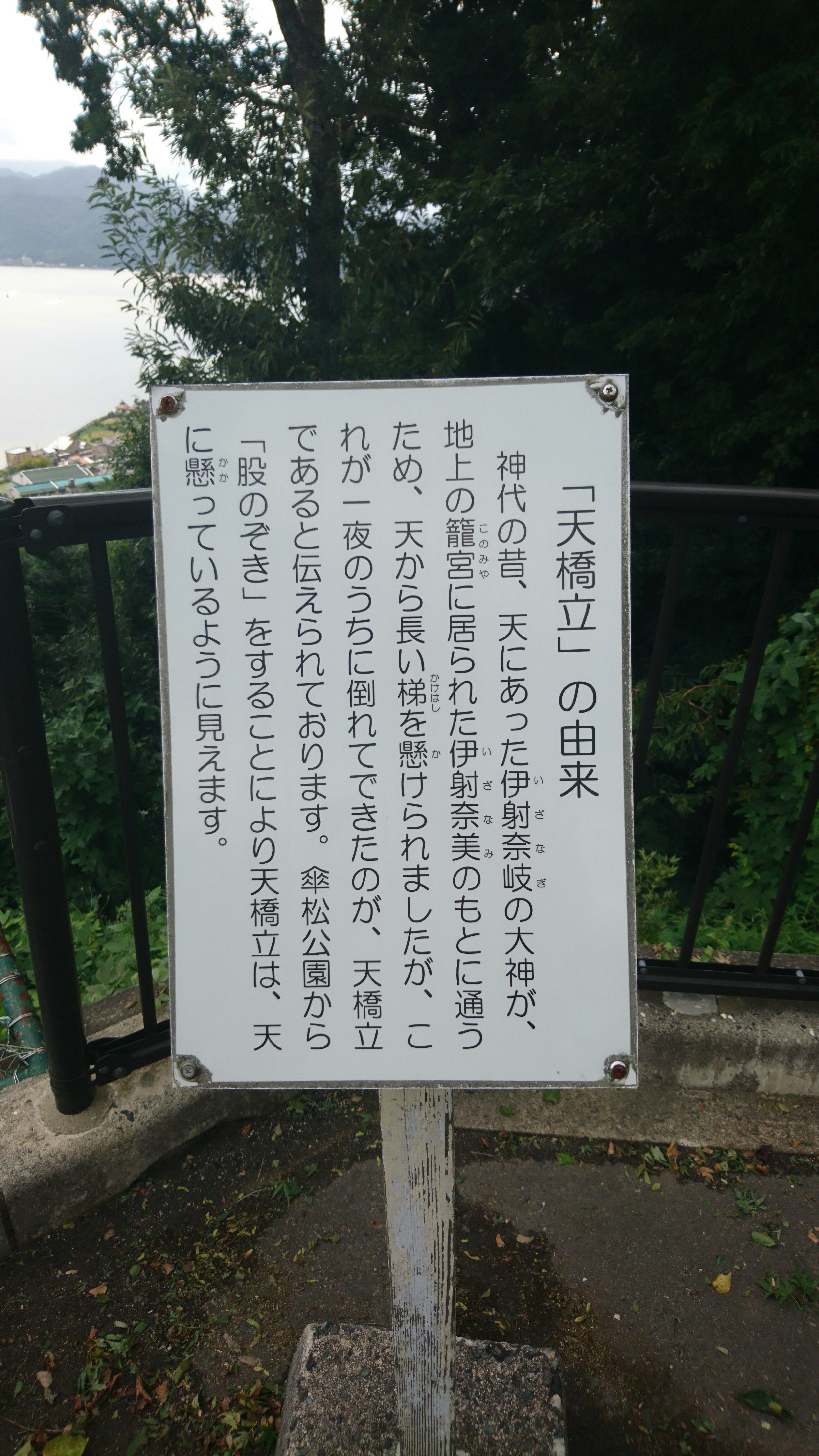 This board says that Amano Hashidate looks like a bridge on the sky by watching it up-side-down between legs. So I tried it.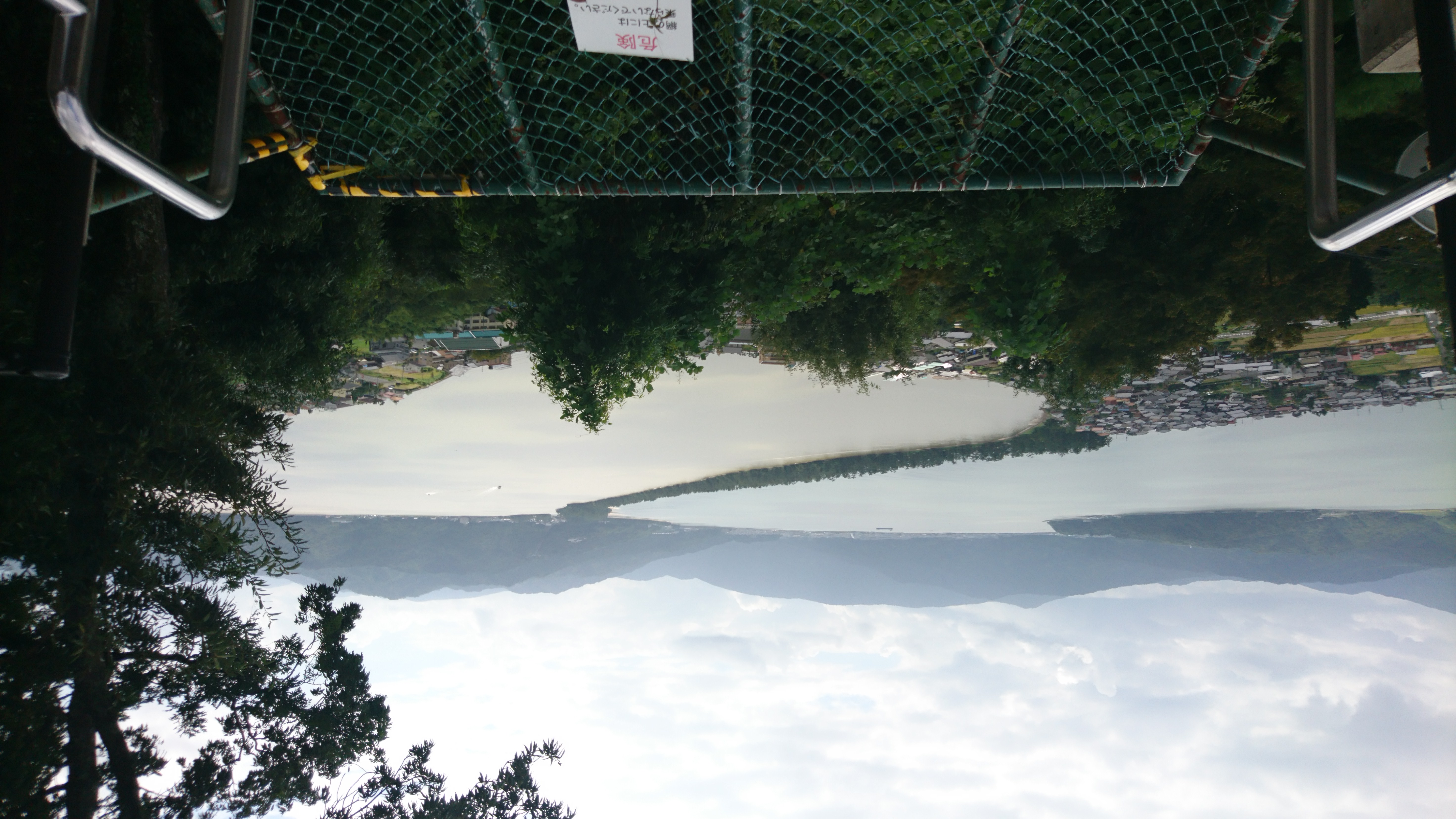 How is it? I personally didn't think so….
〇 Lunch at Ama Terrace
I went back to the lift station, and I was watching Amano Hashidate and other directions. Suddenly, it started to rain heavily.
In this area,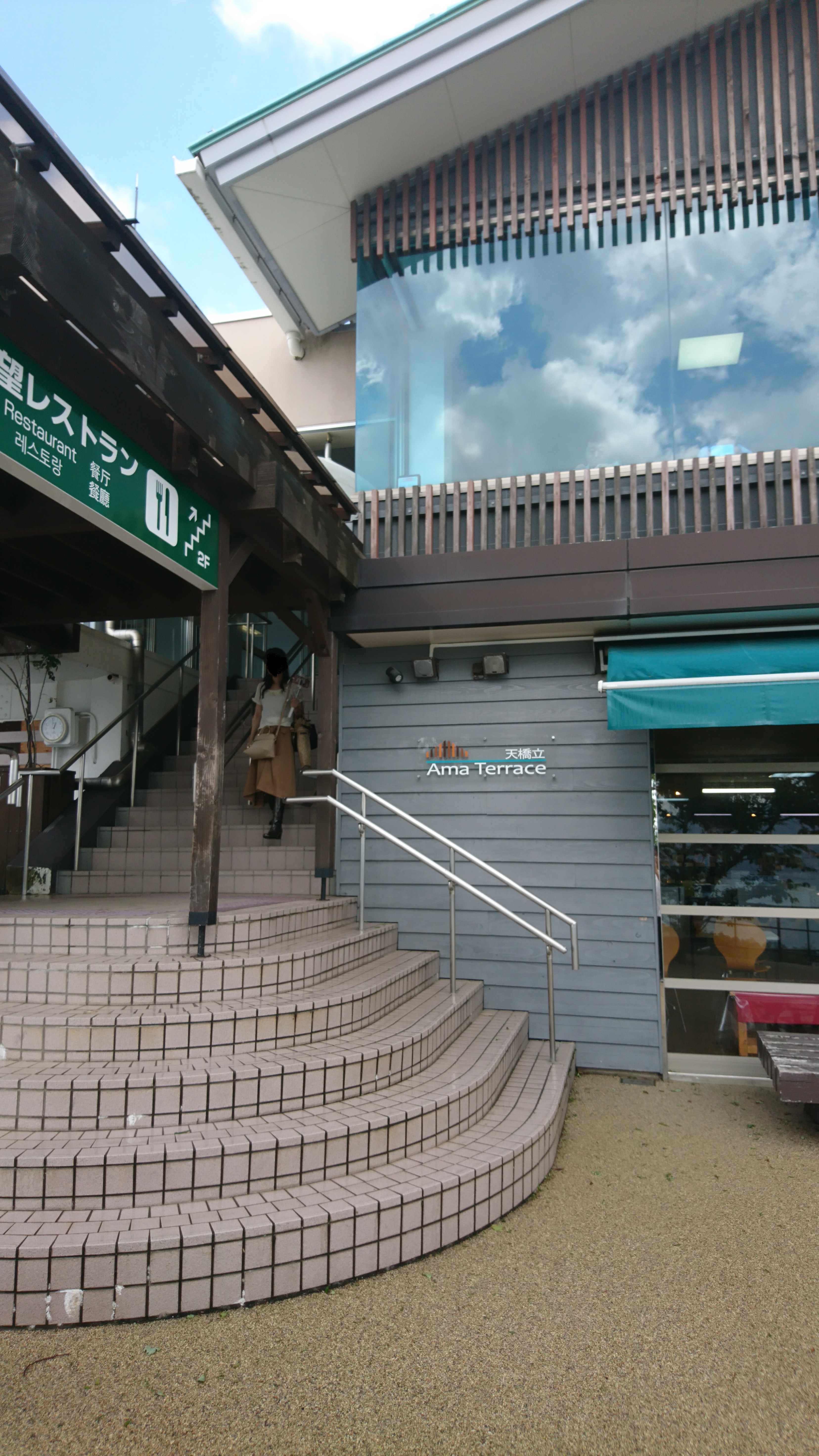 There was "Ama Terrace" which is a restaurant and souvenir shop.
The time was nearly 1 o'clock.
I was planning to have lunch at the foot of the mountain at first.
I changed my plan considering the time and weather, and entered the restaurant on the second floor for lunch.
The name of the restaurant was "Ama Dining"
The inside was like this below.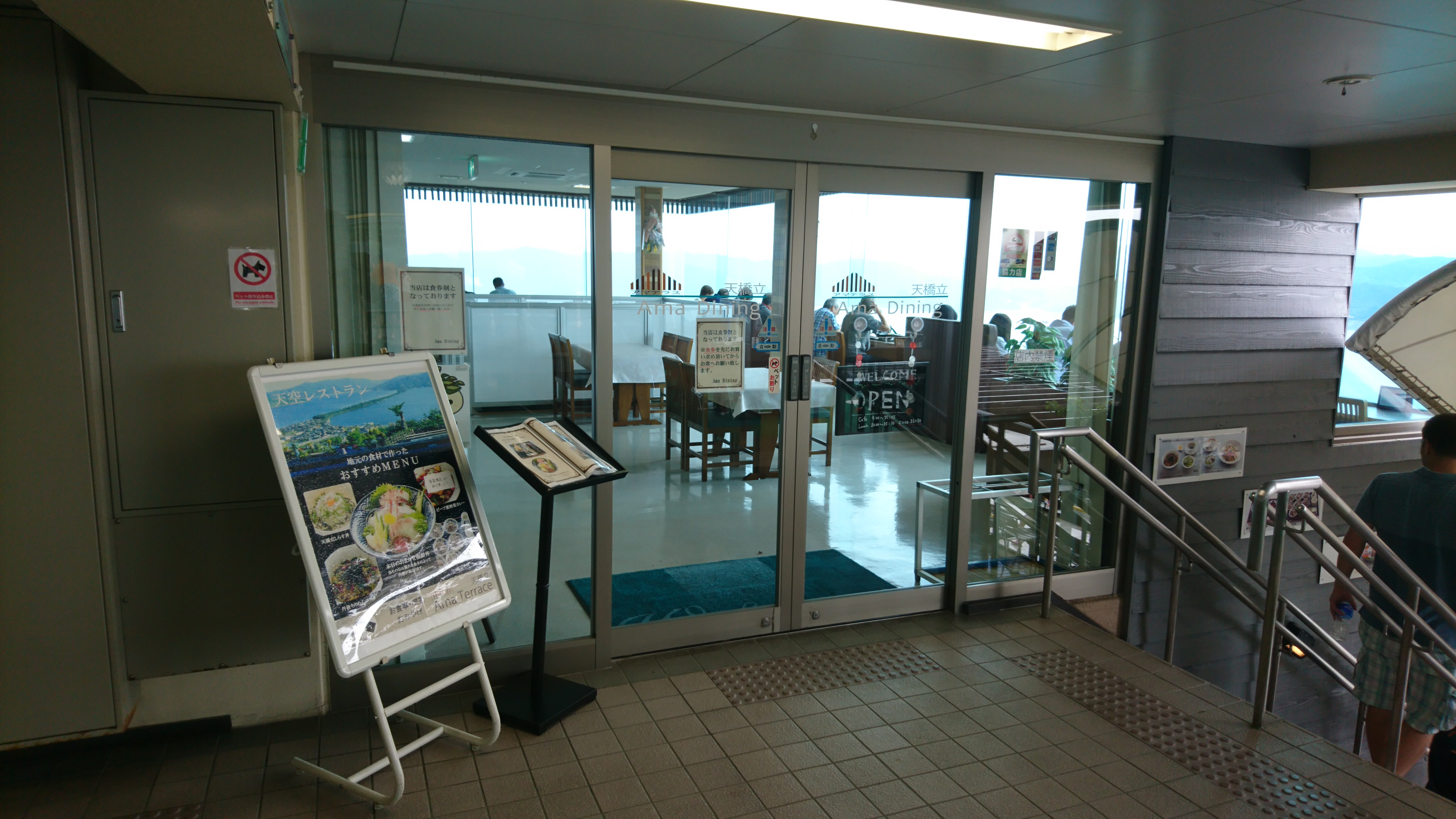 The tables were set at the window side.
From the window seat,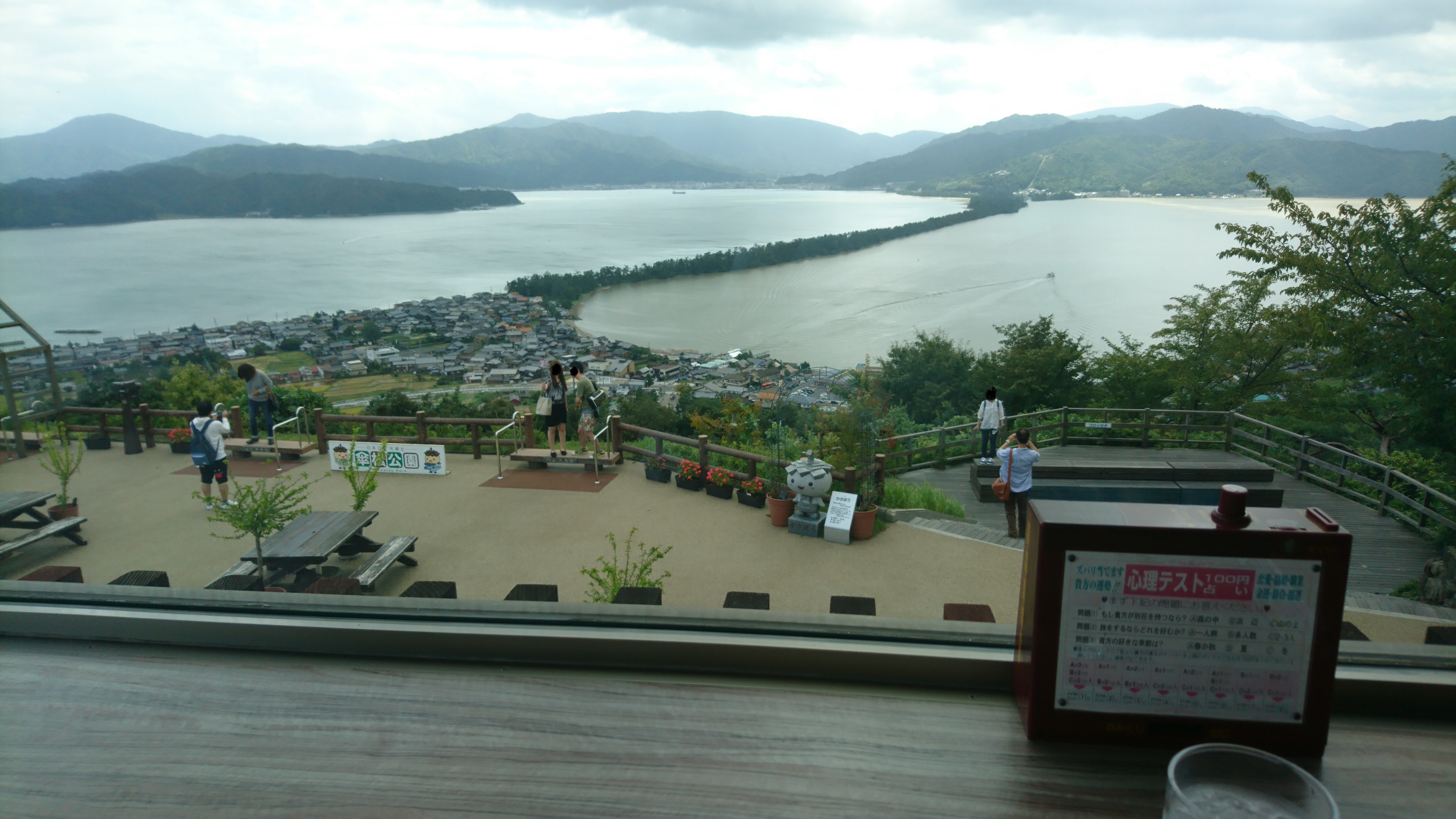 I could see Amano Hashidate well!
Thanks to the rain, I could choose a good place for lunch.
They had many menus such as curry, pasta, and sashimi on rice. What I ordered was,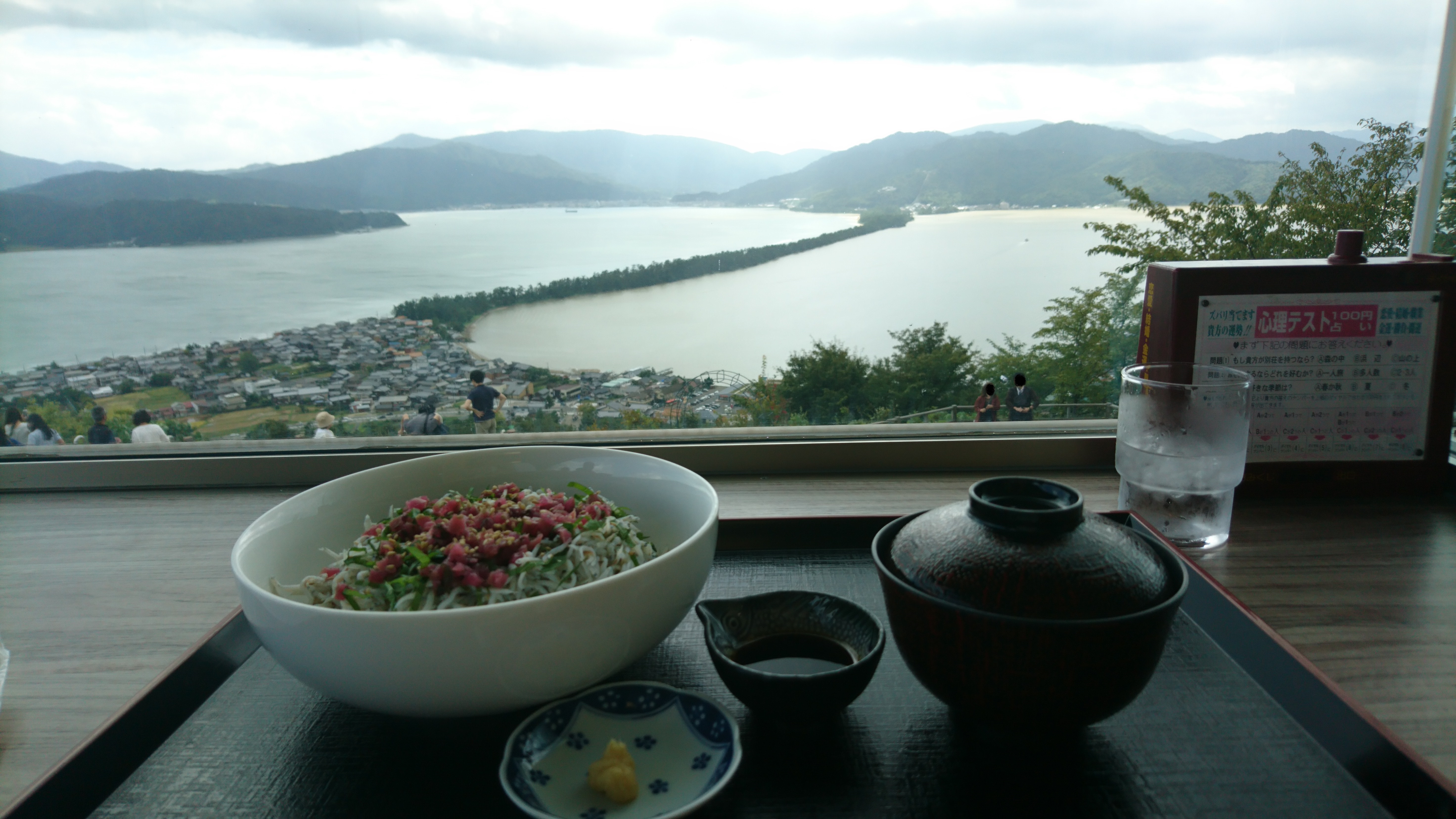 Shirasu (young tiny fish) on rice.
There was plenty of Shirasu on rice, and also flakes of pickled plums and Shiso herb, which made look delicious.
I tried it right away.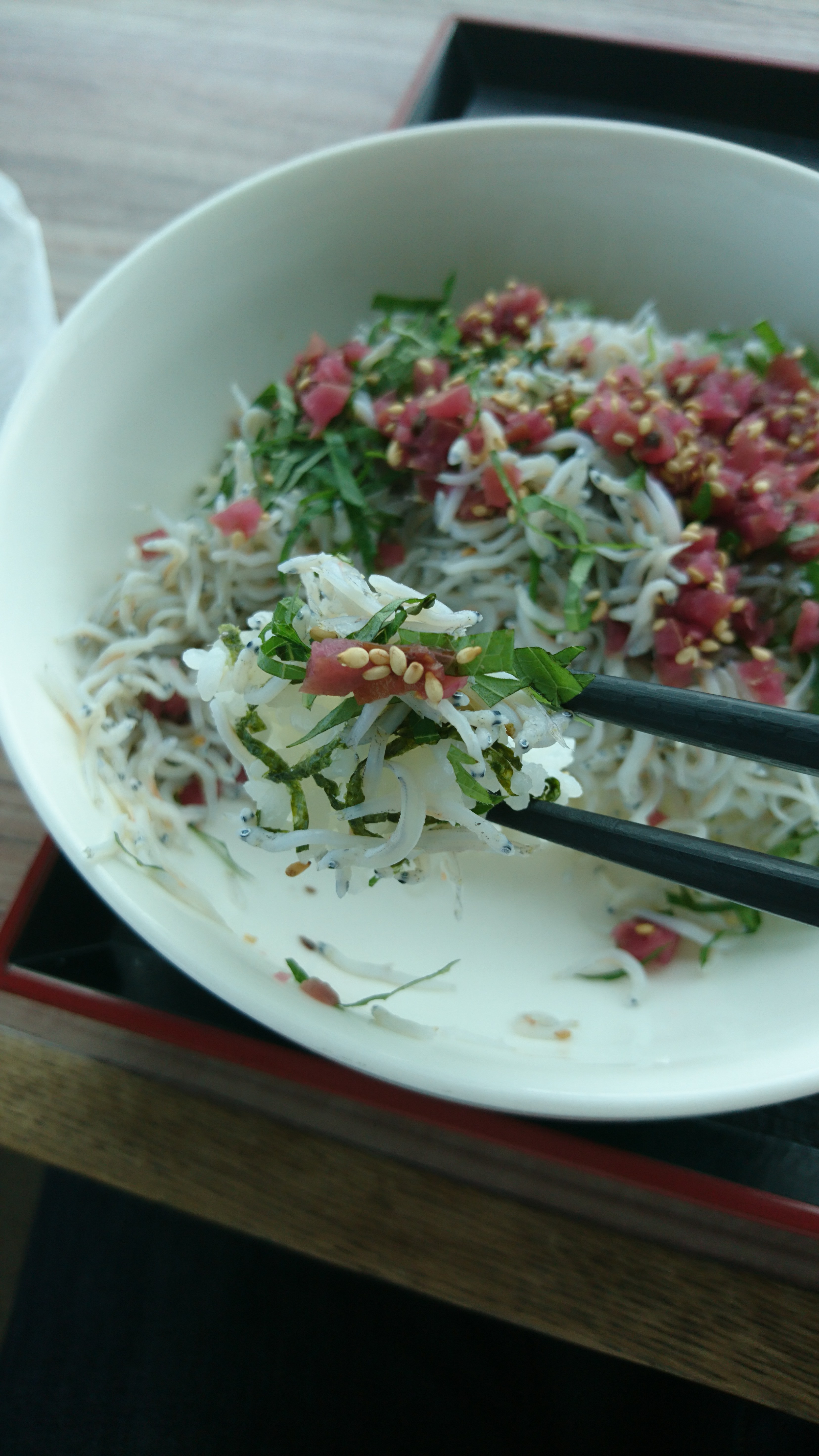 The slight and mild salty taste of Shirasu matched the rice well.
The pickled plums were the accent, but I thought that it was good enough without it.
I thought that it would be also nice if I poured Dashi soup (Japanese stock soup) and made it "Ochazuke" (Japanese dish of steamed rice with hot tea or soup and some ingredients) style.
I enjoyed the dish with the view of Amano Hashidate.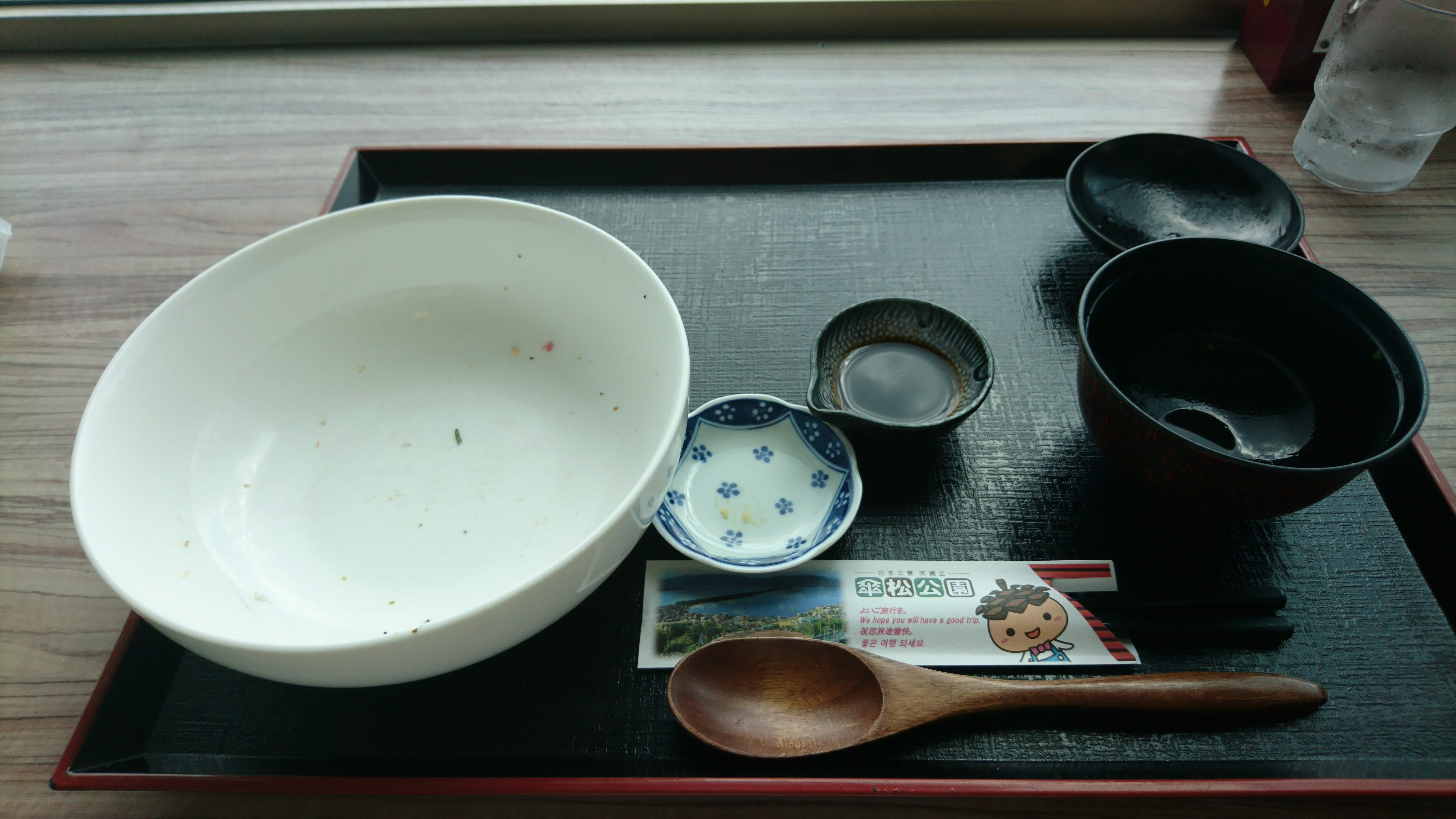 By the way, they also had Nihonshu of these labels.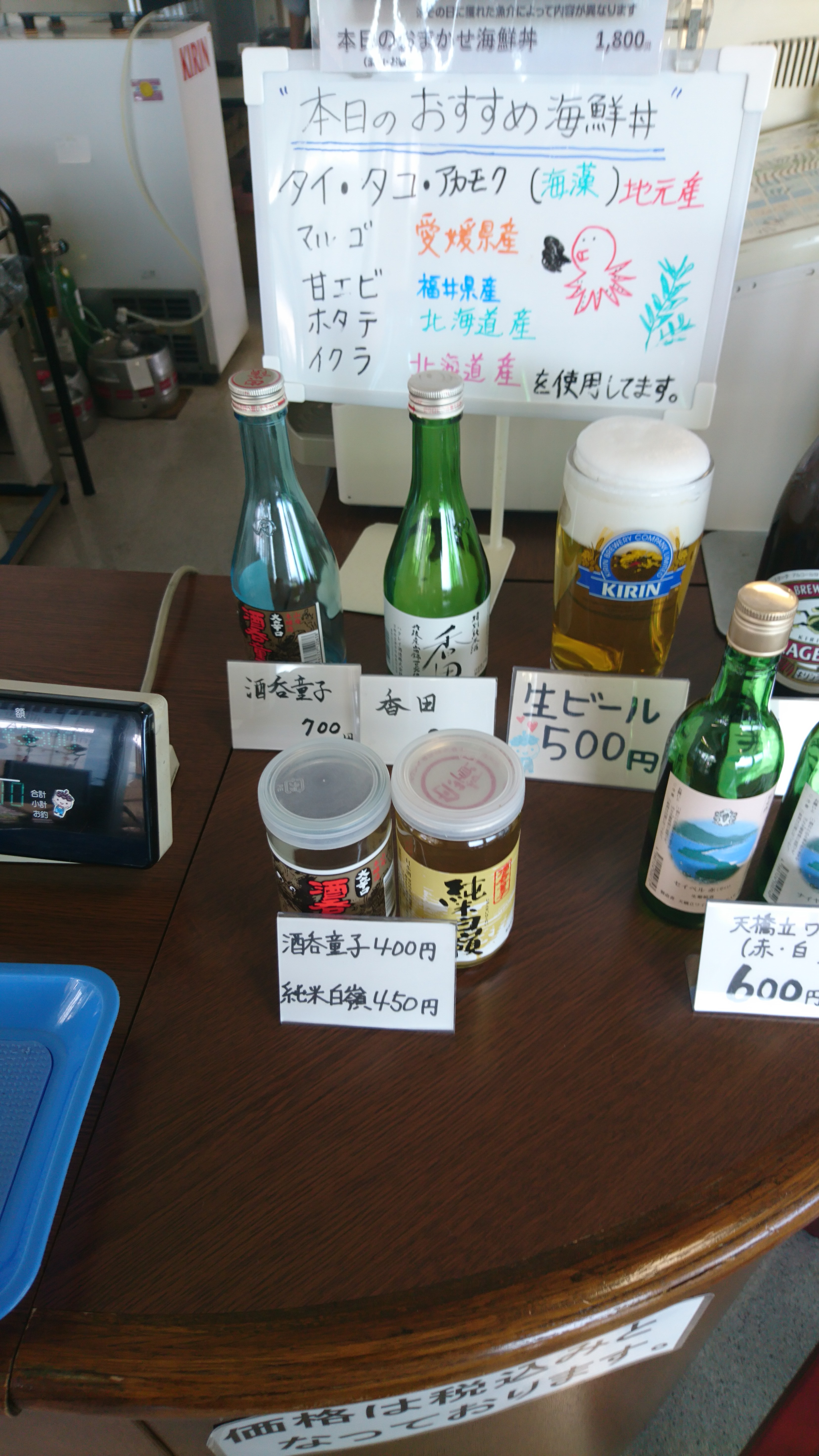 "Yamahai Honjozo Okarakuchi Shutendoji", "Tokubetsu Junmaishu Koda", and "Junmaishu Junmai Hakurei".
All of these are made by Miyazu City's local brewer, Hakurei Shuzo.
As well as a great view, they have good sake!
They entertained visitors with Miyazu's special things.
If I didn't have to drive car later, I would have those sake…
〇 Send-off by Seagulls
After the nice lunch, I took the lift again and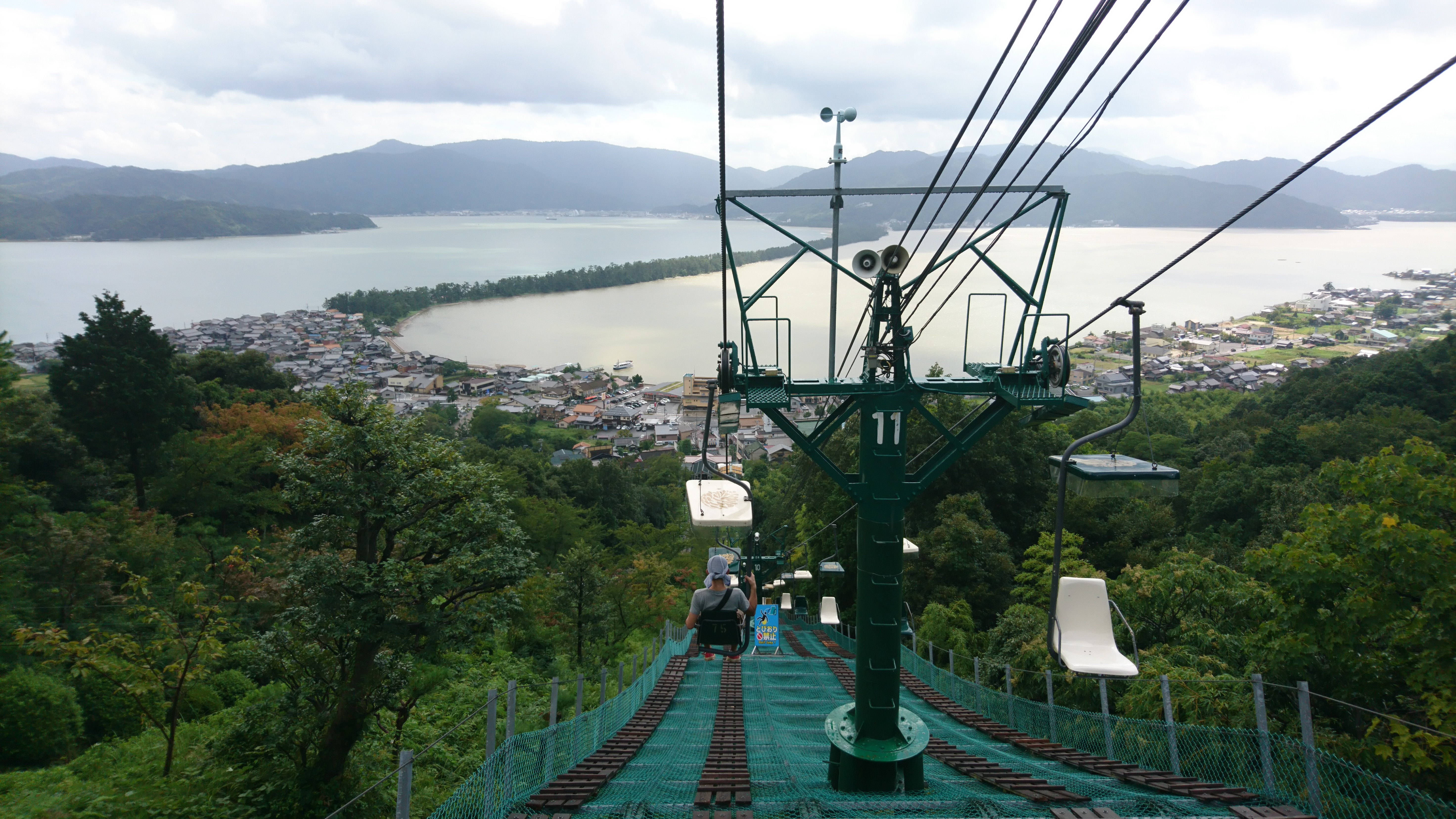 Went down the hill viewing such as beautiful sight.
I planned to leave Amano Hashidate at least 1 o'clock at first considering the whole schedule, but I took time watching many things there and stayed more than expected.
I wanted to walk back to the coast along the inner sea (Aso Sea), but it would take too much time by walking, so I took a sightseeing ship to go back.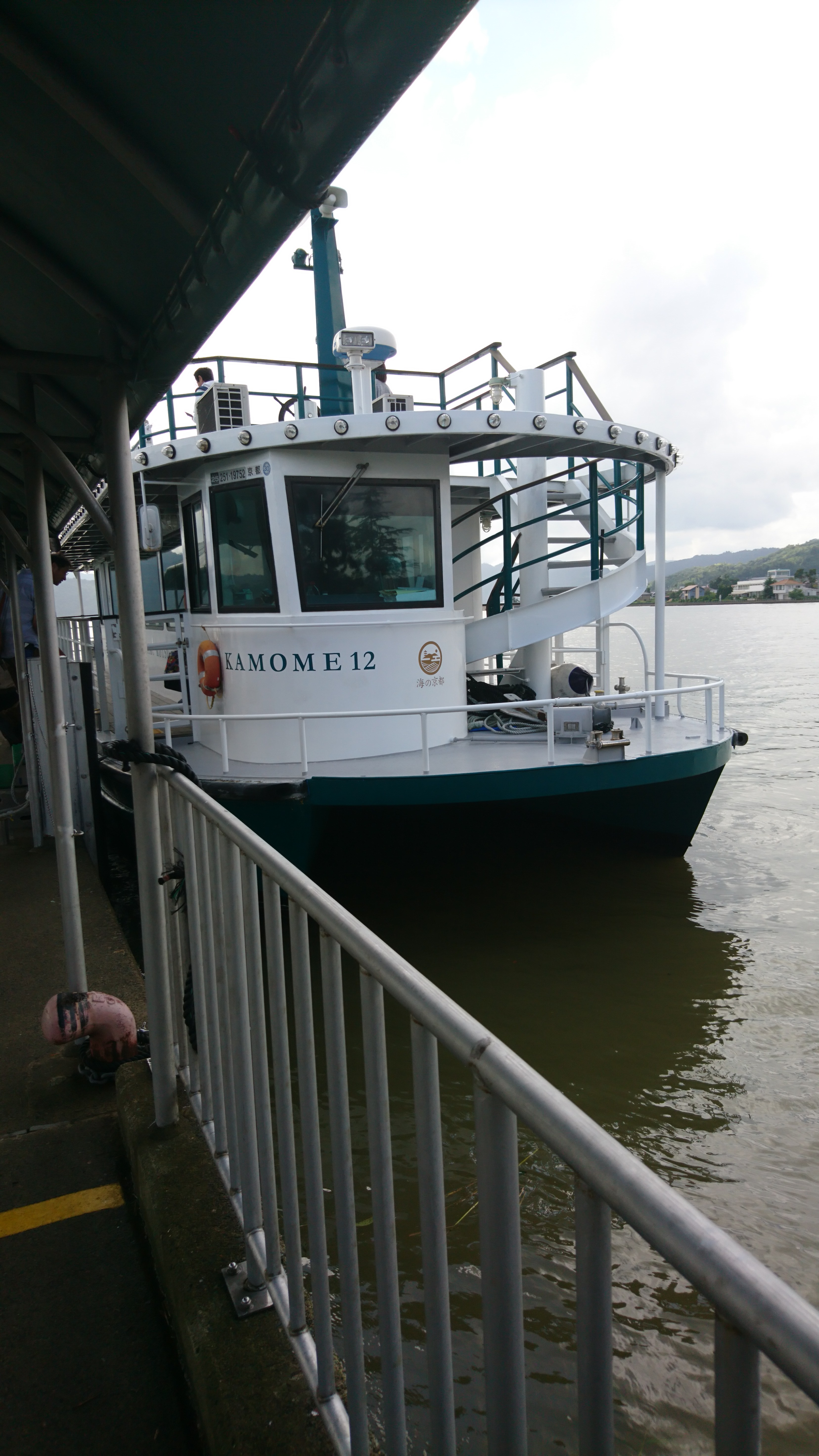 After I got on the boat,
Seagulls came for send-off. …… The actual reason why they came was snacks which the passengers give.
The ship arrived at the port, and I walked around shops there and left for the next destination "Fukuchiyama" at a little passed 2.
The area around Amano Hashidate has many places to see from very old days.
For the visitors, convenient services are prepared such as an observation tower, sightseeing boats, and rental bicycles.
Restaurants also provide services of the local specialties of Miyazu-Amano Hashidate like the local Nihonshu and seafood.
In Kyoto Prefecture, Miyazu City is the biggest tourist site except for Kyoto City. I Thought that it's because the whole city is trying to entertain the visitors using Amano Hashidate and other spots around, and to make it better place for them.
If a town had a brilliant place to see and the people didn't try to make it better and more convenient, tourists wouldn't come back again.
This trip to Amano Hashidate gave me such idea.
もしお気に入りいただけましたら、投げ銭などしていただけると、大変、嬉しいです♪
Comment (0)