Gyoza and "Nishi no Seki" at "Hountei", Nakasu, Fukuoka
Gyoza and "Nishi no Seki" at "Hountei", Nakasu, Fukuoka
This is a report by a special correspondent "N" from Fukuoka.
Today I'd like to report "Gyoza"!
Hakata's Gyoza
The most famous "gyoza (Chinese dumpling of meat, vegetables and other ingredients)" place in Japan should be Utsunomiya, but Fukuoka has many good gyoza, too!
The restaurant I visited was in a busy town of Fukuoka, Nakasu.
There is a street of many attractive restaurants and bars, which locates beside a bigger street called Nakasu Chuo Dori.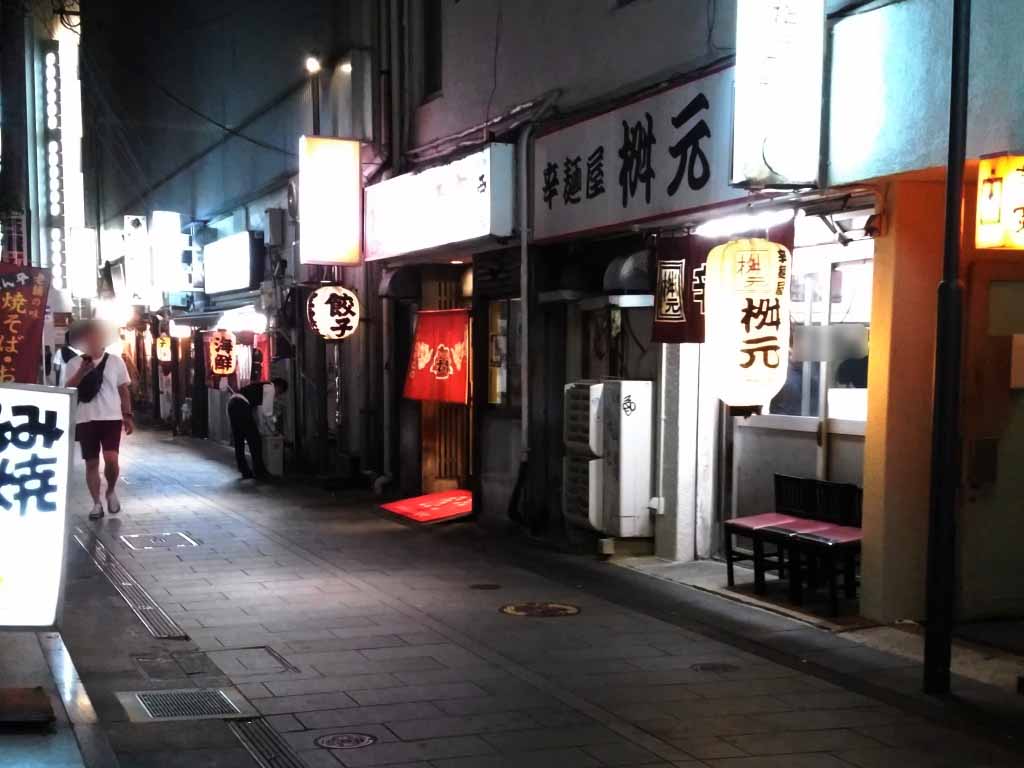 This is today's restaurant, "Hountei", which is an old gyoza restaurant established in 1949.
You can see this building of red bricks next to a popular spicy noodle restaurant "Masumoto"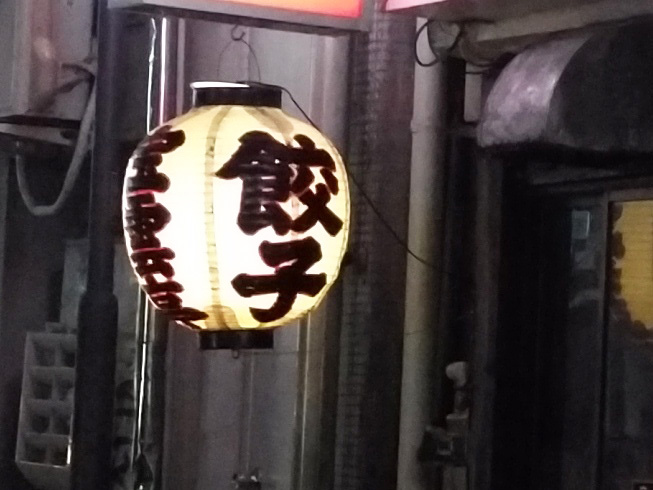 I was invited into the restaurant by the letters of "餃子 (gyoza)" on the lanterns.
There were counter seats and table seats for 30 people inside a compact room.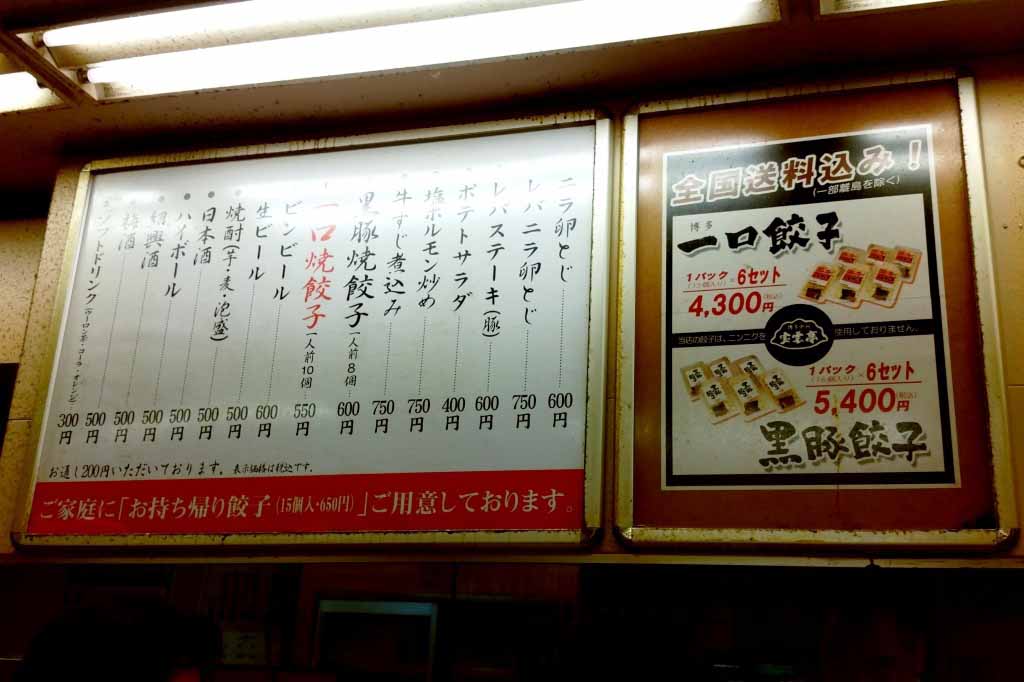 Their menu was very simple.
This is normal for other gyoza restaurants in Hakata. Hakata's gyoza is a kind of "fast food" for people who come, eat, and go quickly.
I visited there with 3 other people.
We met at the restaurant, and other 3 had arrived earlier and already started their beer….
As soon as I arrived, they said,
"We have already ordered. You don't mind Nira-tama and gyoza, do you?"
Then, the dishes arrived.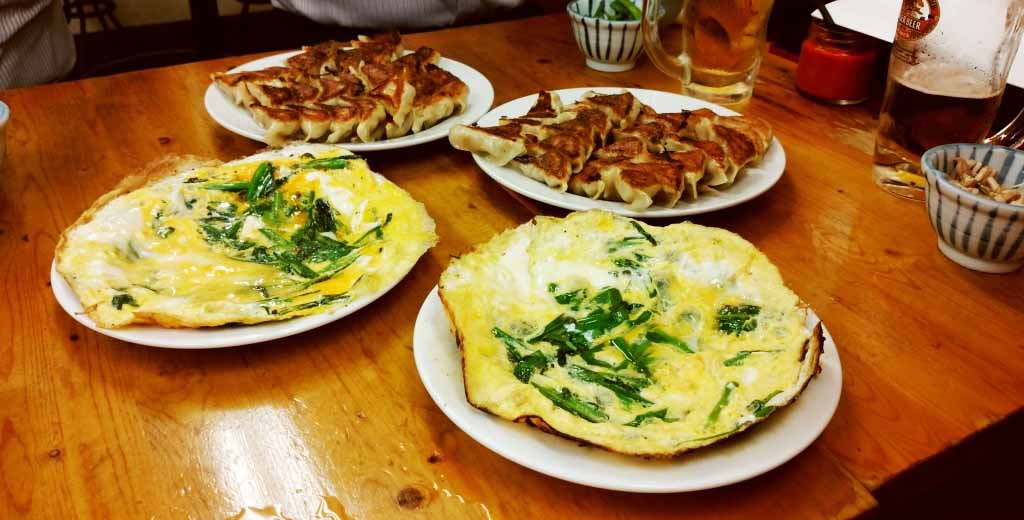 What a beautiful view this is!
2 Nira-tama (a kind of omelet of egg and Chinese chive) dishes, and 80 pieces of gyoza!
By the way, can you see that the gyoza is a little smaller than usual?
"Hitokuchi (a mouthful) gyoza" is the standard of Hakata's gyoza.
I asked the reason to a gourmet man, who was with us.
He said, "That's because drinkers want to eat the snacks at a mouthful. If it's bigger, it disturbs drinking."
He also said that it's not beautiful to eat bigger gyoza and put the bitten off gyoza on the plate again.
One bite, one sip!
Let's try "one bite and one sip" method of Fukuoka now.
The menu book said only "Nihonshu", but the actual brand name of the sake was "Nishi no Seki" (brewed by Kayama Shuzo in Oita Prefecture) as the sign board said.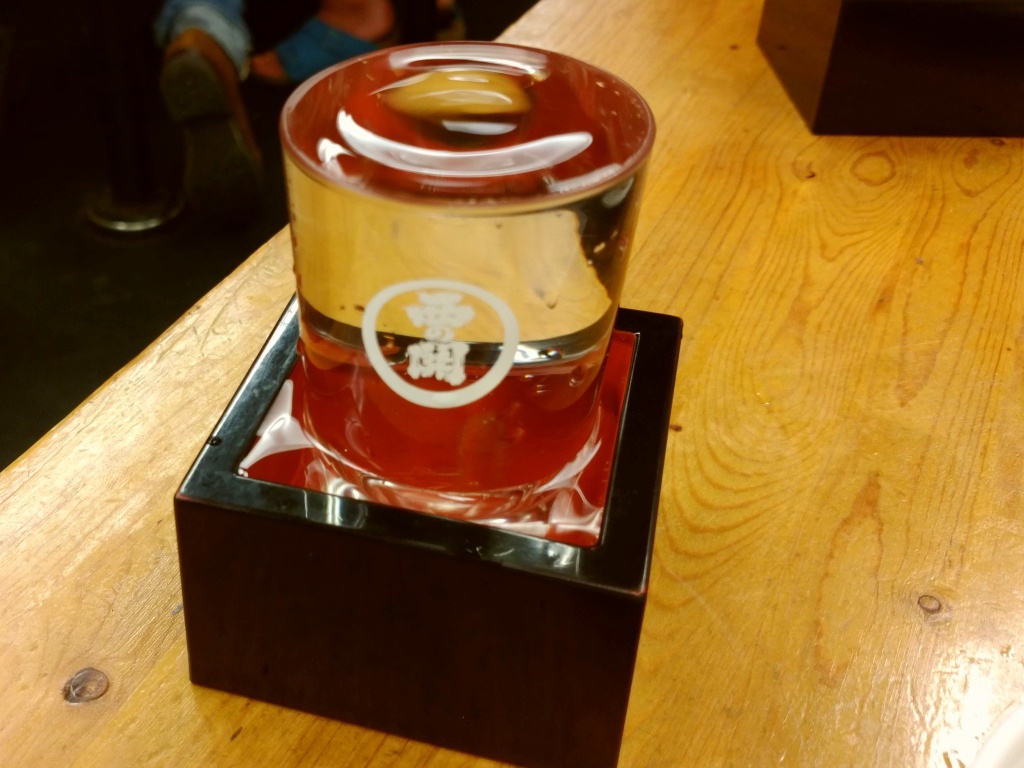 A beautiful work of the surface tension!
The staff poured the sake in the glass as much as they could like you see in the photo.
I had to bring my mouth to the glass not to spill the sake out.
The poured sake was a little sweet, and it was served at normal temperature.
The normal temperature, not cold or hot, enabled me to feel the sake's original taste well, and I felt nostalgic about it.
The combination with gyoza was very good.
Well, it couldn't be bad because the sake was chosen by an old and famous gyoza restaurant.
There's no garlic in it.
By the way, the gyoza of Hountei doesn't have garlic in it.
The ingredients are only minced meat, sweet onion, and Chinese chive.
They said that garlic didn't match their gyoza.
Their gyoza is baked in covered pans.
The seasoning for it is the special sauce which is made of the local soy sauce, and their own-made red Yuzu citrus pepper.
The combination of sweet gyoza and spicy pepper with Yuzu scent.
"Nishi no Seki" at normal temperature comes between them, and the harmony becomes greater than anything!
It was like unique members surrounding the mild gyoza.
"Nishi no Seki" at normal temperature comes between them, and the harmony becomes greater than anything!
It was like unique members surrounding the mild gyoza.
I liked the party very much, and I couldn't stop my hands to take a gyoza, a sip of sake, gyoza, sake …… on and on.
The beautiful taste didn't change until last.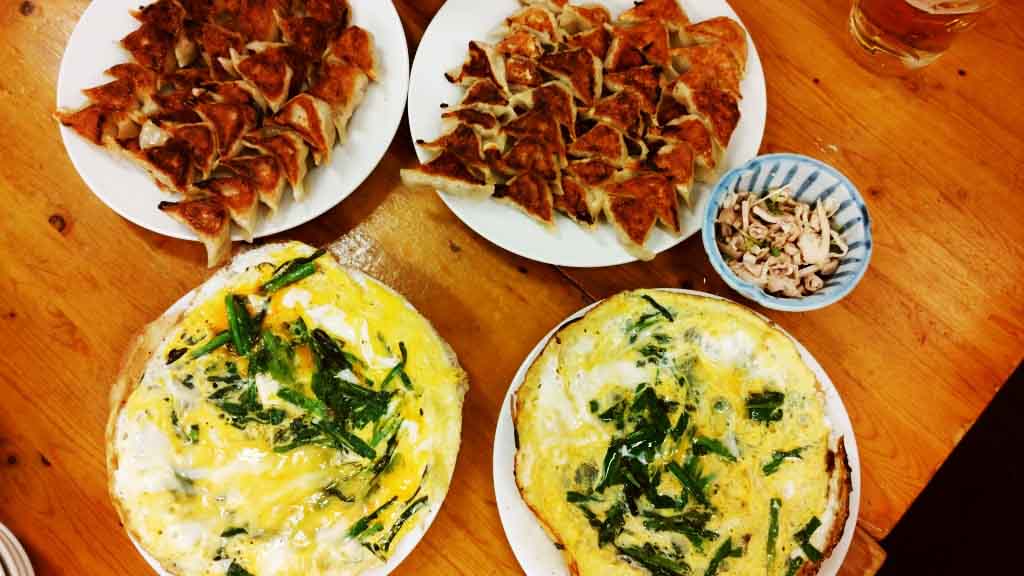 In Fukuoka's Hitokuchi Gyoza style, one person usually eats at least 20 pieces.
The just cooked gyoza is of course great, but cold gyoza is also good with crispy texture of the skins.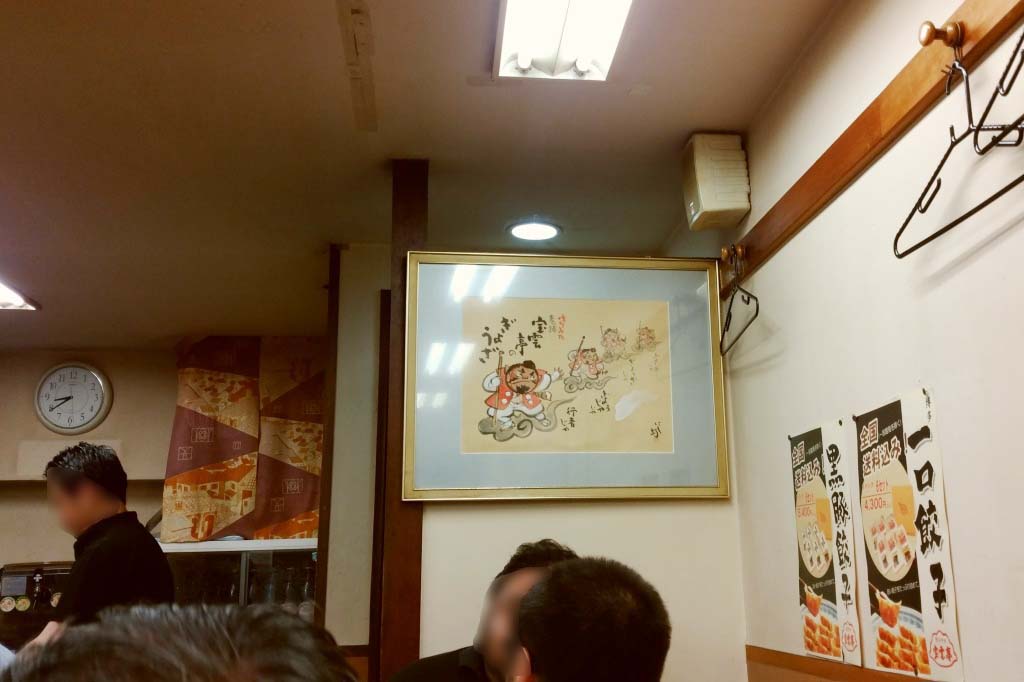 Suddenly, I noticed that there were some pictures on the walls.
I thought that they were the owner's random selections.
I looked at them carefully, and found that,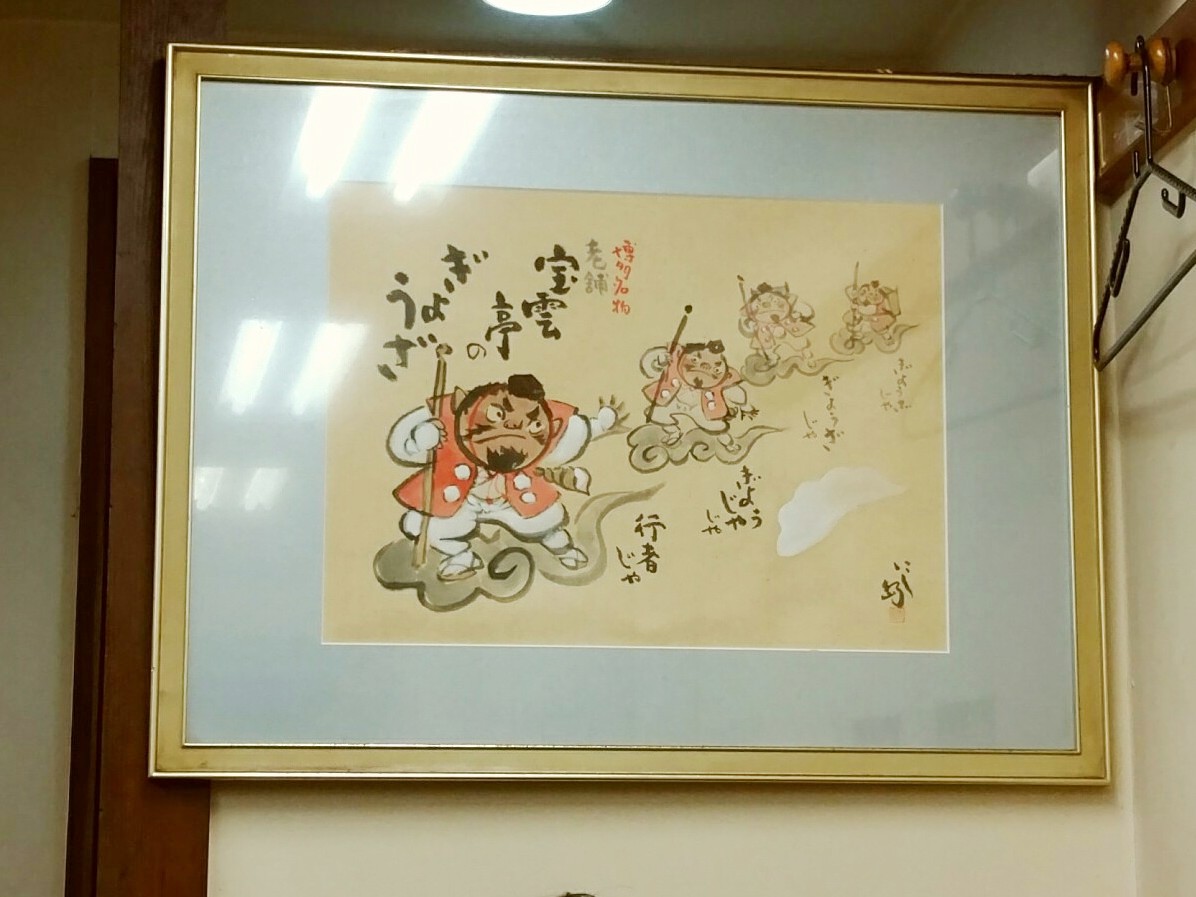 There were letters of "Hountei" in the picture.
It was drawn by a genius painter born in Hakata, Isao Nishijima.
"Hakata's famous Hountei's gyoza
Gyoja-ja, Gyo-jaja, Gyoza-ja, Gyoza-ja"
It was a kind of wordplay.
What a happy picture it was!
I could see that Isao Nishijima loved this restaurant very much.
When I left the restaurant, I asked the owner, "Is it ok for a lady like me to come alone?"
He said, "Why not!?"
I will try again alone to enjoy my hometown's fast food!
This is all from a fantastic gyoza place in Fukuoka!
It's our great pleasure if this article is helpful for you.
Comment (0)