Enjoyed "Suminoe" and Tohoku's taste at "Isaribi" in Asakusa
Good evening!
Thank you very much for visiting this blog.
Today I'd like to introduce an Izakaya restaurant in Asakusa, "Sanriku Isaribi".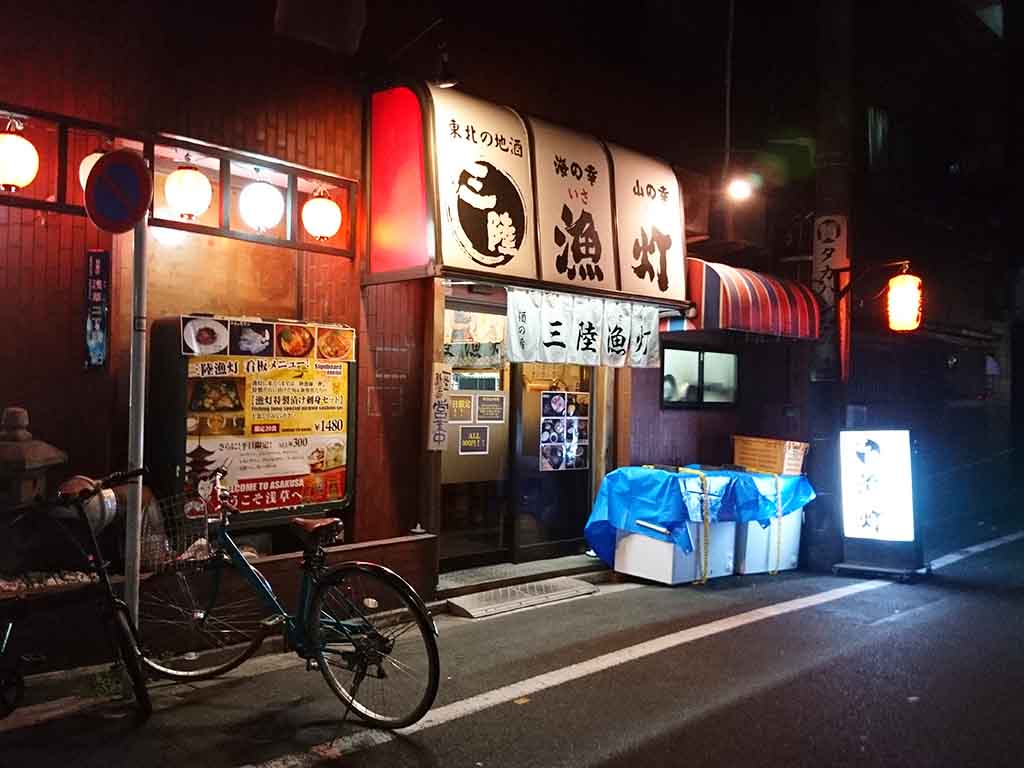 "Sanriku Isaribi" on the way home from Sendai
The last blog was about my business trip to Sendai.
Today's report is the later story of the Sendai trip.
In Sendai, I went to an Izakaya restaurant with my business partner.
It was our first time to have dinner together, so we spent much time talking.
In addition, we had to leave the restaurant around 21:00 because the last train home was at 21:40.
We couldn't eat and drink enough before going back to Tokyo.
I got back to Asakusa before 12 o'clock in the midnight.
I was frustrated with unsatisfaction.
Then, I remembered a restaurant in Asakusa.
It was "Sanriku Isaribi" which is near Asakusa View Hotel, and locates on a spot where the old Asakusa's symbol "Ryounkaku" was.
I often passed across the restaurant.
I knew that their signboard said "Tohoku(region of north-east of Japan)'s local sake", so I wanted to visit there since before.
I wished I could have tried more Tohoku foods and sake in Sendai, so it was the perfect place for me.
Tohoku's Shiokara and "Suminoe Tokubetsu Junmai"
The time I arrived at the restaurant was over 0:00.
The restaurant was still open.
There are not many Izakaya which are open until late in Asakusa, so this restaurant is very precious in such situation.
There were only table seats inside, and the room looked like a typical Izakaya.
I had a seat at the back of the room.
I already had had some alcohol, and I checked the menu book to start from Tohoku's local Sake.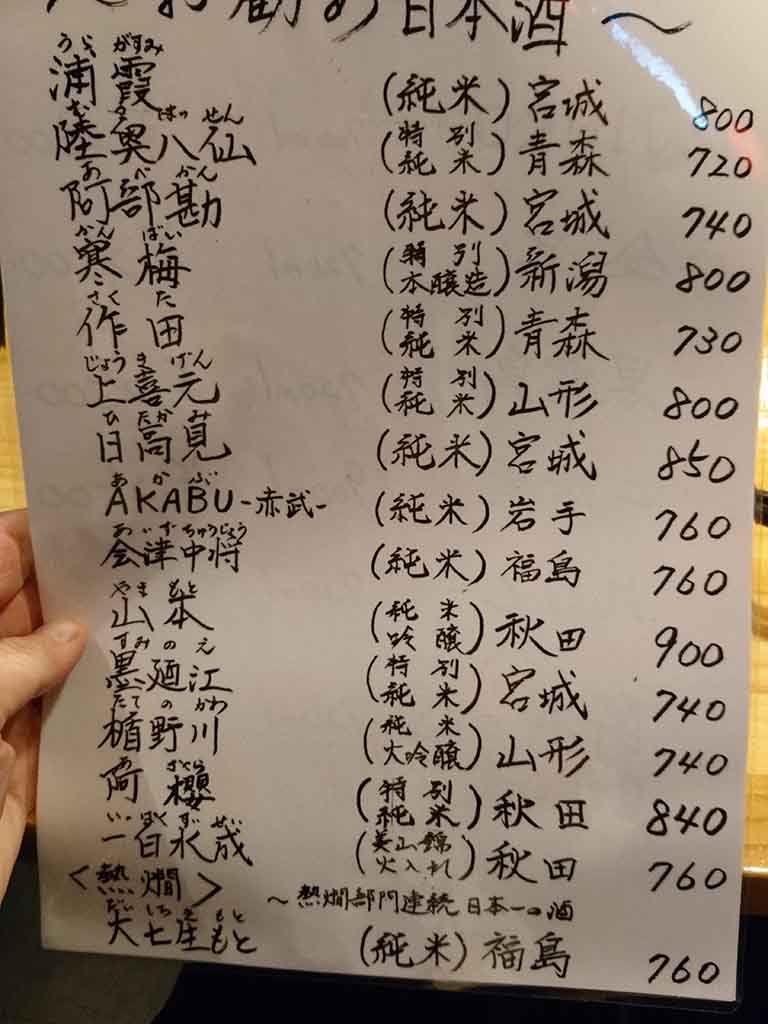 The photo above is the sake menu.
There were so many that it was hard to choose one.
There were many attractive food menus as well, such as seafoods, fried foods, grilled foods, and ala carte menus.
It was hard to choose what to order.
I decided to take more time to check the menus while drinking whisky and soda first.
The sake I finally ordered was "Suminoe Tokubetsu Junmai".
The restaurant in Sendai which I introduced in the last article, "Issen", also had this sake.
I got interested in the sake because I wondered how to read the name, but unfortunately, it was sold out at "Issen".
I was surprised and happy about the second chance.
I said "Suminoe, please".
("Issen" didn't show how to read the name, so I just pointed the letters when I ordered it. I could call the name at "Isaribi" because the menu book mentioned how to read it.)
After a while, the foods and sake I ordered arrived one after another.
The left side of the sake is Hoya's Shiokara (salted and fermented sea squirts), and a salad at the back and Yakitori (grilled chicken on sticks) at the right.
I tried only "Suminoe" first.
It was dry and light, but at the same time, it had a mild flavor remaining.
I had some squid Shiokara from Tohoku and Hoya Shiokara from Miyagi Prefecture with the sake next.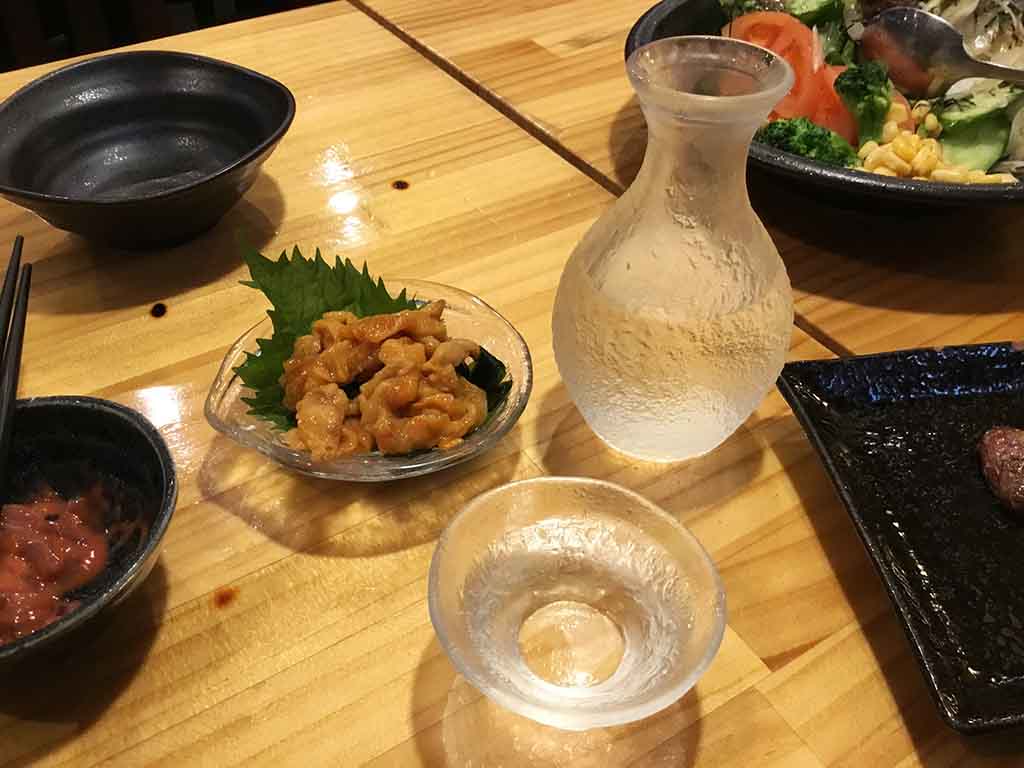 The impression of squid Shiokara was that the rich flavor which maybe came from the squid entrails made its saltiness milder and nice.
When I tasted it with "Suminoe", the hiding rice flavor of the sake came out, and the sake tasted even better!
The next is Hoya Shiokara.
The Hoya Shiokara itself tasted of Hoya's unique flavor, but it wasn't a bad smelling of fish.
The salty taste was just perfect, and the salt made Hoya's strange smell disappear.
I had it with the sake, and found that the sake's dry texture wrapped Hoya gently and carried into my throat.
This sake is good with seafoods.
It even matches foods which have strong and unique characteristics like Hoya.
Standard snacks and Inaba Udon at last
The one which I always order at Izakaya restaurants arrived, too.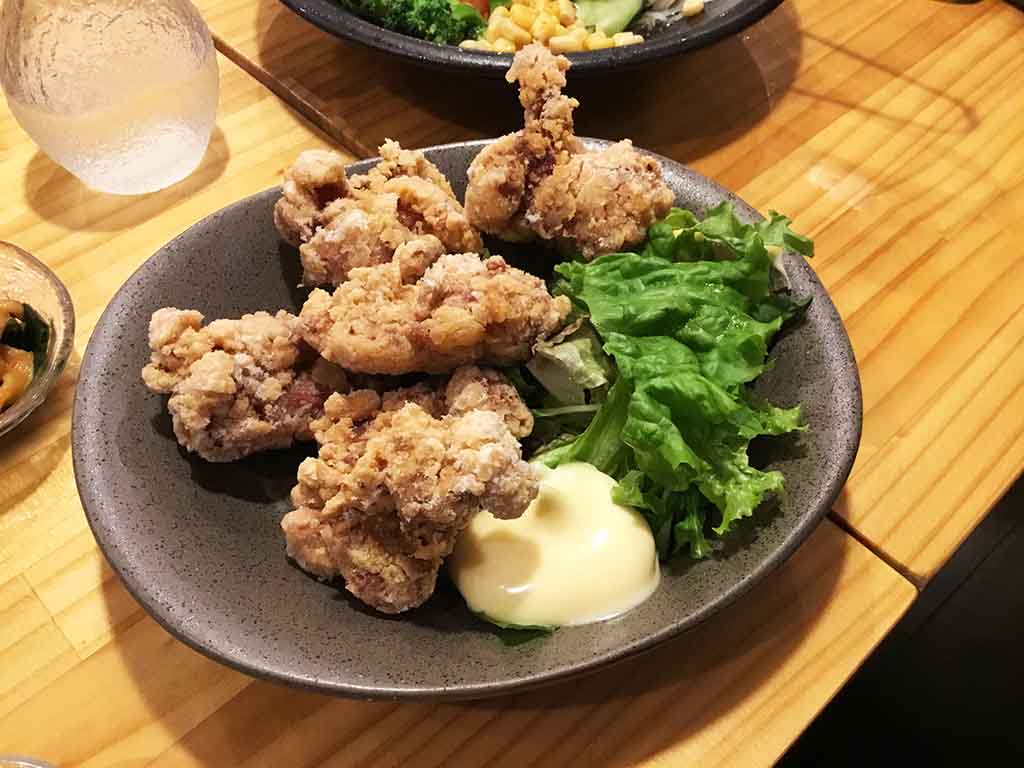 Yes, "Kara-age" (Japanese deep fried chicken).
I always order this because most Izakaya have it but the taste differs depending on the restaurants.
I ordered it to check this restaurant's Kara-age.
I felt that the chicken was seasoned with salt and ginger.
The texture was crispy, and I liked it.
The meat had perfect amount of fat, and the rich flavor of the chicken fat and the meat came out when I had chews.
I tried it with "Suminoe".
Maybe this sake matches "salt" very well.
The Kara-age was less salty than Shiokara, but Kara-age made the sake's rice flavor stronger, too.
The time I finished Kara-age was about 1 in the midnight.
It was the time for last orders.
They had many dishes which looked nice for the conclusion of the meal.
I heard other customers ordering "Japanese Ochazuke" (boiled rice with tea and other ingredients), so I thought that I would take it, too.
However, I changed my mind because I wanted to complete my "Tohoku" night.
What I ordered was,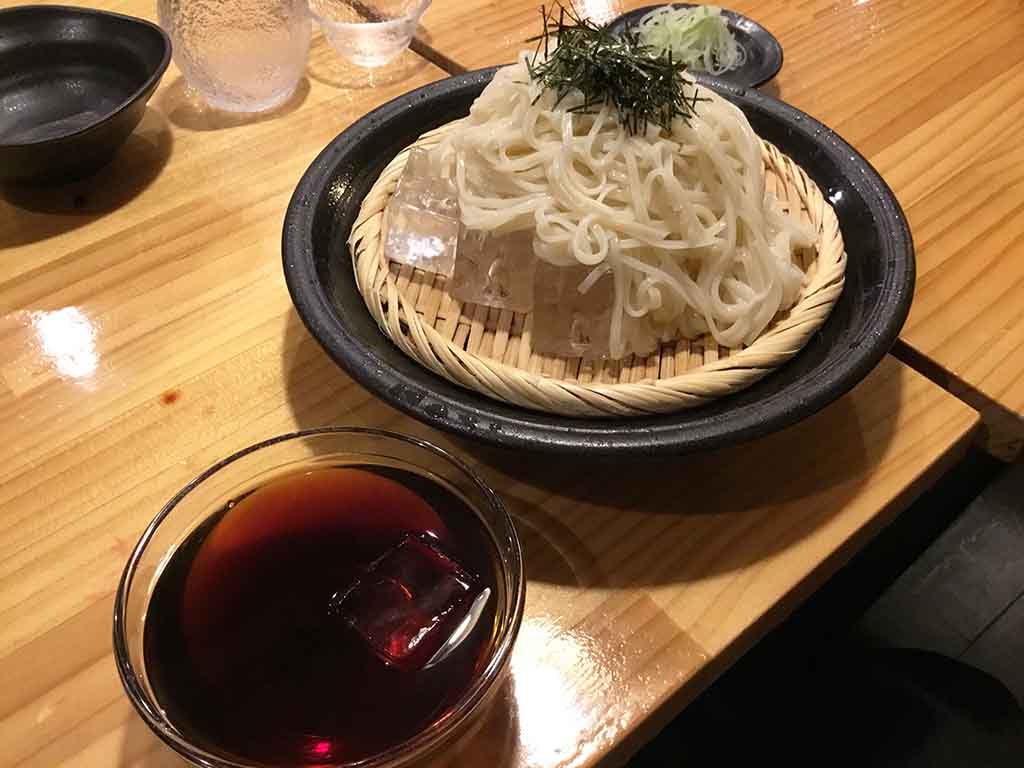 "Inaniwa Udon" which is the specialty of Akita Prefecture in Tohoku.
The noodles were very cold and refreshing, and the texture was just beautiful.
It sharpened my body and brain before walking back home for 30 or 40 minutes.
The restaurant "Isaribi" had various foods and sake, and the price was reasonable.
In addition, I was impressed and felt comfortable seeing the staffs' hospitality to a lonely foreign customer.
The location is the opposite side to my home, so it's not very easy to visit there often.
But they are open until late, so it will be a good place when I want to go for a drink after working late.
I wish it was closer to my home.
I visited Sendai for my first time, and finished the day with Tohoku's tastes in Asakusa. It was a fantastic day.
My business life changed.
I hope that I will be able to visit many places for business at least once in a month, enjoy the local foods and sake there, and have some drinks on the way home like I did on that day.
I started to walk home with a determination to succeed in my business.
It's our great pleasure if this article is helpful for you.
Comment (0)