Ueda city, Nagano ⑦ ― Un-no-machi or Lucky town ―
Ueda city, Nagano ⑦ ― Un-no-machi or Lucky town ―
Thank you to everyone who came to see this blog.
Today is Christmas, but it is 1/365 days for me. Since manager is irrelevant to Disneyland as well as to DisneySea, I will write a story of Ueda City (tears).
I had gone around to see Ueda castle until the last time.
This time is the story of Ueda city.
Taking the car I stopped in the parking lot in Ninomaru and heading for the city of Ueda City to find the shop where you can drink Nihonshu or sake, which is the my purpose.
Stop the car in the parking lot in the town, Let's explore ☆
If you head straight to the east from a major gate of Ueda castle, you will reach national route 141.
It is the feeling that Seven Eleven here is one in Ueda city, Mr. Sanadas' city .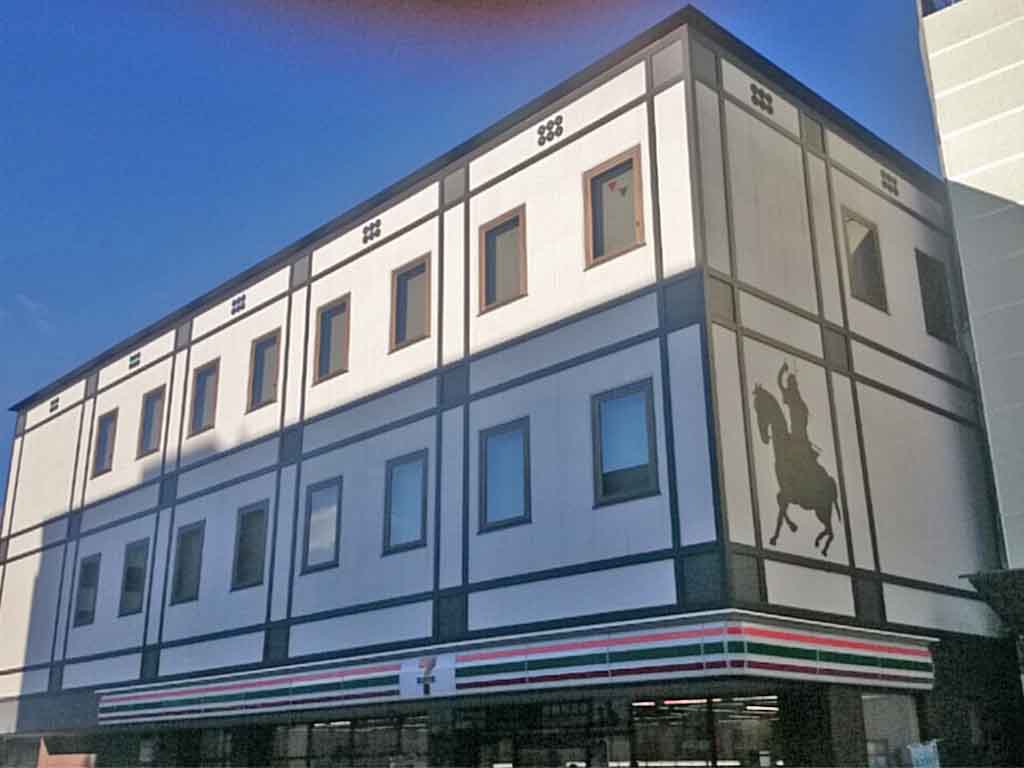 The silhouette of the horse riding horse of Yukimura and Rokumon-sen, which is six coins for freight to across river in hell.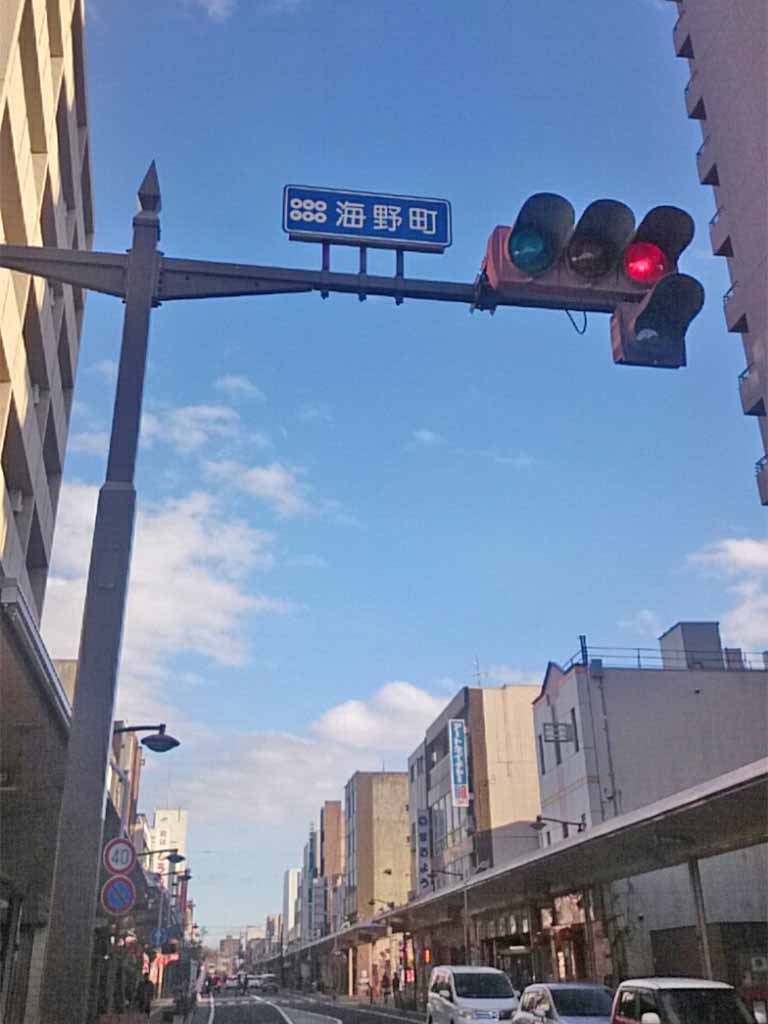 "Un-no town".
"Un-no" was originally the name of the place which was in "Tomi-city", the neighboring city of Ueda City, and the name of a manor.
The manor was called "Un-no manor".
It seems that the clan who made the manor was "Unno" families, and "Mr. Yukitaka Sanada", who is the grandfather of Sanada Yukimura, seems to come out of this "Unno" families.
Ueda city was opened by Masayuki Sanada and he built up "Un-no town" first, which he had moved from Tomi-City.
In the old times, when building a town, they built a shrine hoping for the prosperity of the town.
The shrine built in Un-no Town is "Takaichi Jinja".
Today, this shrine stands in the shopping area, just a short walk from that signal. Like this.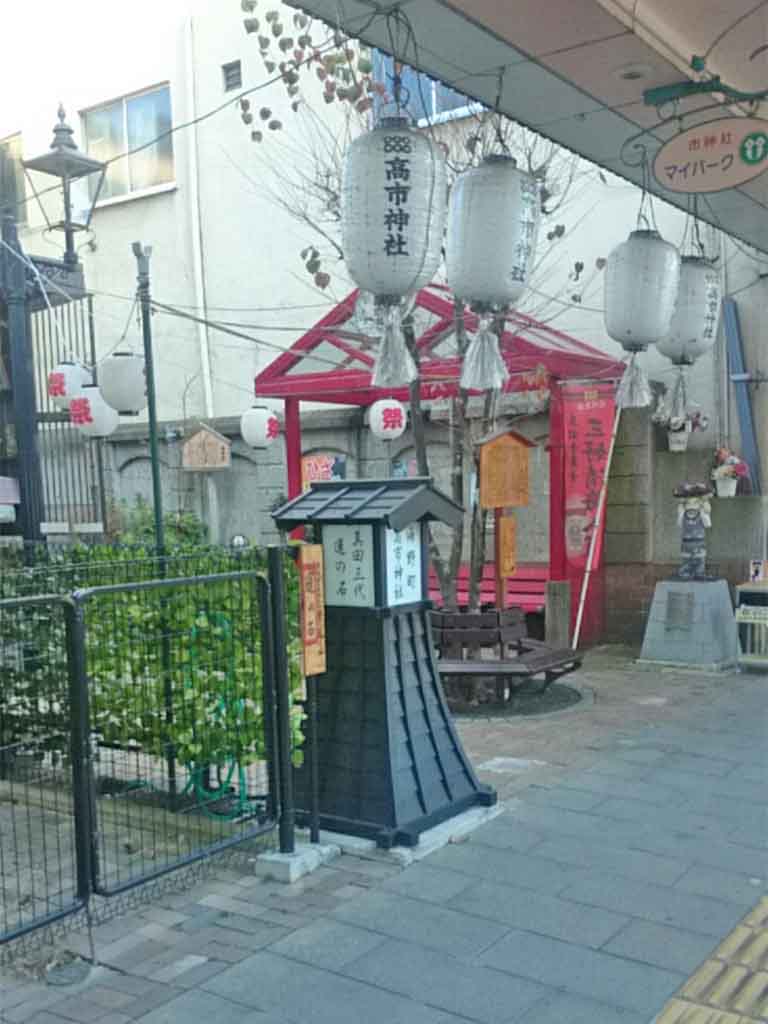 There is a special in this Takaichi Shrine.
It is "Un-no Ishi", in English "Stone of luck".
It seems that there is a "stone of luck" in the shrine, which guards "Un-no" town("Un" is "lucky" in Japanese so "Un-no Town" is "Lucky Town" in English.
Aside from that, I will write history of the stone properly.
The god in Takaichi Shrine was from "Shiratori shrine", which is in Tomi-city.
In Shiratori shrine, there is a stone which contained the spirit of the god.
Masayuki Sanada was given the stone, set it in Takaichi shrine and opened a town.
Masayuki and Yukimura was made imprisoned at Kudo-yama in Wakayama prefecture after Sekigahara battle and Masayuki died there.
So they bring a spiritual stone from the Kudo-yama and set in aside of house of Takaichi shrine instead of the original stone including the god's spirit.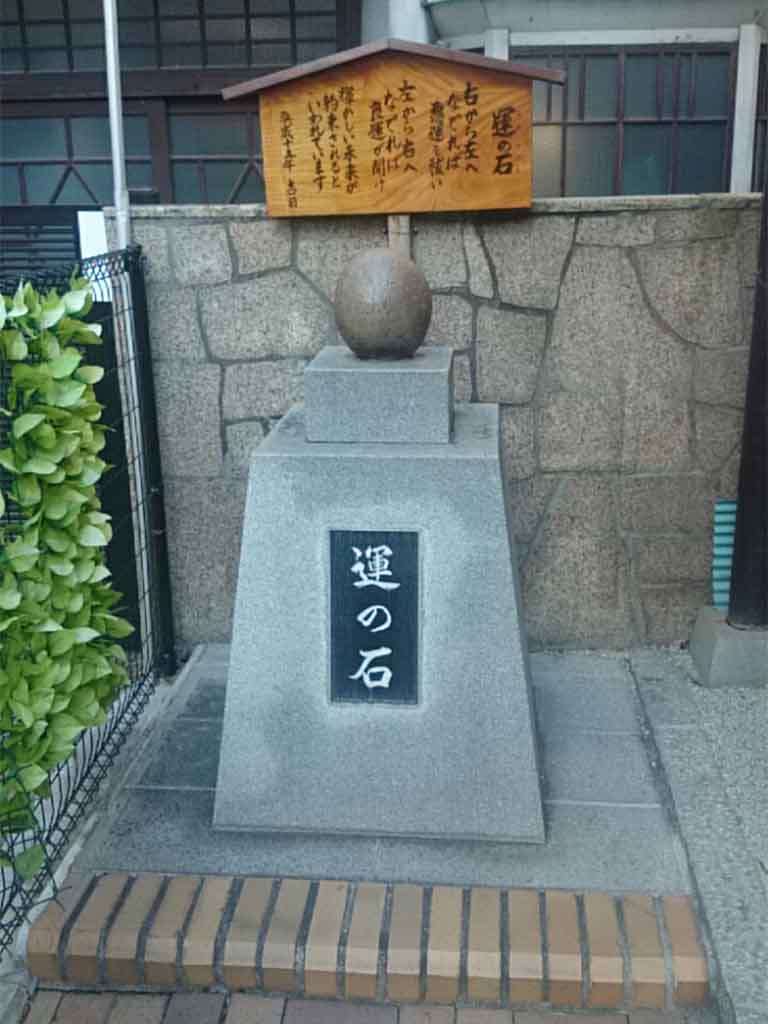 It says
"Move your hand from right to left on the stone, and you can get rid of evil spirit.
Move your hand from left to right on the stone, and you can get good fortune.
It is said that you are promised to get glorious future by doing so.
I did it ten times because I hope to be happy.
… Is it an effect?
Since I succeeded to date with a woman whom I could not get an good answer no matter how many times I invited, I can say that it is a effect (although I was jilted afterwards!) .
When you pay 100 yen, you can receive a note with a spirit of 'Stone of luck'.
There are three kinds of note, such as luck of life, luck of love and money, and luck of study.
Since I took an exam enough and did not want to take it any more, I got the notes of life and love.
The effect was like above sentences. I think it is effective because I encountered lovely lady after I was jilted.
It is better to visit the shrine when you visit Ueda city.
…by the way, when saying "Un-no", there is a person called "Rokuro Un-no" in "Sanada Jyu-you-shi", ten faithful worrier of Sanada troops.
Reminding it and I looked closely at the picture of Takaichi Shrine that I posted first … that?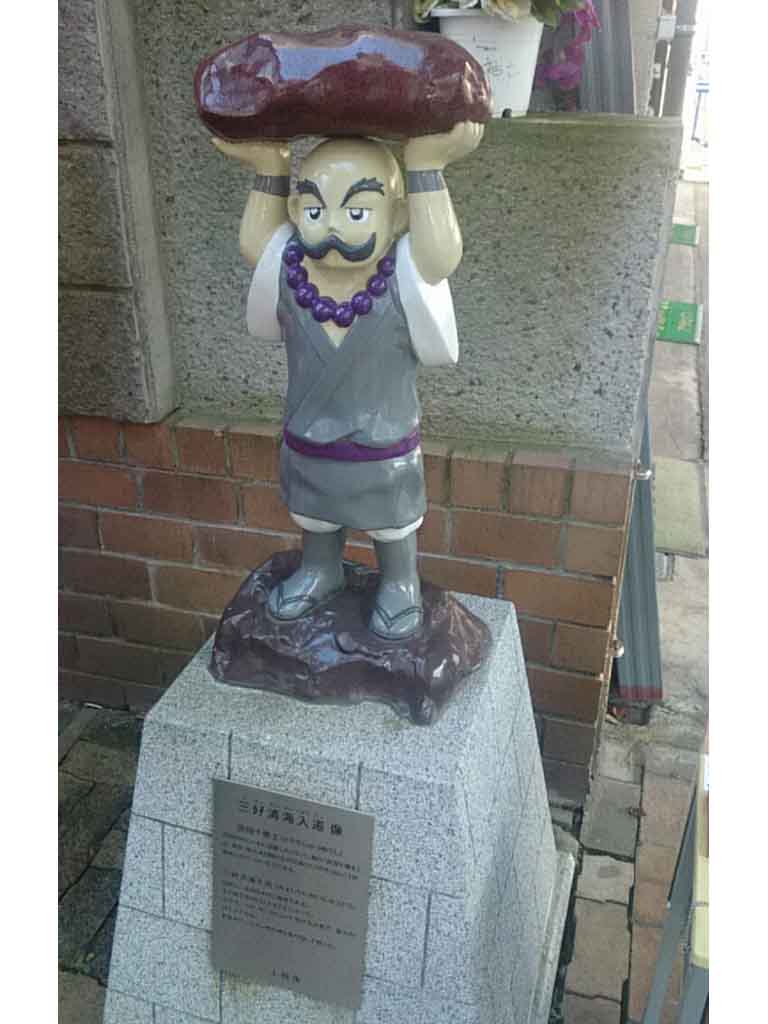 …He is "Seikai Miyoshi", not "Rokuro Un-no" ^^;







Comment (0)